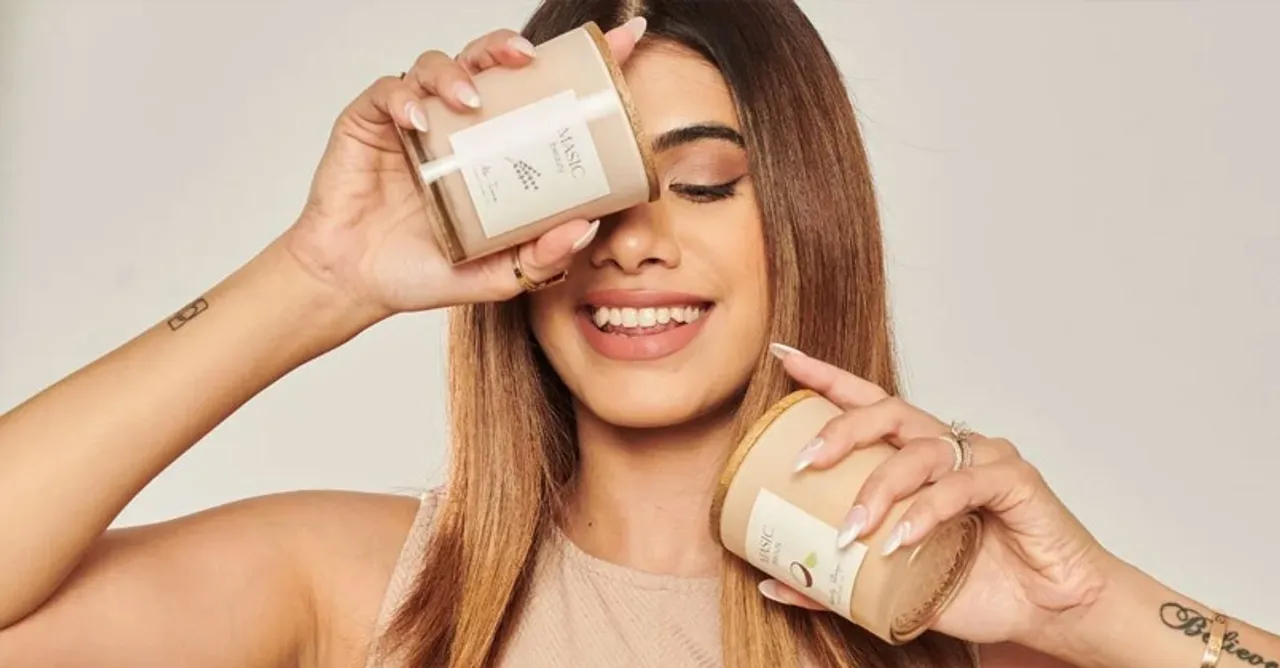 Beauty content creator Malvika Sitlani recently launched her beauty and skincare brand MASIC on Myntra, and today she shares her learnings and the future of the brand with us!
Malvika Sitlani is a known name in the beauty content creation industry. She has been creating content for 7+ years now. Last year, she launched her very own beauty and skincare brand, called MASIC, which she's now taking to Myntra's beauty section to be sold exclusively on their platform. For Malvika, MASIC is a budget-friendly luxury product. She understands the gap between a luxurious product and affordability and she wants to bridge that with her line of products. Being a beauty content creator, she understands the need of getting the formula right while also keeping in mind that it's not heavy on the pocket so that more people can get their hands on the product. She has personally worked on picking the fragrances, and formulas and making them friendly for Indian skin types and climate. In this conversation, she opens up about her entrepreneurial journey, the challenges she faced, her learnings, her future plans with the brand, and MASIC on Myntra. She also talks about how her audience earned through content creation over years has helped her in this venture by supporting and cheering for MASIC.
Here's what she has to say!
How are you feeling? What is keeping you busy these days?
Um, I'm feeling good. Now, finally, because in the initial days of pregnancy, I was like really consumed with different physical changes and mental changes. To be honest, it was kind of difficult to wrap my head around the changes that were happening. So it's been a tough three months, and I'll be honest with you just getting used to and accustomed to what's happening to me. But overall, I think focusing and reading more and getting more information on what I'm going through is important. I think that's what I'm doing right now, focusing on my mental health and trying to get better in every aspect because, again, I do have my jobs to get to both the creative front and the company side. So I think these two are keeping me busy right now. 
The brand launched almost a year ago, how has your entrepreneur journey been so far?
Yeah, it was launched a year ago. It's been quite challenging. I'll be honest; I'm not from the business side. I'm purely creative. And I know a product end to end. Designing a product and creating a product from scratch is what I'm great at; that is my strength. So to navigate and understand the multiple things behind building a company legally and to learn all of that from scratch was a steep learning curve. It took a lot of me, mentally and draining out, staying up nights, having multiple mental breakdowns, and trying to feel 'I can't figure this out' but having fantastic support.
Veronica, my co-founder, has been the biggest support in my entire entrepreneurial journey. I could not have done this by myself. If you're about to start a journey, you must have fantastic support and a co-founder who can carry you through. Both of us, being first-time founders, had navigated and fallen on each other when we needed it. So that journey has now finally come to a point where it's settling, but we're getting the hang of it. It's like navigating from everything behind the scenes, like logistics and operations bit, and then to the final product; there are so many layers that go into building a product-based company that we had to learn everything from scratch. We have made many failures and mistakes and have cried so much over it. And I'm just saying you would figure out what you don't think you can.
How has being a beauty content creator helped you with MASIC?
Yeah, it helped me to gain a loyal audience. In seven years, I've been able to build such a fantastic community, and I have people all over India, like, wherever I go, I'm not alone. Someone or the other will come with me, and they call me Mals. It's so natural; the conversation is not formal at all. That's the kind of connection I was hoping to build with my audience. Ever since I started, I have wanted friends more than fans. I want to be in touch with everybody possible. And that's why my engagement rate is through the roof. We all know that. But that's because I'm actively listening to my consumers on what they want to see, whether it's in terms of content, I make sure I give them what they are looking for and not what's trending. You rarely see me do trending things because I know what they're used to seeing me on and which platform they want to see me on.
Building that site and maintaining that connection for seven years. People have been with me for years; they have been with me since they were 12. And you know, that is surreal to me. I'm glad they have not left my side. They've been there with me through my personal journey and my business journey through and through. And that's what helped me build the company. So that's how we ended up building a brand after so many years. I knew now was the right time to leverage that platform and even to give back to the community, what they've given me for so many years, you know, to invest back into the company. And to have Masic in everybody's home is what my vision was.
That's why the three categories of home Bath and Body beauty. I want everybody to have all the aspects of life in them, not just the beauty routine, but the self-care routine, the taking time out for yourself, the burning the candle, the putting body oil. I wanted everything to be like an amalgamation of all of that. If I had started any later, I don't think I would have been able to do this. The lockdown was the right time to learn about building the business.
Was launching a brand always the plan? 
Yes, but I never expected to start so soon. I was like, I'm 35. I'll see if I figure it out; I enjoy my creative space very much. And when you get comfortable in a space, it's time to shift, like doing something new. This was a significant shift in my life. Like I said, mentally as well as physically. It's excruciatingly challenging to figure both my careers out because I'm doing two jobs at one time, and I have to focus on my career as a creator, which supports my brand right now. But I eventually want to let MASIC survive on its credibility in the next two years. I want it to be known for its product, quality, and service, rather than just being my biggest brand. That's what I plan to do in the next two years. And that's why we're working hard to ensure that the quality is fantastic and that when people talk about self-care and beauty, they think of MASIC. So that's basically what I wanted to do. And yes, I wanted to start a brand for sure, but it needed a little guidance.
How excited are you about the launch of Masic on Myntra? Tell me something about the association with Myntra. 
For a young founder or for a young startup company that does not have too much to give, Myntra has filled those gaps for us. We initially experienced a lot of logistical errors and distribution errors. It's new, and it's difficult for us to service every part of India, and Myntra fills that gap beautifully. Their services are out of the world, and the app interface is so beautiful. If you've ever used that app, it's seamless for a consumer. In the process of refunds and returns, everything is on time. And if we could provide that as a new brand and service our audience seamlessly, it would win half the battle for us.
Because it loses its charm if you have a fantastic product and you're waiting one month for it, we want to nail that aspect of service quickly. And Myntra came into our mind immediately when we thought of reaching new consumers. As I said, I want every part of India to have Masic. And again, Myntra is excellent with social commerce like M Live. And Myntra studio is also fabulous. It's very supportive of new founders, creators, and brands. The team is so supportive; they align with our vision. They're very founder-friendly and don't just sit on calls professionally. They asked us, 'What are you dealing with?' and 'What are your challenges, let us help you, is there anything we can do for you And that support is something we need as startup founders. You feel very lonely on this journey. There's no like great support, and Myntra is one of the best E-Com platforms out there. If they can give you that support, it is everything you need as a starting company.
What's the one product you suggest that people should definitely buy if they want to get the feel of Masic? 
One is tough, but this one can be 'The Skin Juice Lavender Rose and Body Oil.' Initially, it was a very underrated product when it came out in the market, and we started educating people on how to use body oil and why it is essential; it's become a best seller and a hit now. And we've nailed all the formulas so well; it took us like one and a half years to nail the formula. We wanted to ensure that it is very Indian climate-friendly and skin-type-friendly. It was very important to us. So having the right balance of non-greasy, non-sticky, but hydrating is tough to nail. Whenever I wanted to recommend a body oil in the market, I could not recommend it to anybody either because it was too expensive or it was affordable but not up to the mark based on the product formulation. Since I couldn't recommend it, I had to create one that is accessible, budget-friendly, and luxurious to use simultaneously. It is also vegan, cruelty-free, and non-toxic. So that's fabulous.
I use it on my belly these days for hydration on my belly. As I said, because India is humid, I wanted to tell them that it is a must essentially every day; it's not a weekend product to use once in a while. It's lotion, oil straight up every day after your shower. And now people are consistently using it; they're on the fourth bottle now like people are coming back to buy the bottle, which is a testament to what the product is today. So if you want to experience Masic in any form, I would highly recommend the body oil; you will finish the bottle. It's too pleasant. It has this very mild self-care soothing, a lavender touch to it, and it feels like it immediately soaks up into your body while keeping it hydrating. You won't see dry patches throughout the day at all.
You mentioned you wanted budget-friendly and luxurious products, according to you, what makes it a budget-friendly luxury brand? 
It's really important for me; I'm a very visual person, and I love aesthetically pleasing products and things and color palettes. I have a very good eye for design. I know what color balances with which color and tone. And whenever we've seen a product internationally, we'll be like, this is the vibe we're looking for, but it's too expensive. And we are like, Nah, it's not going to work out over here.
So again, a lot of feedback I get from my audience when I've started recommending products is like Mals, 'we love this. It's so luxurious, but we cannot afford it. I wish I could, but I'm on a salary; I can't buy it.' And that breaks my heart. I'm like, I need to fill this gap where I bring in a beautiful looking product, a fantastic world-class formulation designed beautifully and aesthetically, but kept it basic. It goes with the brand language as a basic essential you're clear about how you have a product and clean aesthetics. So if anybody sees the product visually, they are like, 'damn, look, this is like luxury at its peak.' But it's equally affordable. So finding the right balance is important. Working with the right people is important. We definitely made a lot of mistakes in the beginning. But I think now we're starting to understand how to price the product; we're beginning to understand the business aspect of making luxurious products budget-friendly; I think it's the only way to go, especially when you're in a price-sensitive market like India, I think it's crucial to nail that aspect.
And so far, I'll tell you, I have yet to find something that is designed so beautifully and affordable, there's always something missing here, and then they compromise on something or the other to fit that budget. But we want to be on point. I'll never put out anything half, you know, half my heart in it. I would never do that. Unless I use it, I will not put it out.
What future do you see for the brand? Are you planning to introduce more products on MASIC?
Yeah, we definitely have a lot of plans for next year. We want to expand the existing line that we have right now. We want to add more fragrances, we want to add more flavors in the body oil, and we want to expand this segment because it is a success. People are coming in. There are repeat customers and new customers, and they're buying a lot, and we are out of stock almost all the time, which is a good sign.
Now it's time to expand and understand what else people are looking for. Focus on more ingredients, put in more trending ingredients that are great for the skin, and be completely transparent, you know, even more—taking them to the product journey and building the product as well. So, adding those elements in our upcoming year is important to us as a brand vision. It's difficult building cosmetics when you're Bootstrap. It's capital-intensive and takes a lot of R&D trying to nail the formula. It's easy to launch if you want to launch, but I'm really anal about all these things and how they're designed. So it's going to take a while, but I think this is in the pipeline for us; you can expect a lot more variety to come out in the Masic line, and we also want to keep it very inclusive of all skin types. We want to target now particular skin types and particular people who can feel included in the brand.
You can follow Malvika's journey and find out more about her brand here!