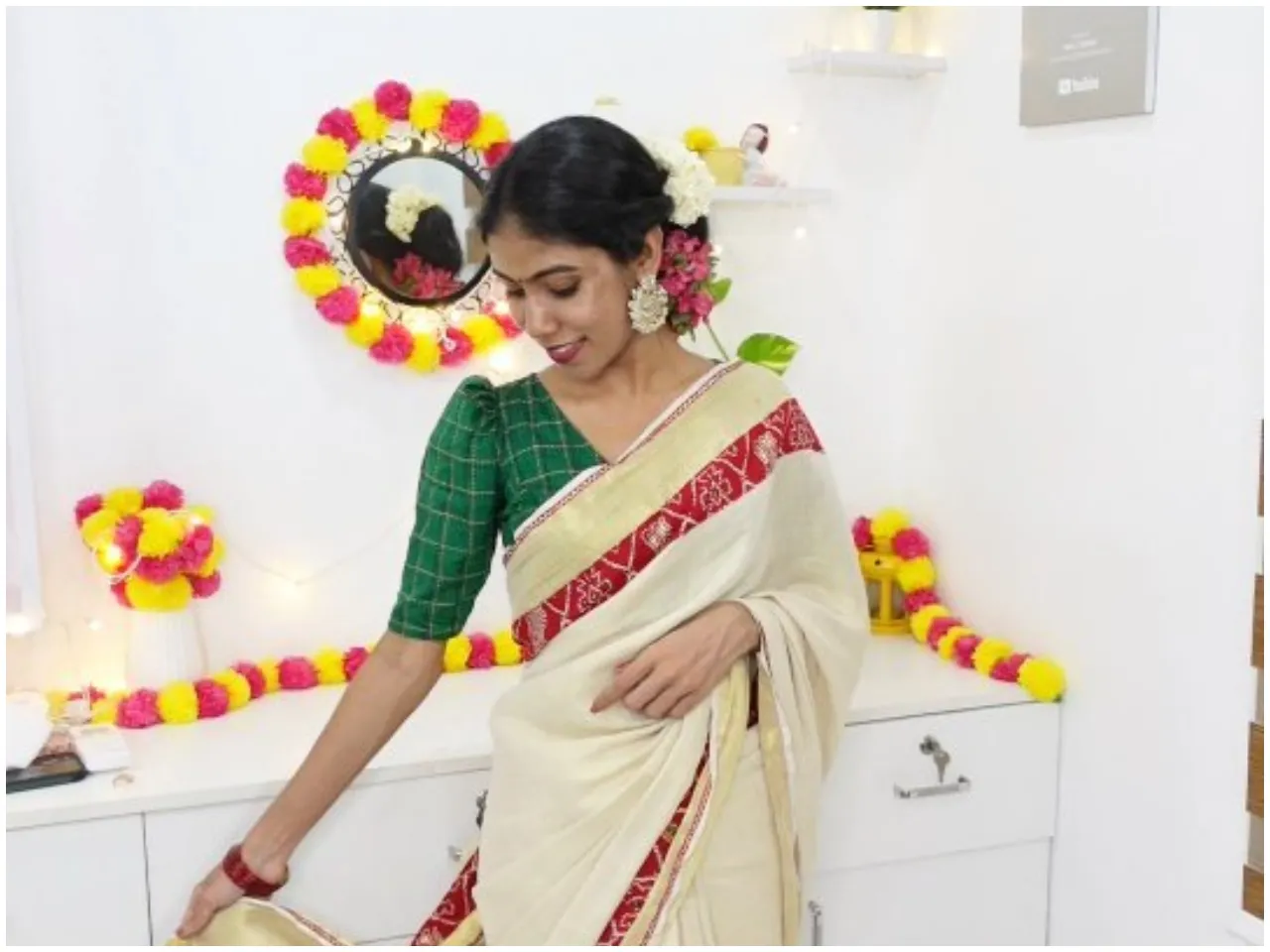 The saree has its own set of historical tales that have been passed on to generations. It also offers many styling possibilities that show off the garment's versatility. One can easily style it in over 50 different ways especially considering how our country has its own unique iteration of wearing a saree in each region. For Keralites aka Malayalees, it's all about the classic white and gold settu/Kasavu saree aka the Kerala saree. Recently there have been a lot of innovations when it comes to the Kerala saree as compared to other traditional styles. From cotton to tissue, hand-painted ones with threadwork to sarees with different borders, shades, and mild colors, with every variety available, we tend to forget about the other sarees we own. 
I tried to take the older Kasavu sarees from my mom's closet and give them a makeover. I have looked for ways where one can change their look and go for a more modernized yet elegant look. These looks are simple, stylish, and unique for anyone looking for a new way to wear their saree this Onam.
Also Read: Not sure what to wear for Raksha Bandhan this year? These creators have got you covered!
Here are some different and easy styles that you can try out this season
For my first look, I decided to DIY one of my favourite golden Kerala sarees and give it a makeover rather than just wearing it as it is. I got some cotton printed material of around 3 inches and stitched it on the golden border and around 5 inches of it on the pallu of the saree. I also got some lace to add extra jazz to the whole look. You can choose whatever colour you like while going for the same colour or the same cloth for the blouse to complete the look. The whole look turned out to be cute yet simple revamping the old saree into a new one.
Another style that you can try is wearing your saree as a davani. Davani is also called half saree which many down south may be familiar with. It's a two-piece sari that has a skirt and a pallu over it. To turn your saree into one, you can choose a skirt of your choice, preferably something that is similar to the saree that you want to wear. Start like you would drape a normal saree by tucking smaller pleats that you can tuck around your skirt and secure with a safety pin. You have to start from one end and continue until you reach the front again and take the pallu as you would do to your saree by placing it on the shoulder.
The third way of styling is quite similar to that of a half saree. But instead of a skirt, choose an under-skirt and repeat the same process as when we drape the saree for a half saree. Instead of just tucking half the saree, tuck the entire saree to turn it into a skirt. Take a separate dupatta and make pleats out of them to place them around your shoulder. You can accessorize it by tying a belt or aara patta on your waist to complete a modern but traditional look. 
Sharon also shared a DIY 1-min saree technique that will save up a lot of time. A perfect way to get ready in between all the chaos around preparing the Sadhya.
How prepared are you for tomorrow's celebrations? Let us know how you plan on spending the day in the comments below.