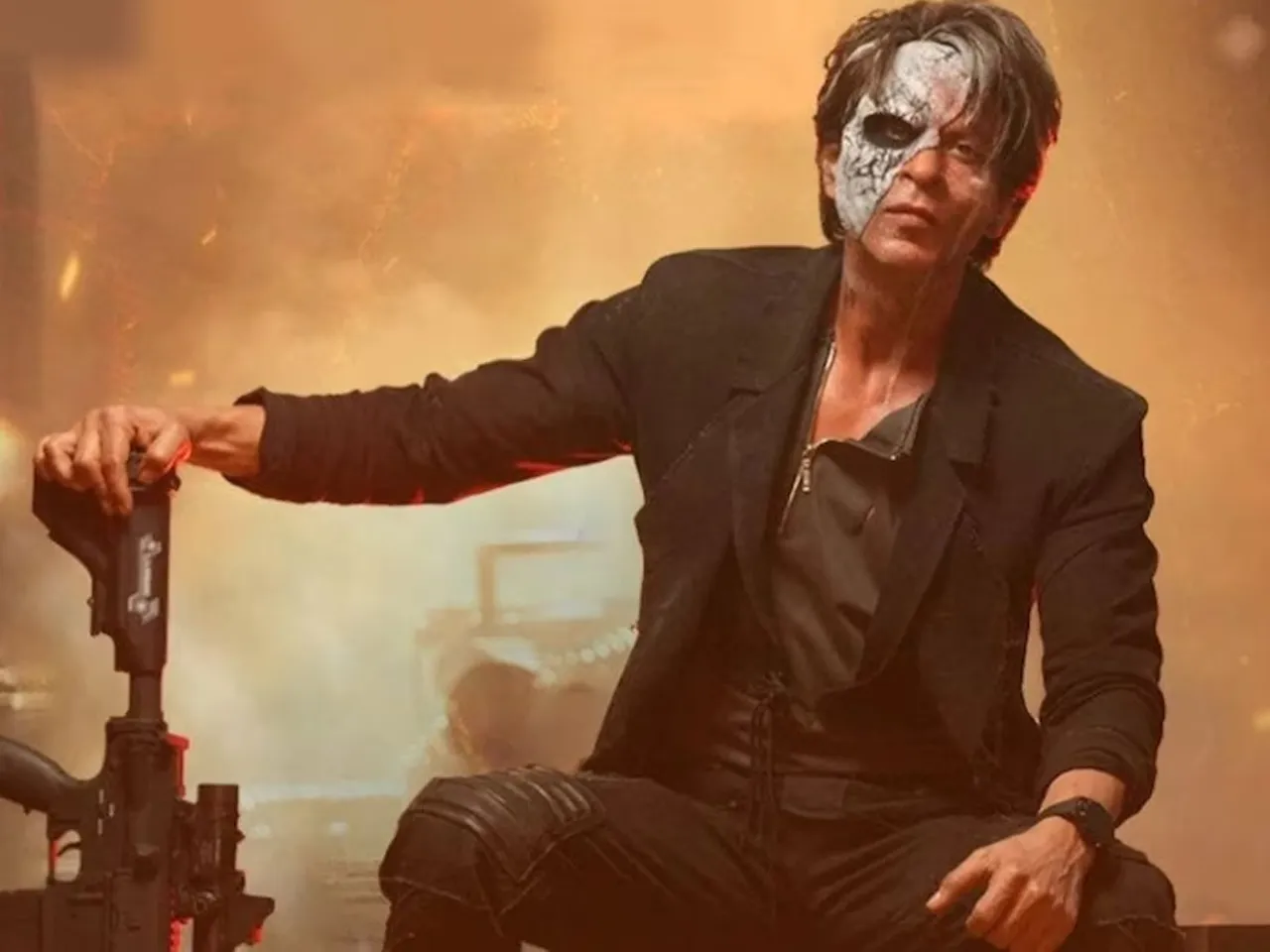 Directed by Atlee, Jawan is a star-studded film that was released on the big screens today, and here's what the Janta had to say about their beloved King Khan!
After the major success of Pathaan earlier this year, Shahrukh Khan is back with yet another film that has pulled audiences to the theaters in huge numbers. Jawan revolves around Shahrukh Khan's character, a vigilante who helps the poor. He stands for social issues like farmer's suicide prevention and climate change. But his main goal is to take down his biggest enemy, one of the world's largest arms dealers, Kaali Gaikwad (Vijay Sethupati). Without giving much of the spoiler, we also know that there is a team of women that Shahrukh's character trains and leads in the story, including Priyamani and Sanya Malhotra among others. The film is directed by Atlee, and the music is composed by Anirudh Ravichander, who are two gems from the Tamil film industry.
Social Media is filled with videos of the Janta hooting, and cheering, and turned the theater into a stadium for Shahrukh Khan. His entry, action scenes and impactful punchlines were whistle-worthy and gave goosebumps to everyone who made it to the first-day shows. Apart from the huge craze for SRK,  Deepika's cameo has also been gaining a lot of love from the audience, and of course, Atlee's direction has received praise from all over too!
Also Read: Jawan review: SRK and Atlee deliver 2023's grandest blockbuster with relevant politics
Check out the Janta's reviews!
#Jawan WORKS well as a star driven commercial action entertainer! #SRK especially shining in the different avatars!

The rushed Atlee screenplay detailing it's social messaging however is shaky, sometimes forced.

Entertaining nonetheless! I must say tho, BAAP TOH BAAP HAI 🔥 pic.twitter.com/aleHV2EBkJ

— ANMOL JAMWAL (@jammypants4) September 7, 2023
My #JawanReview : The Direction uses a lot of complex words to describe it.Atlee did a pretty good job.And it's a pleasure to watch Shahrukh, the main character,The film's background score, which was created by Anirudh Awesome, served as its foundation.(1/2) @iamsrk @Atlee_dir pic.twitter.com/VVMEzyAtFD

— 🐉 (@AliaKrish_) September 7, 2023
Just 20 mins of #DeepikaPadukone's
screen presence and she stole the show. No one would have done that cameo role better than her. She has the unmatched aura of a true superstar. 🔥 @deepikapadukone #Jawan #JawanReview pic.twitter.com/DvAmBkKuKE

— George 🍿🎥 (@georgeviews) September 7, 2023
#Jawan Takes entertainment at its peak. it has fantastic story telling, beautiful cinematography, outstanding performances, dramatic family sequences, action-packed thrills, and much much more! definitely recommend seeing it on big screen in cinemas. #JawanReview pic.twitter.com/JKK99EZzjh

— mobasshir (@MK_srkian) September 7, 2023
"Just watched #JawanMovie and my jaw dropped! 🔥 Action-packed, gripping storyline, and outstanding performances! 👏💥 If you haven't seen it yet, you're missing out big time! 💯 Don't wait, go watch it now! 🍿 #JawanReview #MustWatch" pic.twitter.com/iibYFiMjzk

— Kaleshi Chora☠️ (@Kaleshi_Chora) September 7, 2023
Blockbuster is a small word for #Jawan 💯🔥 #SRK is beyond everything 🙌 on screen presence and swag 😎 Only he can pull off such characters 💪🏻 #JawanDay #JawanReview pic.twitter.com/BUkSCv6Fag

— •♫•.𝓡𝓸𝓸𝓹𝓼.•♫•🚜 (@BeingRoop) September 7, 2023
#Jawan's Lead heroine #DeepikaPadukone's performance was emotionally intune with the audience.She is elegant,divine and doesn't need any bgm or slowmo shots to grab any attention. Both her songs didn't undergo any cuts because of its importance! She stands TALL👍👍♥️ #JawanReview

— Karthik Sanjay (@Fan_BB_Tamil) September 7, 2023
the unmatched aura of a true superstar actress ♥️#DeepikaPadukone #Jawan #JawanReview pic.twitter.com/RmvnCVQybu

— Bubbles (@bubblesbublu) September 7, 2023
Fans will remember these scenes for decades, an Atlee's treat for Bollywood..#JawanReview 🙏🏼❤️‍🔥 pic.twitter.com/R9FZfjA0fR

— Fayas.Nazim🐿️ (@__faaaz__) September 7, 2023
The best movie of #ShahRukhKhan career, #Jawan, will serve as an example of all-time highest grosser, shattering all previous records. A Must WATCH #JawanReview

JAI JAWAN JAI KISAN @iamsrk @Atlee_dir pic.twitter.com/VqVpVGtbmd

— Azharrahi (@azhar_rahi) September 7, 2023
#JawanReview :- 10 out of 10
And full paisa wasool 🔥🔥

Best action packed film ever
Entry scene was fabulous and interval was so energetic.. And climax are superb 🔥🔥 pic.twitter.com/UT43YcPqeD

— (💎) (@iSRKzDestiny90) September 7, 2023
Jab #Jawan dil khol ke naach rahe hai toh fir unki khushi me hum Fans bhi shamil ho jate hai🤌🏽#JawanReview has blown away all speculations people had with "good Bollywood story" 🔥 @Atlee_dir Sir, WHERE IS YOUR FEET SIR!?🤲🏻

Vikran Rathore ji, dance kaisa laga??👀 @iamsrk pic.twitter.com/J14630xNRo

— Anjali🥤 (@iamanjali16) September 7, 2023
The power of ShahRukh Khan
Theatre turn out into the stadium in mona theatre, patna🔥❤️‍🩹💥#JawanReview Mega Blockbuster. pic.twitter.com/bJt0ZAvJfA

— Ɱᴅ Sᴀᴍᴇᴇʀ (@MdSamir14671037) September 7, 2023
Have you watched the film yet? Let us know your comments below!
For more binge-centric content and reviews, follow us on @socialketchupbinge.