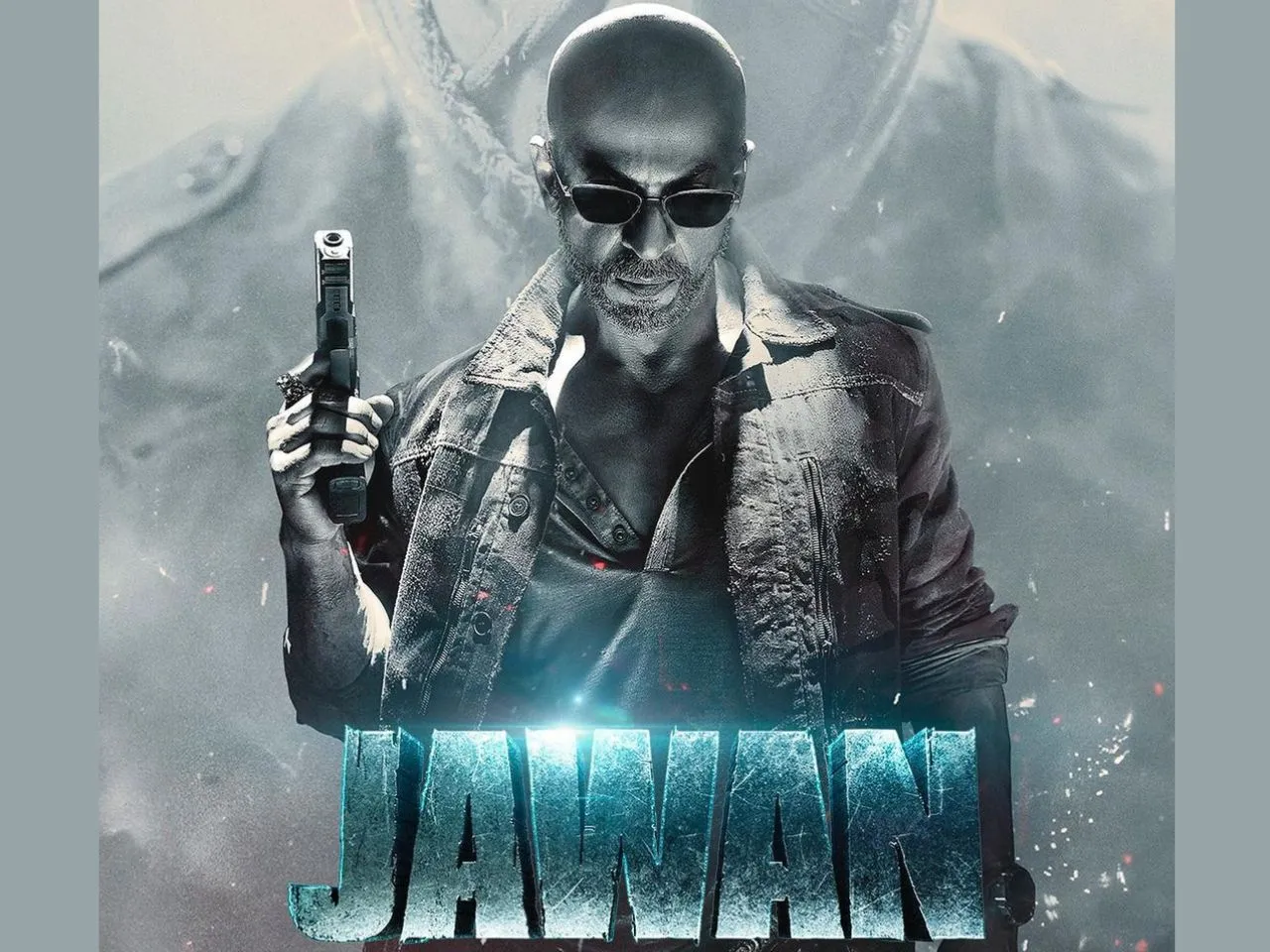 Atlee's Jawan is as massy as a Bollywood action thriller gets. Shah Rukh Khan, as a vigilante, and more, carries this extravagant entertainer on his shoulders along with a solid supporting cast.
Shah Rukh Khan puts a lit cigar inside his mouth, fights villains, brings the cigar back to his lips, and smokes it in style. In another scene, his shoes rub against the ground lighting a spark using which he lights his cigar. The audience goes berserk and the loud cheering gels with the music. It's a celebration at the cinema! Atlee's Jawan is undoubtedly the most grandiose, massiest, action-packed and thrilling blockbuster of the year. And only SRK could have pulled this off! 
The movie begins with a bald SRK, who calls himself Vikram Rathore, hijacking the Andheri metro with his 'girls' Lakshmi, Eeram, Ishkra, Kalki, Helena and Janhvi. He is not a terrorist, he is a vigilante, a robinhood. But every robinhood has an enemy. The enemy here is Kaali Gaikwad (Vijay Sethupathi), a multibillionaire weapon manufacturer who built his empire by plundering others. Between these two is hostage negotiator Narmada Rai (Nayanthara) hell-bent on capturing the robinhood. This is only the beginning. Jawan's trailer gave us so little that the film seems full of revelations making almost everything a spoiler. What is not a spoiler, though, is that Jawan is a mad and entertaining ride and Atlee has delivered once again! 
Also Read: Scam 2003: The Telgi Story: Gagan Dev Riar gives career-defining performance in a dragged series
How many roles does SRK have? I'm not telling you. But does he deliver each role perfectly? Absolutely. Can he go from charming to baddie within seconds? Definitely. Can he be violent and gory but still make you root for him? Obviously. Unfortunately, everyone apart from SRK has very little to do, even Sethupathi. However, each actor including Sethupathi, Deepika Padukone, Priyamani, Sanya Malhotra, Sanjeeta Bhattacharya, Girija Oak, Lehar Khan, Aaliyah Qureishi, Seeza Saroj Mehta, and Sanjay Dutt have supported SRK powerfully with their impressive acting. 
The actors keep you on the edge of your seat, especially because of a script that has numerous twists and turns and social issues at its core. Jawan's well-intentioned politics is its strong suit. From farmer's suicide prevention and healthcare to climate change and capitalism, our vigilante talks about it all. From India's northern border to the southern coast, he is a friend to all. Atlee has filled the film with safe but relevant politics while also entertaining us consistently with witty dialogues and upbeat songs every step of the way.
But he delivers all the noble messages with a lot of gore and violence. Sometimes, the insensitive depiction of the citizens who are struggling due to the system might make you want to look away. At other times, people spewing blood in every other action scene can make you feel nauseous. Also, the ethics of vigilantism are a dicey topic. However, Jawan benefits from the Southification of a Bollywood action thriller. The exaggerated and massy action scenes give SRK, Atlee, and Bollywood fans the entertainment they desire. For the rest of us, SRK's apt acting, and intriguing plot are the treats. For all of us, the politics of the film make it an essential watch. It seems like 2023 truly belongs to SRK, action thrillers, nationalistic movies, and the Southification of Bollywood. 
Jawan is currently running in theatres.
For more such content, follow us @socialketchupbinge.