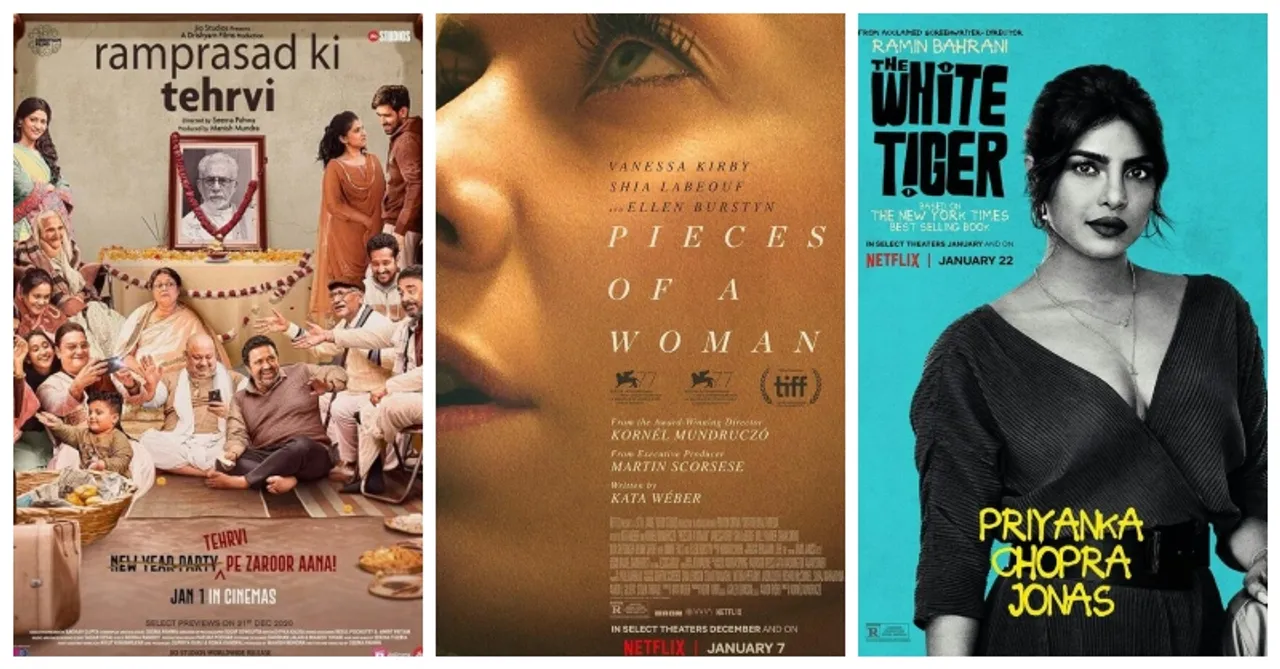 Looking for some fresh content to binge on? Well, the January 2021 movie calendar is out now!
2020 was a great year for content and looking at the viewing choices we have in January 2021, let's just say 2021 is quite bright too. Right from the International drama film, 'The White Tiger' to 'Pieces of a Woman', January seems like a good year for cinephiles.
Check out the 2021 January Calendar now:
In Theaters
January 1
Ram prasad Ki Tehrvi
Ram Prasad ki Tehrvi is a family dramedy set in a middle class north Indian family of 6 children. Upon the father's demise, a series of events unfold at the funeral which shows the interpersonal relationships in the family.
NETFLIX
January 7
Pieces of a Woman
This film deals with loss and how the lead characters and people around them deal and navigate the situation. It is already getting Oscar buzz and has won the hearts of the Critics.
January 11
Crack : Cocaine, Corruption & Conspiracy
A documentary that will definitely give you an insight into the complex history of crack in 1980's.
January 15
Tribhanga
The film revolves around the lives of three women from the same family, belonging to different generations.
The Dig
An upcoming drama directed by Simon Stone starring Carey Mulligan, Ralph Fiennes and Lily James.
Outside the wire
In the near future, a drone pilot sent into a war zone finds himself paired up with a top-secret android officer on a mission to stop a nuclear attack.
January 22
The White Tiger
Produced by Priyanka Chopra Jonas, this Netflix drama is based on a book by Aravind Adiga of the same name.
AMAZON PRIME VIDEO
January 7
Mariyam Vannu Vilakkotthi
Three school friends now working at the same company decide to celebrate their colleague's birthday at his house, which is owned by a retired headmistress.
January 8
Maara
An adaptation of the Malayalam film Charlie by Martin Prakkat, the film stars Madhavan, Shraddha Srinath and Sshivada. 
January 15
One night in Miami
An American drama film about a fictionalized meeting of Malcolm X, Muhammad Ali, Jim Brown, and Sam Cooke in a Miami hotel room in February 1964,
ZEE 5
January 1
Nail Polish
A ZEE5 Original courtroom thriller starring Arjun Rampal, Manav Kaul, Anand Tiwari, Madhoo and Samreen Kaur.
January 7
Kaagaz
The story revolves around a common man, played by Pankaj Tripathi, who is declared dead as per the government records and who struggles to prove his existence.
Apple TV +
January 29
Palmer
After 12 years in prison, former high school football star Eddie Palmer returns home to put his life back together and forms an unlikely bond with Sam, an outcast boy from a troubled home.