The characters that Kajol has played in the recent years are proof of her versatility and how much she is open and ready to experiment with her roles and entertain her audience. Let's break down her unbelievable transformation!
As someone who grew up watching Anjali from K3G and Kuch Kuch Hota Hai or Simran from DDLJ, my image of Kajol was always this innocent girl with dreamy eyes who hopelessly fell in love with the hero. She played this funny and happy-go-lucky girl next door we all fell in love with. She danced with grace and looked stunning in those chiffon sarees that were one with the wind. Her chemistry with Shahrukh Khan was beyond words and has set such high standards for all of us watching. While we completely enjoyed watching these movies and while they will always remain classics, with time, Kajol as an actress only and only kept growing. In an era where we no longer believe in this ridiculous taboo that actresses cannot be at the peak of their career after marriage or children, we forget that Kajol in fact has been breaking this stereotype for years! With her recent trajectory of films, you can tell how drastically different they are from her previous works and how she is constantly making an effort to try something new.
Apart from her on-screen self, even IRL, she's never been scared to voice her opinions. She is straightforward and bluntly speaks her mind about so many things and sometimes even about other people. And that's one of her qualities that make her feel so real and in fact relatable to all of us!
Also Read: 30 years of Kajol: Her characters that make you feel 'me too'
On her birthday, we're talking about some of her recent works that we've simply loved!
Sujata - Salaam Venky
In Salaam Venky, she plays Sujata- a mother who is faced with the biggest plight of her life when her child is diagnosed with muscular dystrophy. But like any mother would, she goes to heaven and hill for her son to live his life to the fullest and always tries her best to make him happy. 
Devyani Singh - Lust Stories 2
Devyani - a former prostitute who was now married to the king of a palace, was stuck with a loveless and abusive husband who literally lusts over the entire village. She has to stand up for herself and wants the best future for her son. The way she seeks revenge was ethically grey and it was surprising for most of us to see her in a bold and mature role like that.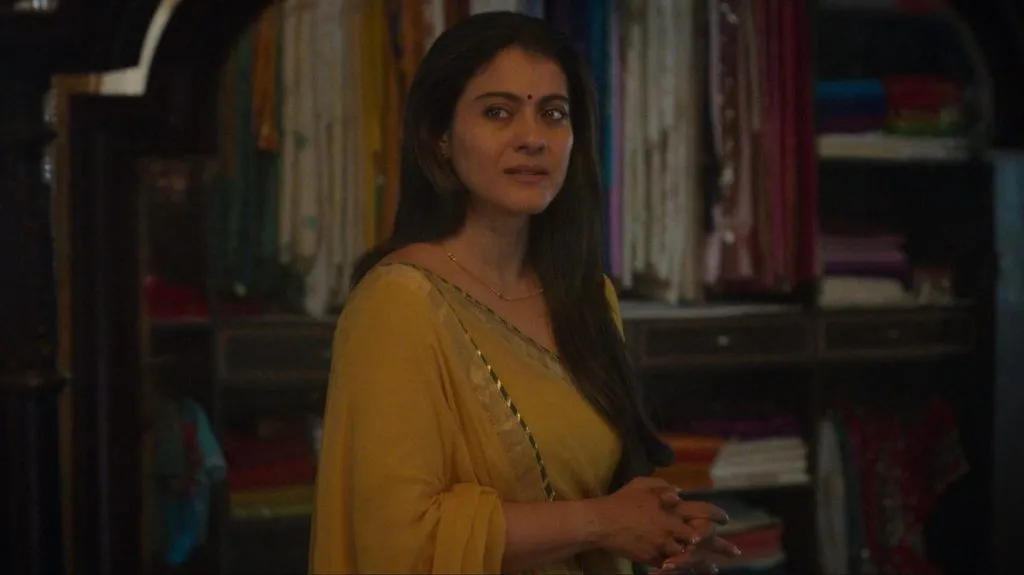 Eela Raiturkar - Helicopter Eela
Eela who was an aspiring singer in her youth, had to give up on her dreams after she had her son and her husband abandoned both of them. Years later, her son encourages her to pursue her dreams again and reach for the stars!
Noyonika Sengupta - The Trial
Adapted from The Good Wife, Kajol plays Noyonika Sengupta, a housewife who re-pursues her career as a lawyer after her husband lands himself in jail after a scandal. She said in a recent interview that out of all the roles she has played, she connected to Noyonika the most and really became one with the character in this gritty courtroom drama.
Jyoti - Devi
A group of women, all victims of rape, co-exist in a small room and show solidarity and empathy when the newest victim shows up. A movie with such a deeply impactful message starred so many amazing actresses together including Kajol who really stood out in the film.
Anuradha - Tribhanga
When Anuradha's mother falls into a coma, she as a self-made single mother grapples with regret and resentment while reflecting on their strained relationship.
Savitribai Malusure - Tanhaji
While the movie was Tanhaji Malusure's biopic, Kajol stole the show with her portrayal of the fierce Savitribai Malusure, his wife and his biggest supporter during his toughest battles.
Happiest Birthday to an actor par excellence who we will always look forward to seeing on-screen!
For more entertainment, follow us on @socialketchupbinge