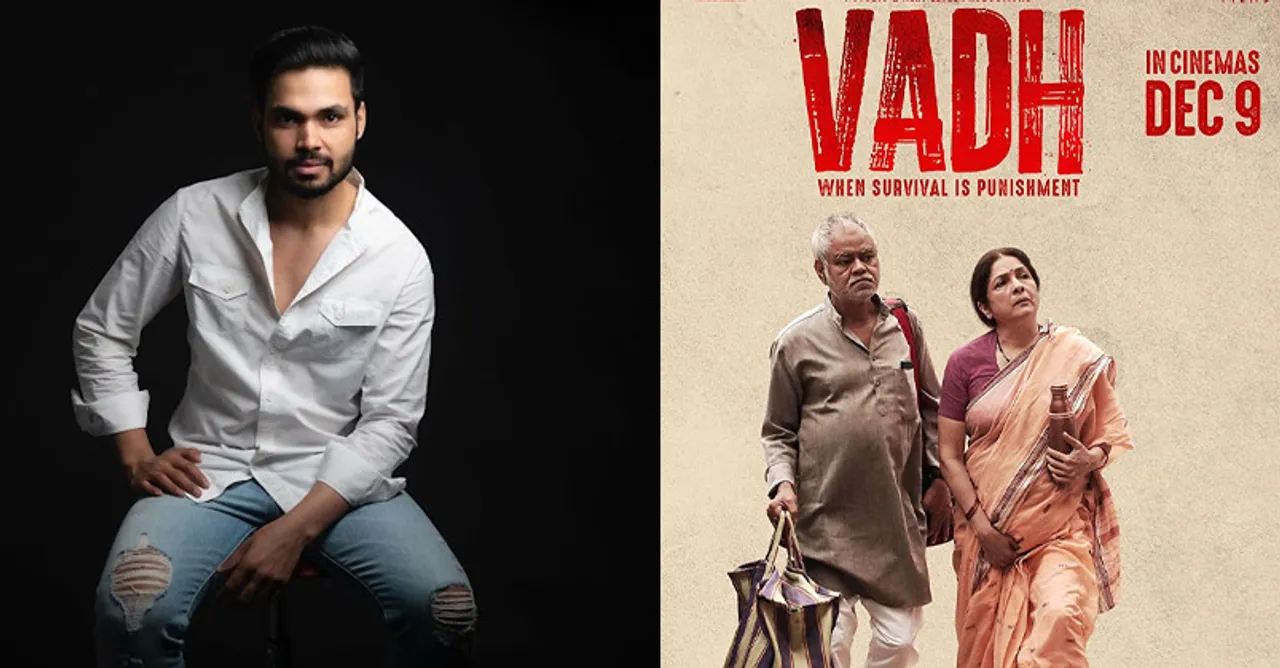 After 14 years of experience as a theater actor, Diwakar Kumar shares his journey from the stage to the big screens and all the many aesthetics of acting that he explored over the years!
Even though being an actor was never his childhood dream, Diwakar Kumar completely fell in love with the craft when he discovered the world of theater. After being a theater actor for more than a decade, now he is here to shine in the world of movies as well. And of course, working with powerhouses of talent like Naseeruddin Shah, Neena Gupta, Sanjay Mishra, and Divya Dutta only adds to being one of the best experiences an actor can even dream of. Diwakar also talks about what his process is like for approaching a character, how he gets into the psyche of it and becomes one with the role that he is embodying, and what we can expect from his new thriller drama 'Vadh' which is currently playing at a cinema house near you!
Here's how the conversation went! 
 Can you tell us a little bit about the film and about your character in the story?
So the film is set in Gwalior. It's a lower-middle-class family, and I am playing Sanjay Mishra and Neena Gupta ma'am's son's character. I can say just go and watch the film because it's a book jiske har page pe aapko different different cheezein milti hai. So iski parak pe parak khulti jaati hai scene wise. It's not like how in the trailer, beta paise leke gaya aur maa baap pareshaan hai. Ye sirf itna hi nahi hai film mein. Murder bhi sirf iske liye nahi hota ki vo paise maangta rehta hai. That's why he says ki maine hatya nahi kiya hai maine Vadh kiya hai. So there are many things in the film that unfold further. And you will be able to relate with every character, when Sanjay sir will say a line, you will feel his emotions. When Neena Ma'am says nahi ye toh bohot bada paap ho gaya hai. Jiss ghar mein choohe bhi nahi maarte, uss ghar mein insaan ka murder hua hai. So you will relate to every character. The son, the character that I am playing, uski bhi apni journey hai. Vo America kyu jaata hai, aise kyu rehta hai aur vahan pe kyu fass jaata hai. Jo parents hai unki bhi apni story hai, vo bhi fase huye hai. Sab fase huye hai ek doosre mein. 
Both Sanjay Mishra and Neena Gupta are such talented actors, how was your experience while sharing screen space with them?
It was amazing, they are brilliant actors and great human beings. I learned a lot. I spoke to Sanjay sir, about the craft and the same with Neena ma'am. So for me, it was a great learning experience and I was very excited to work with them.
Can you tell us about your casting process for this film and what made you choose this script?
So Rajeev sir and Jaspal sir, they have directed the film and I knew Rajeev sir even before this film so I asked him if I can audition for this character so he called me one day. Jaspal sir took my audition and then they narrated the story and it was brilliant, you'll see that when you watch the film. It's different from my real life so as an actor for me it was a challenge that I accepted and I was thrilled to play it after they told me about it. So yes isiliye maine ye script choose ki. Mere liye jo mere real life se alag hoti hai I like going for those kinds of scripts.
Is there a quality that you learned from Sanjay Mishra and Neena Gupta during the process of shooting this film? Like something you saw and felt you would definitely want to incorporate in your future projects as well?
Of course! I have a theater background and I have been doing theater since my school days so I can say I have 14 years of experience and Neena ma'am and Sanjay sir both are from theater background as well. So every actor has their own style to play the character, So I asked Sanjay Sir how he approached the character, because it's different from his previous characters like Kadvi Hawa or Dhondhu. So he told me how he goes about it and how he approaches the character. Every character has their own conditioning, I, for instance, have my own conditioning. Meri philosophy alag hai, meri psychology alag hai, so first I think about all of that and then I think about how the character would think. You can differentiate between me and my character. So for me understanding the character, psychology and philosophy is more important and I think even Sanjay sir does the same thing. Neena Ma'am has a different style. Vo aati hain, apna character effortlessly perform karti hain aur nikal jaati hain. Vo ek hota hai na camera ke saamne aaye aur perform kiya aur apne character mein aa gaye, real andaaz mein. So even when I asked her how she approaches her character, she said "beta experience ke saath aa jaayega sab."
So you've been a theater actor for 14 years, how has your experience been different as a theater actor compared to being a movie actor now?
I think acting is the same, be it theater or movies. It's just that there's a little technology involved in films. In theater we do blocking with lights and in films we do blocking with the camera. When I came to Bombay I had no idea about the camera and after I met some DOPs who taught me everything is when I got a better idea. So theater taught me that. You practice a play for a month and then you perform in one go, you know the blocking, you know each and very line. Only thing is you have to improvise on stage only, you don't cut and go again. But acting wise, theater acting and camera acting are the same. In movies you just have to keep in mind where the camera is placed so you have to stand in front of it accordingly. So according to my experience this is the only difference otherwise acting is acting everywhere. Because when I was doing theater I approached the character in the same way which I still do now for films too. Vahan pe bhi meri psychology, philosophy body language jo bhi hoti thi it's the same now as well. I also read the novel Murakkami during the lockdown, it's written by a Japanese writer and I do my own preparation for the role so one day I was sitting and I realized that If I am playing Ram's character, even though I am not Ram but for the audience I'm only the character that I'm playing. Jo ye baat hoti hai na ki Diwakar ko uss character se alag hoke uss character ko dekhna padega. Jab ek actor ek character ke baare mein sochta hai toh vo apne tareeke se uske baare mein sochta hai, and apne tareeke se means my schooling, my knowledge, my information, but vo character zaroori nahi ki Diwakar ho so usse apne tareeke se sochne ke baad you have to think of character's background, character's space, time, how he's going to walk, talk with his parents, so vo sochna padtaa hai, aur Diwakar ko check karna padtaa hai ki character jo vo perform kar raha hai, vo aise check kar paa raha hai ki nahi kar paa raha hai. 
You beautifully explained about your experience as a theater and movie actor but if you had to choose between the two, which one would you pick?
This is a tough one. See I don't think I can leave theater. Being an actor was never my childhood dream but I started doing theater to just explore and it taught me to explore myself too. Kaise mein baat karte hoon, kaise mein sochta hoon, kaise mein judge karta hoon, my philosophy, apni condontioning se so theater ne vo break karna sikhaya hai. Jo mere hisaab se sahi hai. Zaroori nahi doosre ke hisaab se bhi sahi ho, jo mere hisaab se galat hai, zaroori nahi vo doosre ke hisaab se bhi galat ho. Right? Har insaan apne alag alag family se aate hai aur sabke apne situations hote hai, toh theater ne ye sikhaya hai mujhe. Ab acting aaya mein isiliye kyunki vahan different characters ko portray karne ka mauka milta hai. Bohot jaane ko milta hai basically. Aur acting karni hai toh theater mein bhi karunga aur film mein bhi karunga, kisi ek ko choose karna mere liye toh bohot mushkil hai. 
You have worked with Naseeruddin Shah as well, how was that experience for you?
So in Irada, mera koi scene nahi tha Naseeruddin sir ke sath but jab bhi vo shoot pe hote the mein unko sunta tha so again humare liye toh aise the ki theater ke time se hi vo humare liye khuda hi hai, toh mein unke bagal mein khada rehta tha aur jo bhi vo bolte the sunta rehta tha. I didn't ask him any questions because jab bhi mann karta bhi tha toh himmat nahi hoti thi. But I will definitely talk to him the next time I see him. Arshad sir ke sath bohot acha tha. Unke sath toh aisa tha jaise college mein sath mein pade huye hai hum. I never felt he was such a senior actor because he never made me feel like that. Even Sanjay sir was pretty chill like that. These people have so much experience not just in arts and craft but also in life. Unhone ne itna dekh liya hai na life mein ki vo ab sab jaante hai and knowledge really attracts me and they have that in abundance. So I've learnt a lot from my first film to this film. Even Divya Dutta ma'am, who has received a national award, unke sath bhi kaam karke bohot acha experience raha hai. Bohot kuch seekhne ko mila hai sabse aur mein use karne waala hoon aane waale projects mein. 
Do you have any fun memories from the shoot of this film that you can share with us?
First day I was shooting the scene with Neena Gupta ma'am and Sanjay sir, so the scene was Neena ma'am champi kar rahi hai baloon mein and Sanjay sir was there and I've come because I want to ask for money to go to America and my father is saying I don't have 25 lakhs, I have only 10 lakh. So abhi itne saal hogaye theater karte huye but fir bhi pehli baar stage pe jata hoon toh heart pump hota hai and this scene was like that for me aur vo mere liye thoda alag crazy scene hota hai. Sanjay Sir aur Neena Ma'am aap inko dekhte huye aa rahe ho itne saalon se, toh unke sath performance ka jo pressure tha but again you can say Neena Ma'am aur Sanjay Sir dono ne bohot samjhaya achese first ek do take thoda crazy waala aise vaise hua, but I guess baaki toh sab acha tha. Bohot chill hai, Sanjay sir ne bhi premiere pe bulaya aur jaise apne bete ko bulate hai vaise mujhe bhi 'arey idhar aao idhar aao' karke pyaar se bulaya. Toh ye log bohot hi bade actor toh hai hi but bohot bade ache insaan bhi hai. Toh mere liye vo crazy bhi keh sakte hai aur thoda learning bhi keh sakte hai. 
Your last words to your audience in terms of what they can expect when they go to watch the film?
I request you to watch the film at the cinemas and not wait for it to come on OTT. You can read the reviews and go. Bohot acche reviews aaye hai aur bohot achi film bani hai, Bohot maza aane waala hai aapko film mein, bohot achi script hai, bohot achi acting hai, you'll see Sanjay sir and Neena ma'am in a never seen before avatar. So yaa please go to the theater and support this film.
You can watch Vadh at a theatre near you!
For more entertainment content follow us @socialketchupbinge