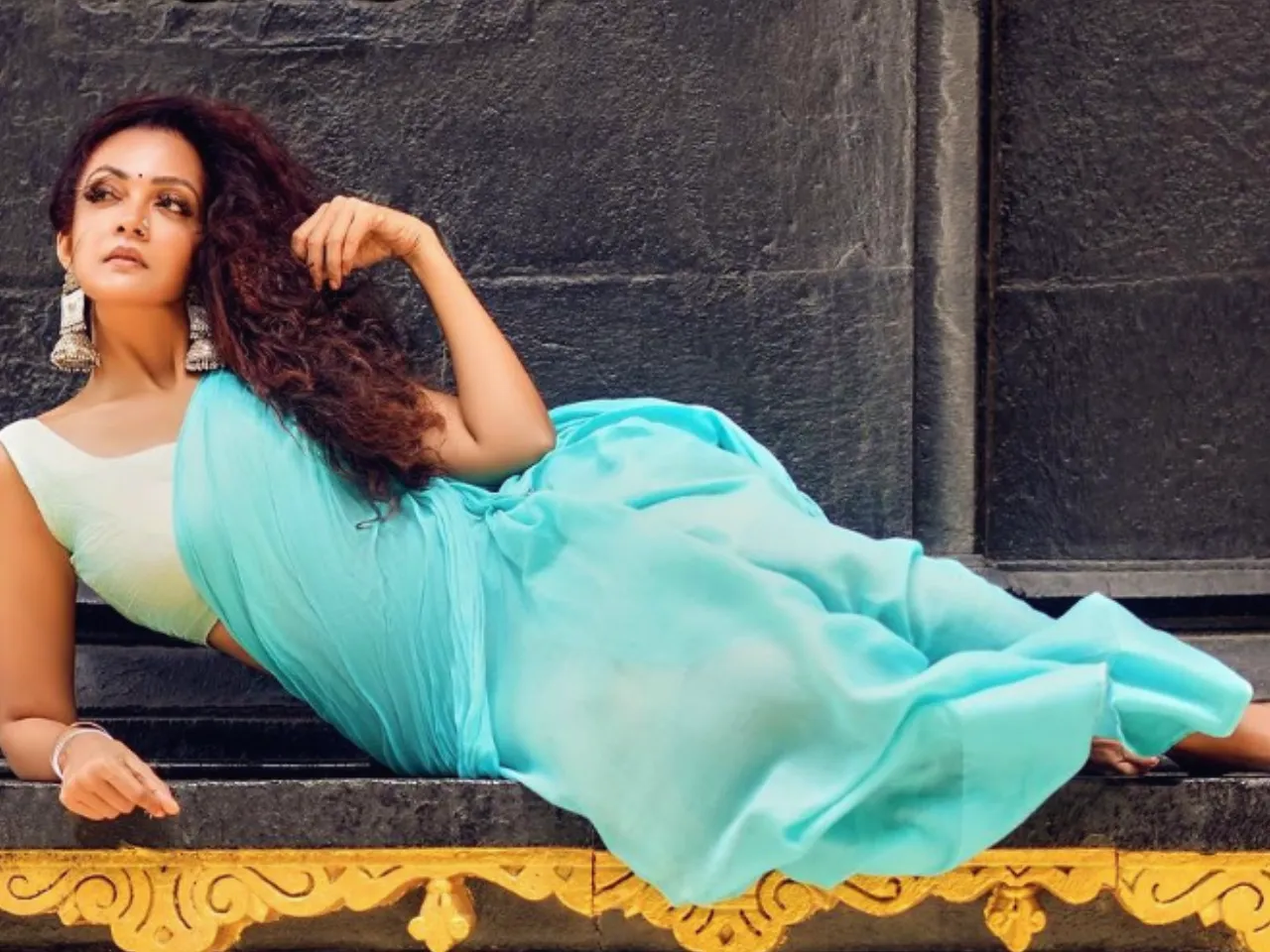 Sheena Chohan, who was seen in The Trial, The Fame Game, and more opens up about her experiences.
While watching something, we come across faces that we have seen one too many times, someone who's left their impact on us but it's hard to place them. Sheena Chohan might have been part of that category but slowly and steadily is on her way to leaving her mark. A big fan of Meryl Streep, hoping to work in scripts like hers, Sheena is known for Netflix's The Fame Game, Disney Hotstar's The Trial, The City of Dreams 2 and Ex Mates, Netflix's Ant Story, She was also seen in the Guinness record holder Hollywood film Nomad, the Malayalam film The Train opposite megastar Mammootty and in two films as lead by Bengali legend Buddhadeb Dasgupta.  
She will be featuring as a lead alongside Marathi superstar Subodh Bhave in Aditya Om's Hindi historical biopic about Sant Tukaram and so much more. Sheena, who already has worked with icons like Madhuri Dixit, Kajol, Mammootty, and many more talks about her hopes, dreams, her process as an actor, and her future! 
Here's what she had to say! 
You were recently seen in The Trial. Can you tell us a bit about your experience of working with Kajol and the show? 
I just play a small part in the show. It was very exciting, thrilling, and entertaining to be working opposite her and in the show and of course, the brilliant director Suparn Verma. When I work, I always try to talk to the crew to connect with them as it always makes it more fun! Also it's like you're playing a match where you're kind of having to stand there and catch anything that's been given to you as you're all working towards one goal which is creating that amazing scene to really affect your audience. So I always try to nurture a relationship with everyone and make people feel we're a team as it is a collaboration. This was something I connected to with Kajol as she's such an icon but she comes on the set with this energy that is fire literally. And she doesn't talk to people around her like a diva rather like they are her peers and I absolutely love that! With her sense of love for her work, you can see that passion and the love she puts into her work and how she enjoys it. Given how energetic and bubbly she is, she strives for excellence at the same time. And this is something I learned from her! 
Can you elaborate on your character and how you prepared for it?
I play a very quiet character of a Catholic girl from Bandra, which I actually enjoyed playing because I feel extroverted or glamorous characters are more entertaining to people because you get it. But when you're playing more of a quiet character, you get to play with a lot of silence because it's like when you don't have to really say a lot yet you have to say a lot. Then it's harder to play this kind of character with the inner consciousness because you are kind of thinking and feeling the world but not saying it out loud. And I think that's the nature of my character in the show because she says very little and at the same time communicates everything through the eyes. Honestly, I think Meryl Streep is a perfect example of that in terms of how she communicated without saying much. 
I did theater and while in school I learned the facility to be really authentic with characters and how that comes from being able to bring your craft into it because I was actually very shy and quiet as a child. I used to be very observant of life and observe people. This character in that sense was very interesting because it was very therapeutic for me to get out all the emotions and rest them to get into acting. I observed Catholic girls from Bandra as I went to churches there, and spent time with this one friend I made while talking to her about her life over coffee. This was a very interesting adventure because they had such a different life. It was just amazing as a process to bring it all into creating this character. 
What was it about this character that connected with you instantly vs. what you felt was completely different from you? What is your process as an actor?
I connected to her because of her calmness as a quiet character which is very opposite from me in real life as I have energy and am very bubbly. This is also what was the different about it and when you're playing something completely opposite of who you are, it becomes a lot more exciting. As an actor, the fact that the character is very quiet, and silent, but at the same time a lot is brewing inside of her which she expresses through her eyes is what I was excited about because it's like you are creating a character.
The major part of an actor's job is to bring a character to life with their performance and depth of human experience. And I try to encapsulate this experience of this Bandra Catholic girl who has gone through a situation with joy, tragedy, and contradiction of it all. There is a technique that I follow though. I look for a real person within that character to get into the skin of my characters. I ask myself - what is their need and drive? Sometimes it takes me weeks to find it but as soon as I do, I know I have connected to my character and then everything follows after that from hair, looks, and all that. This is what acting as an art form means to me.
You worked with Madhuri Dixit in the Fame Game. What was that like?
Again a legend in her own space who is so down to earth, warm, and a lot of fun to work with, she constantly tries to create fun on the sets even in between scenes. But apart from all this, she also has a range of emotions that she reigns in and slips quite easily in and out of character. It was a once in a lifetime experience to observe her, her expressions, smile, craft, and mastery over all of it were so inspiring to witness. It was like attending a masterclass! 
You are working on the Hindi adaptation of Sant Tukaram, can you tell us a bit about that?
It is a very exciting project as Sant Tukaram is a biopic and is being made in Hindi after being made in Marathi in 2013 where Radhika Apte had etched the role that I am playing - Aaavli, Sant Tukaram's wife. It is being directed by the brilliant Aditya Om and I play opposite the King of Biopic in Marathi cinema, Subodh Bhave. For me, playing her is an honor because she is a real-life historic character whom we studied about in school. Her sense of determination, the fact that she is a village woman, and how she stood by her husband are all inspiring. While shooting, it was like entering into a different space altogether because we were shooting in a lot of villages and the scenes in Wada where Bajirao Mastani was shot. It was such an amazing experience to be able to spend time with these women and look closely at how they lived. They were all so inviting as they would come in and we'd all sit together to eat bhakris.To be able to just listen to them and how their body language worked made me realize how they are like athletes as they go into the field and are such strong women. Honestly, for me to get a chance to work with Bhave and Aditya Om and create this world and historical character was something else and so interesting. I was fascinated and loved the thrill that I got from being able to be Aaavli. The film is going to be out this year and the idea of being a part of a story that I loved was very exciting to me as I think it's a worthy way to spend one's life this way. In fact, my goal in life is to entertain audiences through stories as storytellers so communicating this beautiful historical biopic story was the most beautiful part of being a part of Sant Tukaram. 
You mentioned that you love to entertain people and tell stories of people as a storyteller, would you say it is your philosophy especially when you look at scripts?
Honestly, I love what I do and really enjoy working hard at it. So my philosophy is rather very simple - learn new things. Life is all about learning new things and challenging yourself no matter what field. I feel acting is the best for me as I get to practice empathy - be in someone else's shoes, care about them, living their lives, their dreams, how they feel, and what they have been through, and when you get to involve yourself in someone else's life like that, it hopefully changes the way you live your life, it evolves you in a way it is like therapy. And more likely sometimes you not only feel for yourself but also look at someone and wonder how they feel and if it is the same way you probably practiced being that character and it's a joy. It's the spirit of play and it's very addictive! 
Since I come from a theatre background which I did for almost five years, it gave me the most useful training tool for an actor - researching characters and discipline! And then spontaneity without necessarily having to experience something. Theatre was a very good teacher for me in the sense of philosophy of art and, honing in my craft. So my philosophy is just that I wanted to do it and was fascinated by it. As I love the thrill I get from it and seeing other great performances, whether it's Meryl Streep or anyone else. I love stories and the idea of being a part of a story and in the wake of it being part of something larger than me where I can help tell something through my director's vision is very exciting for me. And it's an amazing time for us talents as there is just so much experimentation in terms of good stories shaping up and coming out.
In telling someone else's story or some other character's POV, how do you find time for yourself?
I spend a lot of time reading, listening to good music, and watching good films. I sleep at 10. 30 pm and wake up at 6. 30 pm. When I'm training I create my own time but at the same time, I love learning, traveling, and observing life. I think it's just about how you can create time for whatever it is that you love doing and honestly if you love doing something then creating time for it isn't much of a problem to enrich your life even further. Other than that, there is another passion of mine that I do involve myself in which is human rights! I get a lot of inspiration and joy from doing my human rights work simultaneously. I've been the South Asia ambassador to the world's largest non-governmental non-political organisation - the United for Human Rights. I've worked with them for the past 10 years and I create equal time and passion for this and acting simultaneously. 
I feel my work in entertainment works hand in hand with spreading awareness and education of human rights. I use the platform to promote human rights and I even ask my fellow colleagues from the film industry to do so as well. I feel we are all advocates of change if we want to be because as artists we have such big platforms and channels to communicate via. So some people use their voices, some don't and I think there's nothing more important than awareness and education of our basic rights and equality. Because if we know our rights, we can stop them from being violated and if you ask me, women's empowerment also starts from there and so much education starts from there. If we can ensure education and being aware of our rights then we will have a much better country. So that's another passion as I want to reach billions through the message of human rights this year! 
Can you describe how your journey has been from your struggling days of acting to working with big names today?
It's been very adventurous because every project and every step of the journey has challenged me. Every role I have done presented its own set of challenges because you just don't have to play a part but create an entire human being up from the paper. So I think you have to be an observer of life and learn even from the rejections which I just think are just another learning process. In hindsight, I have always seen my journey as something that helps me learn things. The challenges are never going to go away. Because they have always been there from the beginning but then the question is - are you brave enough to lose your inhibitions, get emotionally involved into your character, take the challenge, and rise above the system while staying really true to your goals no matter what it is with persistence, perseverance, and dedication? I've tried to keep that consistently there from the start till now!
This year is a very exciting year for me because my journey has been very unconventional in the sense that I've done a lot of independent films, worked in the South, West Bengal and Bombay. I'm doing a lot of exciting work and I'm very excited that I'm finally doing these different things which I can bring to life and affect my audiences, ignite imagination, and it's brought that amazing sense of reaching a larger audience. That's what an actor dreams of eventually and this year is about that!
For more binge-centric content and reviews, follow us on @socialketchupbinge.