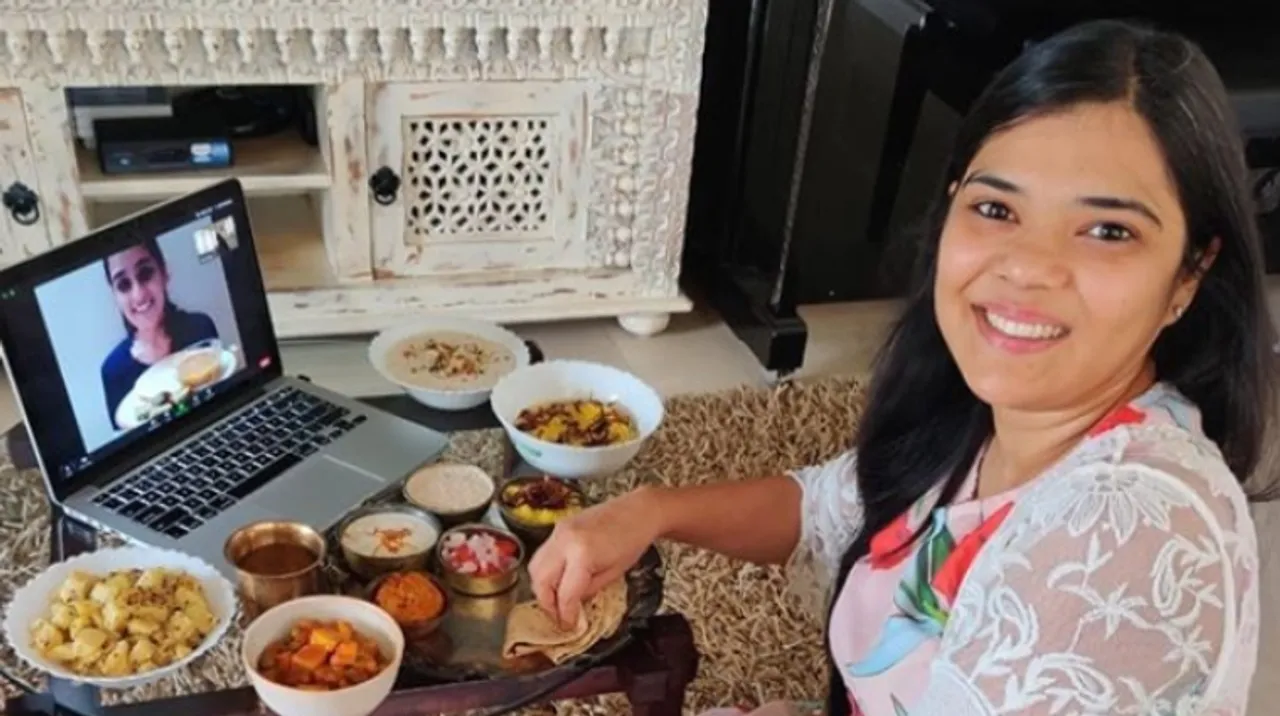 Helping people experience delicious food with her expert recipes, Neha Mathur gets candid about her food blog - Whisk Affair!
Neha Mathur is a blogger and the recipe expert behind Whisk Affair. Nurturing Whiskaffair for the last 8 years by trying & testing every recipe published, she makes sure every dish turns out perfect. She is a caring wife & mom and a loving host. As an avid traveller, she loves to explore around and try the local cuisines. 
Over the course of the last decade, Neha has worked as a recipe expert with many brands to bring the best out of their recipes. She has served on the Panel of Saffola Fit Foodie, worked with startups like Eat Fresh & Swiggy, India Food Network and many more.
Take a look at our conversation with Neha Mathur from Whisk Affair:
What made you start creating content? And when did you start creating content?
"I studied to be a Dental Surgeon, however, I could not foresee myself being bound by the clinic boundaries. Right from her childhood, I was fond of food and learnt nuances of cooking from my mom and dad. Early in my career I got multiple opportunities to explore the Globe, from South East Asia to Europe and the US and got fascinated by a variety of cuisine. I started to document a number of recipes I came across while travelling the globe and felt there was an opportunity to help people experience food as more and more people look out for Global recipes. Whiskaffair just followed naturally and started to garner the love from its readers."
What makes your content stand out?
"I am fond of local flavours and ingredients and makes sure to include them in my recipes. To help everyone experience the recipes to the best; each and everyone on WhiskAffair is personally tried and tested by me. I continue my passion in trying out traditional, fusion and local recipes and with this research, I continue to create engaging content on WhiskAffair"
How do you choose what to promote on your feed and what not to?
"The content has to connect with me personally before I can share it with anyone; that is my foremost principle. Eventually, I want to bring value to my readers so they make WhiskAffair their one-stop place for getting the recipes and experiencing food."
One instance/experience that made it all worthwhile?
"My customers are my recipe users. People started to notice WhiskAffair through social media and started to share the content as well. Every day I get a number of messages on the blog and on my social handles about how a particular recipe turned out well and how people enjoyed it; which makes my work worthwhile. This is how we started to make a difference to people, now we rank high on search results which helps us grow."
What does a regular day look like?
"I pack a number of things during a day; right from researching new recipes; trying them out in my kitchen; plating and shooting the recipes; making videos; posting content; being on social media to respond to my readers are all part of a regular day. Then I've to plan for the upcoming week; collaborating with my team on new tasks and projects; working with F&B brands; working with my Tech teams etc.. it's a fun ride being a blogger."
How do you make moolahs?
"As WhiskAffair has grown with love from its readers; I've started to earn decently from the Ads revenue. I also curate recipes with a number of F&B brands and try out new products and services in the F&B market."
Where do you get ideas for your videos from?
"Whatever I work on has a personal signature which comes from my passion to help people experience food. I put in a lot of effort in researching and working on the recipes so they turn out good each and every time. All my videos have a step by step instructions on how to make a recipe turn out good. I usually use a top shot and sometimes I do a personal face to face connect."
Weirdest brief ever received?
"Most brief's are pretty innovative. However, sometimes the brand's and agencies don't understand a platform too well and try to overreach which then becomes a difficult conversation."
If not an influencer, what would you be?
"I would have travelled across the world and shared my stories as I love to explore new things. The entrepreneur in me is always hungry for new challenges."
Message/tips for upcoming bloggers
"Believe in yourself, be consistent, aim high and don't be satisfied with mediocre results."
Your favourite TikTok audio?
"It's an engaging platform, I keep trying out from TikTok's foodie playlist."
Here is how Neha Mathur replied to our Quick 5-
Favourite meme template on social media?
"Meme's don't work with my kind of audience"
One celebrity you want to collaborate with?
"I would love to work with Kareena Kapoor"
Your favorite Influencer?
"I like a lot of them who bring unique content"
Weirdest or funniest comment you have received?
"I still keep getting a lot of proposals and people are surprised that I have a 14-year-old son!"
Favourite face filter?
"No filter"
You can check out her food blog on the website Whisk Affair!