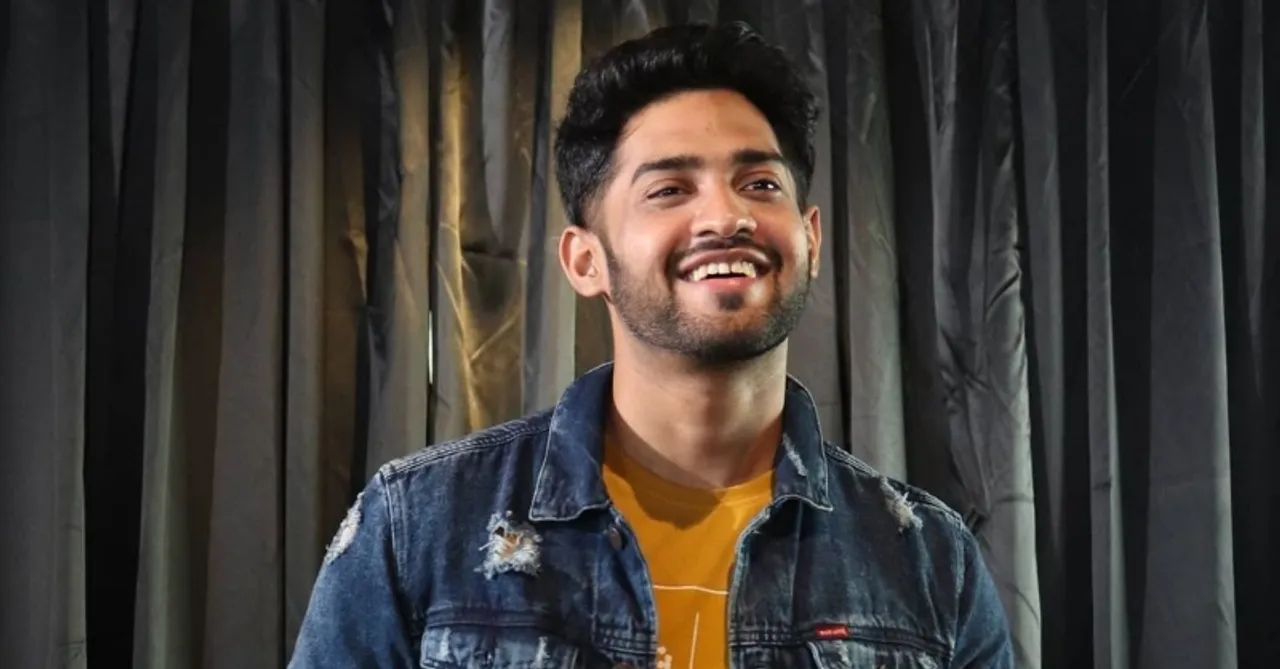 Learning from his mistakes and succesfully starting his own second channel, Mahesh aka Thugesh has an inspiring journey to share with his audience!
Sometimes life takes you in a different direction than the one you'd originally planned on and this becomes something you decide to pursue for the rest of your life. Nothing describes this better than the life of YouTuber Mahesh Keshwala aka Thugesh. When Mahesh started his Youtube channel in 2014, he had no idea what would become of it. His first video titled 'Chris Gayle Thug Life' was able to hit over 5 lakh views.
This success only encouraged the then model and LLB student to venture out and try his hand at content creation. He decided to give his online life a go and tried out different genres of video content. Although his subscribers wanted him to predominantly focus on 'Thug Life' he continued to give his ideas a try. Diversifying his content, he also started making a lot of reactions, reviews, and opinion videos. Eventually, he created another channel called 'Thugesh Life' which he later renamed Thugesh Unfiltered. Thugesh Unfiltered focuses on ideas that are completely different from what he shares on his main page. It has gained massive popularity for the unscripted and unfiltered content, including reactions, gameplay videos, try not to laugh challenges (most loved by the audience), and so much more! He's only grown over the years and enjoyed all the small encounters that he has with fans IRL. As he plans to continue with his dream to have his own late-night show and continue entertaining his audience, he sat down with us to discuss his journey so far.
Here's what Thugesh had to share:
How did your Youtube journey begin?
I was always fond of travelling so I named my first channel, "Top 10 list India" and I used to make videos on the 'Top 10 places to visit in Mumbai', 'Top 10 places to visit in Delhi' and that didn't work. I was also doing other stuff at that time so I thought, no this is not my cup of tea and I quit YouTube for quite some time. Later, I saw this channel called Thug Life and it made videos on memes and stuff. I thought yeh India me koi kar nahi raha hai toh maybe I should make it. I should make videos of celebrities and cricketers toh I made a thug life video and even that video didn't work. Then I just said to myself to hell with this Youtube and mene channel sab band kar diya and decided to focus on my studies and modelling. When I opened Youtube sometime later, that video had 5 lakh views, this is around 2015. And uss time pe 5 lakh views was a big thing! I also had $200 -$120 dollars. I was like wow, isse paisa bhi aata hai. That is when I began to make meme related content. Vahape mera face nahi dikhta tha, sirf meri awaaz aati thi. It worked for 2 years but then Youtube's policy changed where we had to show our faces if we want to earn money. That was very demotivating because I was not earning any money so there was no motivation for me, which was a bad decision. After a year I decided to delete all of my 120 videos, I used to shoot with my face cam, and when I did that most of my subscribers were confused about who this person was because they'd never seen my face before. Many actually unsubscribed to my channel. But I decided to post those videos anyway since I had nothing to lose. People had to see my face if they wanted to watch my content. I think slowly they got used to it and during the lockdown, my subscribers increased. Then I decided that just making content around memes is not fun enough and decided to start commentary videos. Although they are called 'roasting' it's basically just commentary. India me logon ko roasting and commentary me farak nahi samjta hai. Unko sab roasting hi lagta hai. Roasting is was AIB did, commentary is different. So I made a video on Bigg Boss, TikTok and people loved it. And gradually I stopped making videos on memes and focused only on commentary.
So, how did you break it to your parents that this is what you want to do and that you are doing well for yourself? What was their reaction like?
I was always doing something, either it was modelling, studies or Youtube. Toh kahi na kahi se toh paise aa hi jaa rahe the. I was not asking for money from them. I was always independent. I never actually said that I want to leave everything to take up YouTube. I was studying while simultaneously making videos on YouTube. Honestly agar paise aa rahe hai toh parents ko koi problem nahi hogi. My parents were very supportive in that matter. And this also happened over time. They just realised that I was getting fame and the money also followed so they knew that it's working for me.
We have a bunch of roasting channels, how do you try to create content that stands out among them?
When I stepped into commentary I noticed that people who do commentary were very abusive. Honestly, I started family-friendly content because my mom watches my videos. Not that mein ek sambya sa ladka hu who never abuses in RL, but since I knew my mom watches my videos I felt it's quite weird to include them. Shuruvat me 1-2 videos me di thi tab mom ne chillaya tha ki yeh kya hai. Then I decided to make it more family-friendly. It's come to the point where if I accidentally abuse in a video people start commenting ki bhai yeh kya kar diya hum toh TV pe dekhke hai aapka videos. It's very non-toxic. I believe aap jo content create karte ho aap audience bhi vaise hi attract karte ho. They want to hear what they love that is why they follow you. And if you make content that is different from their opinion then they can respond negatively. Triggered insaan's audience is a big example. His audience is very casual and non-toxic. That was my goal, that I need this kind of audience who accepts all kinds of content without getting offended. And being a family-friendly channel also helps it when it comes to brands. Brands are always on the lookout for channels that create content that's not abusive and controversial.
Although roasting is accepted and appreciated, we have seen YouTubers receiving hate for the same. How do you decide on where to draw the line when it comes to roasting others?
I wonder why do people have to defame a person? I mean aap kisiko already roast kar rahe ho upar se aap galliyan bhi de rahe ho, toh issa kyu karna hai? I just think it is wrong and unnecessary.
What are the basic things that you have learnt about yourself and your content over the years?
Over the years one thing that I have learnt is to be as authentic as possible. For example, if you're from Delhi you may have a Delhi accent or if you're from Mumbai you may have a Mumbai accent and that's fine. If you've seen my earlier videos, I used to pretend to be very sophisticated and people couldn't relate to me and my content. So I believe that if you create content that's quite normal and relatable and the way your people will be more interested in watching it. The more you try to be yourself the more they feel like you are one of them. Because in India creators try to imitate the Western creators and they try to talk like they do and that doesn't usually work here.
What is that one response that you received from the fans that stayed with you?
Actually, this was my first reaction response from my fan so as I said I was doing my LLB and when I was returning from my college two guys were on a bullet and they are just crossed me. Matlab vo directly mere samne aake ruk gaye. Aur me sochne laga ki 'bhai aaj toh meri mauth hai'. And they just said 'Bhai, big fan.' And I laughed and said ki 'Arey tune toh dara diya.' This was actually my first encounter with a fan in real life.
What are your thoughts on the gaining popularity of all these short-video format apps?
I myself have created a lot of content around TikTokers and as I always say koi platform bura nahi hota, creators bure hote hai. There are a lot of amazing creators on the short video format apps. These platforms are actually great but what also happens is that logo ka attention span kam ho raha hai. People get to scroll 15sec videos and content and even YouTube has Shorts. And these creators upload the same video there too. So the attention span to watch longer video formats have been reduced in general. If you make a 20-minute video people feel that it is quite long so that can be an issue in the future if this format continues to grow.
Also, the whole system and algorithm of these platforms are such that they push creators a lot. It is not like YouTube where you grow eventually. Your first video might receive like 1 million views on Instagram Reels or the short video formats. Toh reach kafi jyada hai. And it's important for all creators to adapt to these new features and put up content on these platforms. I tried to put up some kind of funny videos within 15 or 30 seconds. If you're getting reach then creators are bound to try their hand at that no matter what. As long you are making good content everything is fine.
We know that you also have your gaming and vlogging channel, Thugesh life. How did that happen and what other genres or segments do you plan to explore in the future?
That channel has a story of its own. Phele usska naam Mahesh Keshwala rakha tha, usske bad I went to Bali and decided to make a vlog on the trip. And made a lot of content there so I changed the name of the channel to 'Thugesh Vlog'. Bali se aaya aur vaise hi lockdown hogaya, toh I was like abhi kya Vlog banau? Abhi usska naam change karke mene Thugesh Life kar diya. Then I decided to put up gaming videos, but then many were already doing it and it didn't grow. Now I change the name again into 'Thugesh Unfiltered'. Now I upload casual content on the channel. Basically, the whole channel is unscripted. My main channel needs a lot of scripting and planning and shooting also requires a lot of time but things that I upload on my second channel are very low effort content. Honestly, that channel is working quite well during these times as compared to my main channel. So I just plan to put up such casual content on the channel but when it comes to my main channel I have a late-night concept in mind that I want to explore. I'm planning to make a set and get celebrities on board. So I'm planning to make more sketches, late-night shows and I am also trying to slowly push all the reaction videos to my second channel.
Which kind of Thugesh content are you a fan of? Let us know in the comments below.
For more creator related content follow us @socialketchup