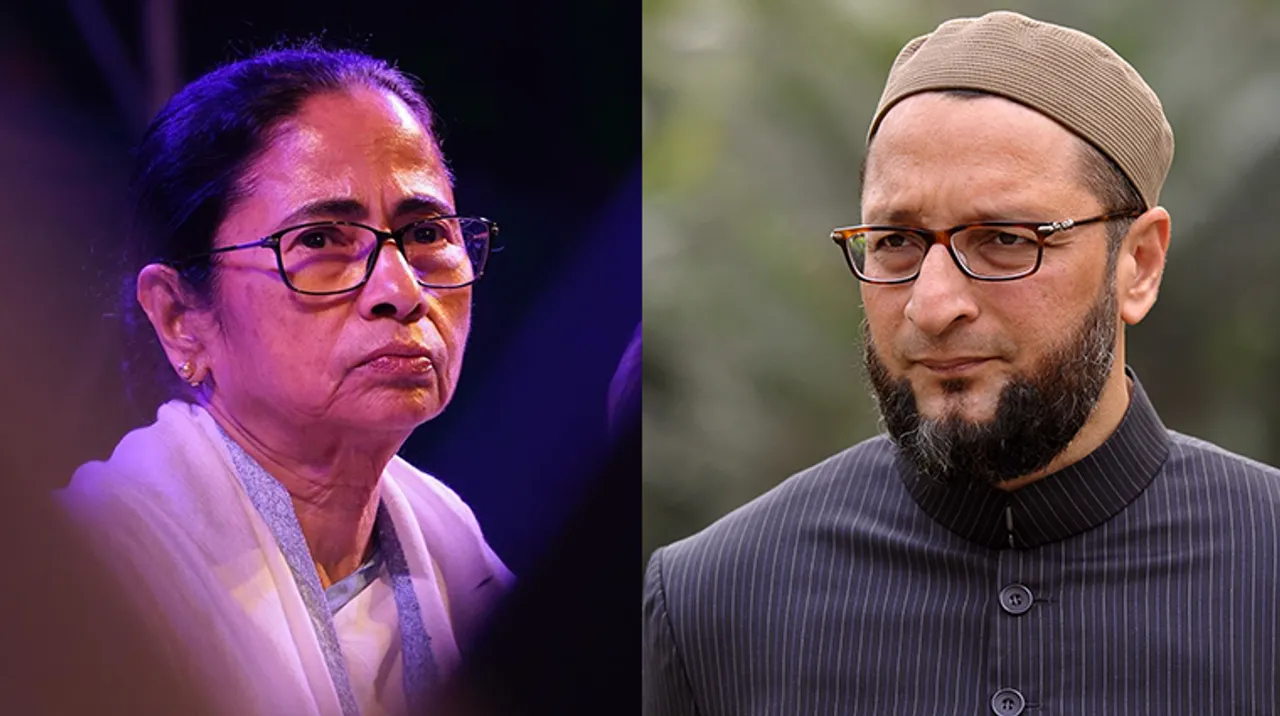 Hyderabad MP Asaduddin Owaisi hits back at Mamata Banerjee after her recent minority extremist remarks on the leader on Tuesday.
Mamata Banerjee said in an event addressing a rally in the district bordering Bangladesh, which faces a major issue related to illegal immigrants, that extremists were emerging from the minorities. The speech indirectly accused Asaduddin Owaisi of taking money from BJP who is spreading this extremist ideology among the people. Owaisi, the chief of the AIMIM or All India Majlis-e-Ittehadul Muslimeen, countered back calling her out as an actual extremist who let BJP enter Bengal and for looking down on the Muslims of the state. He also said that her remarks are making Owaisi's party look like a formidable force in the state and that it is Mamata Banerjee's fear and frustration that is speaking.
"If Didi is worried about a bunch of us 'from Hyderabad' then she should tell us how the BJP won 18 of 42 Lok Sabha seats in Bengal," Mr Owaisi posted speaking of the Lok Sabha elections results that saw BJP winning seats in Bengal. Twitter shared their reactions on the same.
Here is how people on Twitter reacted on Mamata Banerjee vs Asaduddin Owaisi feud:
#MamataVsOwaisi Minority voters card fight is on !!!!
Muslims of India now understand the games of throne in west Bengal .
They will show trust in BJP in assembly election .
Govt of India has brought Triple Talak bill for Muslims women's right and what TMC or AIMIM has done ??

— Amit Bhattacharya (@AmitBha91507491) November 20, 2019
#MamataVsOwaisi

Politicians only see you and me as votes that's it. If you think BJP has any love for hindu or Owaisi and Mamata are trying to save Muslims think again. Their Roji Roti depends on keeping Hindu Muslim matter afloat or else people will start asking questions.

— Abhi ?? (@Woh_Rajput) November 20, 2019
#MamataVsOwaisi – Mamata has shown her cowardice by calling me an extremist, this isn't going to work. You have 44.4% Muslims illiterate in West Bengal, what has she done to uplift them?: @asadowaisi @syedasimwaqar

— Asad Ahmed (@asadAimimBengal) November 20, 2019
It seems like OWAISI gonna secure more seats in this election in Muslim dominated are as he is one of the most prominent Muslim leader now , Where as TMC will secure votes from their loyal old vote banks , The main question is will Mamta go with communist party ?#MamataVsOwaisi

— sourav k jha (@Souravkjha) November 20, 2019
Mamata Banerjee accuses Asaduddin Owaisi of minority extremism

#MamataVsOwaisi pic.twitter.com/qtFWHBVxkU

— TusharNatrajan (@tusharnatrajan) November 20, 2019
Mamata and Owaisi fight for muslim vote. Fighting to be saviour of muslims. Jihadi Mamata didi did well by defaming hindus in West Bengal.#MamataVsOwaisi pic.twitter.com/8Mla3MCo4Y

— Sir Jadeja Fan (@SirrrJadeja) November 19, 2019
Refrain from listening to "minority extremists" - #MamataBanerjee

Many political parties feel Owaisi can shut shop of minority vote bank. Mamata targetted Owaisi.#MamataVsOwaisi pic.twitter.com/xKF278NSEI

— ???????? (3.5k) ? (@manuVirodhi) November 19, 2019
#MamataVsOwaisi

This seems like tug of war between Mamata and Owaisi for Muslim Votes.

— Hema J (@Hema_quotes) November 19, 2019
#mamatavsowaisi appeasement should be poverty elevation. Why politicians want poor to remain poor https://t.co/aptEsTZSmN

— Santosh (@SantoshSridharb) November 19, 2019