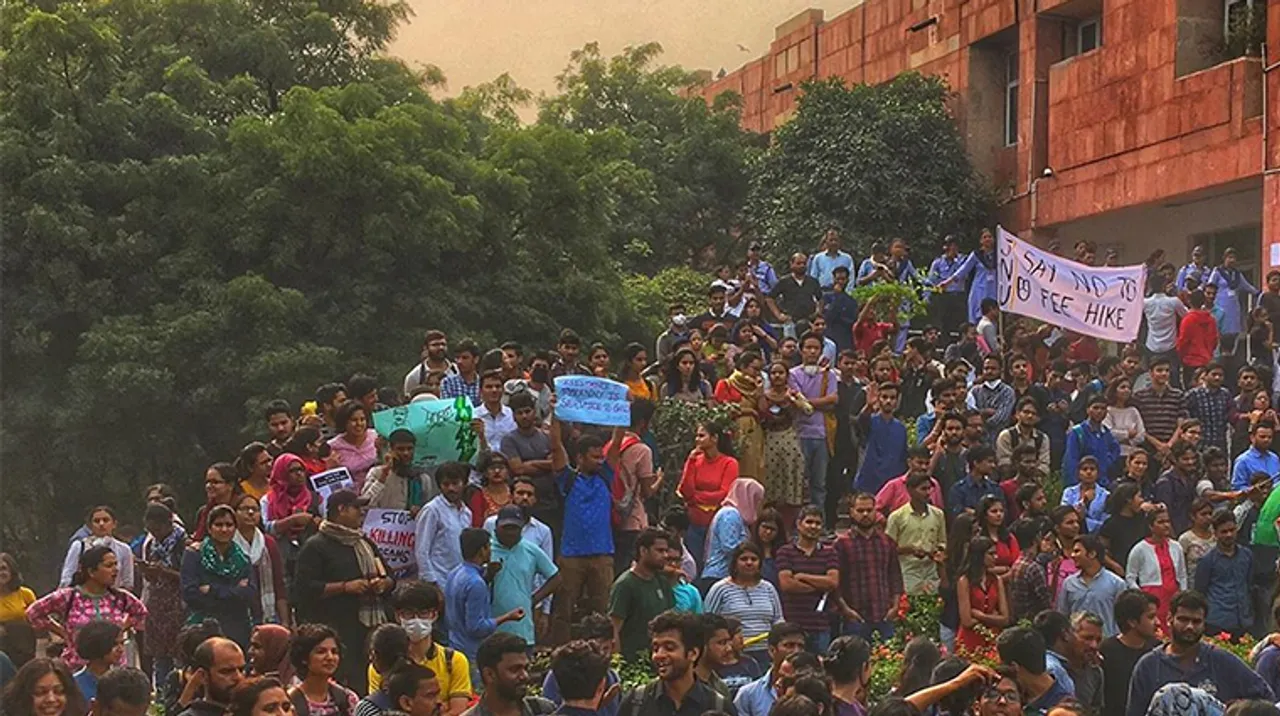 Delhi saw JNU's Students Union protest since October 28 after the University increased the hostel's fees. They were also protesting against the curfew timings and dress code at the hostel.
Students from the Jawaharlal Nehru University took to the streets to protest over the 300% fee hike. The protest began after the University's hostel saw an increase in its fee, which has not been revised in over a decade. The registrar justified this development by saying that the university has been paying the electricity and other miscellaneous expenses from the University grants. They said that the fee hike will help them in upgrading the hostel. Students protested against JNU fee hike stating that most of the students come from lower-income families and increasing the fee will impact them badly. As a result of the hike, students will have to pay Rs. 600 per month rent for a single room against the earlier Rs. 20 per month and for a double-sharing room Rs. 300 per month from Rs. 10 per month.
Here is how people reacted at the JNU fee hike:
#ShutDownJNU. My tax money shudnt be spent on these privileged freeloaders assholes. JNU has become d centre of breeding for anti natnl forces, tukde tukde gang, Bharat ki barbadi tak jang rahegi. We get anti national product like Kanhaiya frm JNU at the cost of tax payers money.

— Mission Kranti (मिशन क्रांति) (@1955Verma) November 12, 2019
#ShutDownJNU Rs 10/- for single Room... Unbelievable! Even Village Schools take more fee than that...
Protest!?? Shut down the whole bloody thing! Nobody's paying taxes to see these freebies trying to wreak havoc at every step with anti-national slogans! #ShutDownJNU pic.twitter.com/yIx4q7nEkp

— Oxomiya Jiyori?? (@SouleFacts) November 12, 2019
Excellent thread !!
True ! #JNU has been serving only against the nation. Almost all the students of this university show that mindset what you have discussed in it so aptly.

I too opine that in the interest of our country @PMOIndia kindly #ShutDownJNU . ?#jnuprotest https://t.co/hwByMQKizm

— Logical Doctor (@Logical_dr) November 12, 2019
most deserving and educated , the " most brainy " ones who cracked the entrances are manhandling CRPF and keeping a prof in confinement shouting slogans. Are you kidding me ? Nah I dint see IIT top 10 rank holders or research scholars of the CGPL lab in IIsc do this #ShutDownJNU https://t.co/S3mBlLkzhA

— krithika sivaswamy (@krithikasivasw) November 12, 2019
People studying
in JNU are not actually poor

They keep failing In exams
because living outside JNU is costly

.

They are now addicted
To living on taxpayers money ॥ॐ॥
#ShutDownJNU

— #iNSAAjitDoval (@iNSAAjitDoval) November 12, 2019
#ShutDownJNU is a genuine demand. Govt should consider this proposal to save the tax payers hard earned money and govt revenue that got generated by burning holes in the pocket

— Binod Sinha (@BinodSinha11) November 12, 2019
The hate against JNU is symptomatic of the privileged class/caste hating the idea of their "inferiors" rising up to the same socooeconomic circles that they are in.#ShutDownJNU because how dare people with less than 6k income be studying in India's top University #jnuprotest

— Anwesh (@OnneshOnn_) November 12, 2019
Jio plan starts from ₹399 for 3 months with 126 GB net
JNU room is ₹30 for 3 months with free internet

JNU 1
Ambani 0 #ShutDownJNU #delhiuniversity pic.twitter.com/HCZrXmMgNL

— Bharat bhushan (@Bharatb37925532) November 12, 2019
It is not just the matter of JNU,but a great barrier between the education and deprived section.#ShutDownJNU pic.twitter.com/8t33QKpisK

— PARMOD KUMAR (@pmd1992) November 12, 2019
"You can jail a revolutionary,
But You can't jail the revolution !"✊#JNUFeeHike #jnuprotest #JNU_Ban #ShutDownJNU pic.twitter.com/Rh2hFT8u8e

— Shahwaz Siddique ?? (@SONUvaishali) November 11, 2019
Why the chaos?
Everything is clear! #ShutDownJNU pic.twitter.com/td3pfmI46W

— Gauraav Sainii (@GauraavSainii) November 11, 2019
#ShutDownJNU as these students continue to point out your bigotry and privilege in the face of laathis, barricades and water cannons. JNU will not stop fighting for the right to education. #jnuprotests because you, my fellow Indians, have forgotten how to. pic.twitter.com/AJU464JlzX

— Senjuti (@BeArgumentative) November 11, 2019
What are your thoughts? Tell us in the comments below.