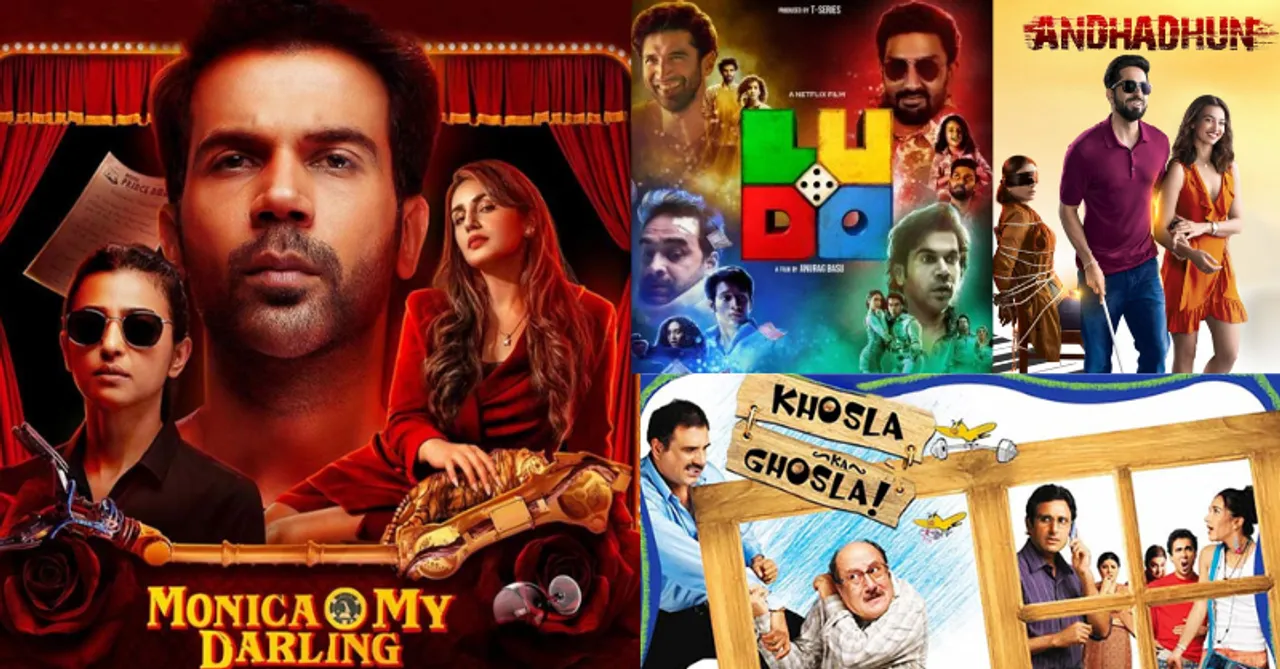 Movies like Monica O My Darling are the latest craze of Bollywood but if you like watching such stuff, you'd definitely enjoy these titles as well!
Horror-comedy, comedy-crime-thriller, absurdities, fantasy, and much more have become the new craze of Bollywood. And this new phase of experimental filmmaking is not only interesting but exciting too. Joining the ranks of this is Monica O My Darling, a neo-noir film with a twist of comedy-crime-thriller. And given that the film is loved by everyone, it's fair to say that this experiment paid off well for makers as well as Bollywood. And if you loved watching this film, then there are more movies like Monica O My Darling that you'd definitely enjoy watching!
This film is an adaptation of the Japanese writer Keigo Higashino's 1989 novel Burutasu No Shinzou, explores a man's need to rise above in society on his own with the use of any method that is accessible to him but a series of events keep on happening that gets him involved further and further into a criminal daldal. Similar to this storyline, there are many films that you might like to watch but on another front is the films' unique filmmaking style courtesy of Vasan Bala (Mard Ko Dard Nhi Hota). And there are many films recently that opted for an experimental style of filmmaking. So here are a couple of films that you might enjoy for their storylines, cast, directors, and as well as their style of filmmaking!
Andhadhun - Netflix
Out of the bag of Sriram Raghavan is one of the best neo-noir mystery thrillers to come out that doesn't leave you just on the edge of your seat but also wanting more!
Looop Lapeta - Netflix
This film's unique filmmaking style will blow your mind combined with the concept that it explores as well!
Lootcase - Disney+ Hotstar
How the life of a man living simple life changes in a single moment as soon as he gets hold of a suitcase full of money!
7 Khoon Maaf - Netflix
Vishal Bhardwaj's adaptation of English literature hardly ever goes wrong and so does this film especially with Priyanka Chopra helming it in the forefront!
Joji - Amazon Prime Video
Another adaptation of Shakespeare's Macbeth, this film will not just keep you hooked but will also make you realize something within your core, and of course, it's helmed by one of the finest Fahad Fassil!
The White Tiger - Netflix
A game of caste and class indifference that ends up in a crime paints a true reality of India that we don't want to look at!
Khosla ka Ghosla - Disney+ Hotstar
An absolutely underrated gem about how a simple middle-class family that was conned by a property conman cons him back and takes back what's theirs, it's a situational comedy, and the simplicity will make you fall in love with it!
Johnny Gaddaar - Amazon Prime Video
An underrated gem about a gambling gang that turns to deal in drugs but a twist comes in when one of them becomes a traitor and starts stealing from everyone!
Ludo - Netflix
A quirky film whose metaphor is not lost on anyone who watches it. Out of the bag of Anurag Basu, it is an absolute joyride to watch!
Darlings - Netflix
An impertinent tale on domestic violence that takes the route of a dark comedy revenge fantasy to give out a very important message!
Raat Akeli Hai - Netflix
A dark murder mystery that takes place just after a marriage opens up a lot of the secrets of a family and keeps you hooked throughout! India's very own Knives Out!
Bunty Aur Bali - Apple TV+/ YouTube
The original con masters in Bollywood came from different backgrounds and ended up falling in love with each other while conning the world!
Honorary Mentions: Haseen Dilruba, Blackmail, 36 China Town
Which ones have you already watched and loved? Do tell us in the comments below!
For more entertainment content follow us @socialketchupbinge