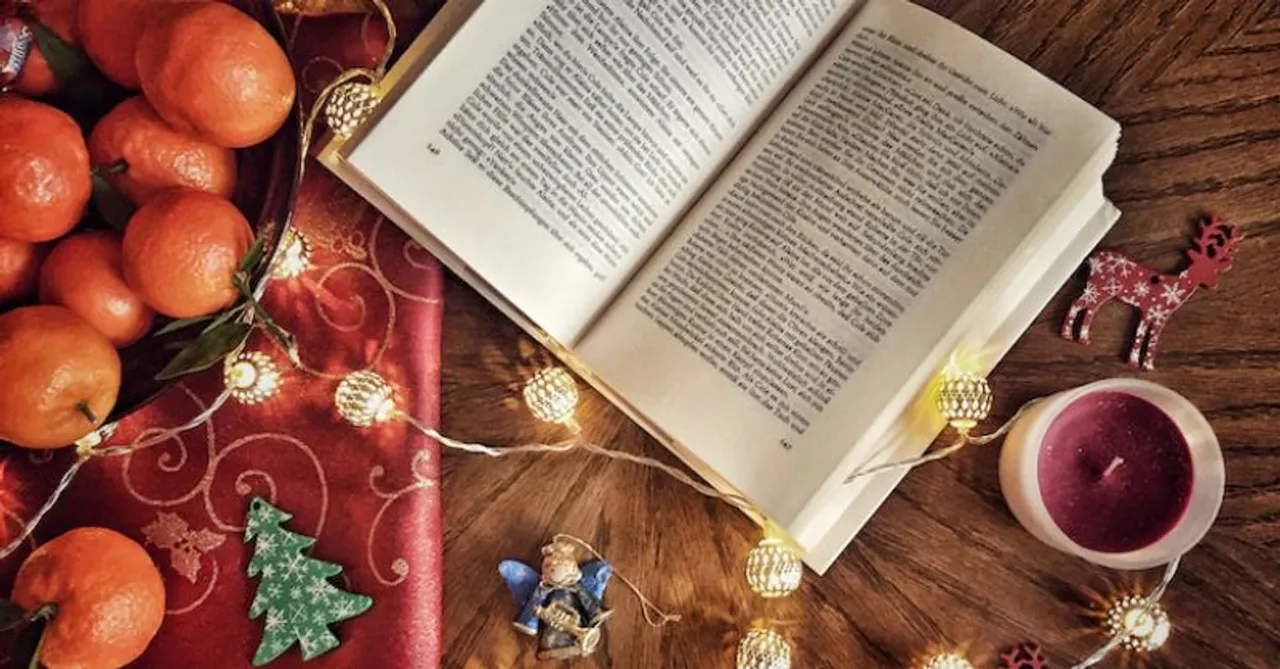 Story Pals aka Mridu Agarwal suggests holiday reads that will make the holidays merrier for you this year!
Snow is falling, fire is crackling, and the smell of baked goods wafts through the air. Fairy lights are up all around and there's joy in the air. Ah! The best time of the year is here. As everyone across the globe is celebrating, the world has donned cheery weather. We all have our own ways of celebrating. Some like to dress up and go out and celebrate with friends and family. Others enjoy quiet time at home. Whichever might be your preferred mode of celebration, curling up in a blanket with a book in hand, and hot cocoa in another is always a good idea, especially during such a magical time. Hence, Mridu Agarwal is here to help you find great holiday reads that will help you disappear into a world full of wonder and make your holidays merrier.
Let's start off with basic recommendations of "classics", the must-reads!
Letters From Father Christmas by J.R.R. Tolkien
Even though this is a book to pick up around Christmas, it is just as good on a frosty morning. This is a collection of the letters Tolkien penned as 'Father Christmas' over the years of his children's upbringing. It is heart-warming and beautiful.
Pride and Prejudice by Jane Austen
A beautiful love story, this book is loved by people of all ages and generations. If you haven't gotten a chance to read it yet, this is your sign to finally pick it up.
How the Grinch Stole Christmas! by Dr Seuss
This is the story of the disgruntled Grinch and his fiendish attempts to steal Christmas from the citizens of Who-ville. With wacky rhymes and zany illustrations, it has been a favourite of young readers for over 60 years.
The Nutcracker by ET a Hoffman (author) and St Simon (translator)
This is one of the earliest known English translations of E.T.A. Hoffmann's classic children's tale, "Nutcracker and Mouse-King, ' which was penned in German in 1816.
Little Women by Louisa May Alcott
Christmas won't be the same this year for Meg, Jo, Beth and Amy, as their father is away fighting in the Civil War, and the family has fallen on hard times. But although they may be poor, life for the four March sisters is rich with colour, as they play games, put on wild theatricals, make new friends, argue, grapple with their vices, learn from their mistakes, nurse each other through sickness and disappointments, and get into all sorts of trouble.
Also Read: Book blogger Vidhya Thakkar shares a list of books TBR in 2023
Since Christmas isn't complete without some romance, check out these romantic Christmas reads!
This Time Next Year by Sophie Cousens
Quinn and Minnie are born on New Year's Eve, in the same hospital, one minute apart. Their lives may begin together, but their worlds couldn't be more different. Thirty years later, they find themselves together again in the same place, at the same time. Is fate trying to bring them together?
Book Lovers by Emily Henry
Nora is a cut-throat literary agent at the top of her game. Charlie is an editor with a gift for creating bestsellers. And he's Nora's work nemesis. This book makes for a perfect read if you love the enemies-turned-friends trope.
One Last Stop by Casey Mcquiston
One Last Stop is a magical, sexy, big-hearted romance where the impossible becomes possible as August does everything she can to save the girl lost in time.
Glimpsed by G.F. Miller
A wish-granting teen is forced to question if she's really doing good—and if she has the power to make her own dreams come true.
Better Than the Movies by Lynn Painter
In this YA romantic comedy about romantic comedies, hopeless romantic Liz Buxbaum attempts to secure a happily-ever-after moment with her forever crush but finds herself reluctantly drawn to the cute-yet-infuriating boy next door--the one she promised herself she'd never fall for.
If you're looking for a book with some heartfelt, magical and real fleeting moments in life, check these out!
Before the Coffee Gets Cold by Toshikazu Kawaguchi, Geoffrey Trousselot (Translator)
Toshikazu Kawaguchi's beautiful, and moving story explores the age-old question: what would you change if you could travel back in time? More importantly, who would you want to meet, maybe for one last time?
Under the Whispering Door by T.J. Klune
Hilarious, haunting, and kind, Under the Whispering Door, is an uplifting story about a life spent at the office and a death spent building a home.
The Comfort Book by Matt Haig
The Comfort Book is Haig's life raft: it's a collection of notes, lists, and stories written over a span of several years that originally served as gentle reminders to Haig's future self that things are not always as dark as they may seem.
Pony by R.J. Palacio
Pony is a story about a boy on a quest to rescue his father, with only a ghost as his companion, and a mysterious pony as his guide.
The Authenticity Project by Clare Pooley
This is the story of a solitary green notebook that brings together six strangers and leads to an unexpected friendship, and even love
If Die-hard is considered to be a Christmas movie, then these thriller, murder mysteries are also Christmas reads!
A Mistletoe Murder: A Christmas Novella by Necole Ryse
Bound together on a speeding train to Nowhere, will Ashton see Mikayla for who she really is? Or will both their lives be cut short on the unlikeliest of holidays?
The Man Who Died Twice by Richard Osman
Can The Thursday Murder Club find the killer (and the diamonds) before the killer finds them?
Silent Night by R.L. Stine
Holiday cheer quickly turns to holiday chills for Reva. Someone is stalking her, someone is trying to get to her. Her money can't help her. No one can. After all, who can you turn to when murder comes gift-wrapped?
Sherlock Holmes by Arthur Conan Doyle
Sherlock Holmes needs no introduction! If you love detectives, start reading this ASAP.
If you're looking to gift a book, these work well!
The Tiny Book of Tiny Stories Series by Joseph Gordon-Levitt
The universe is not made of atoms; it's made of tiny stories.
Cat People by Devapriya Roy
This series brings together art and voices from around the world to unite and tell stories that defy size.
Which book are you picking up first? Tell us in the comments below!