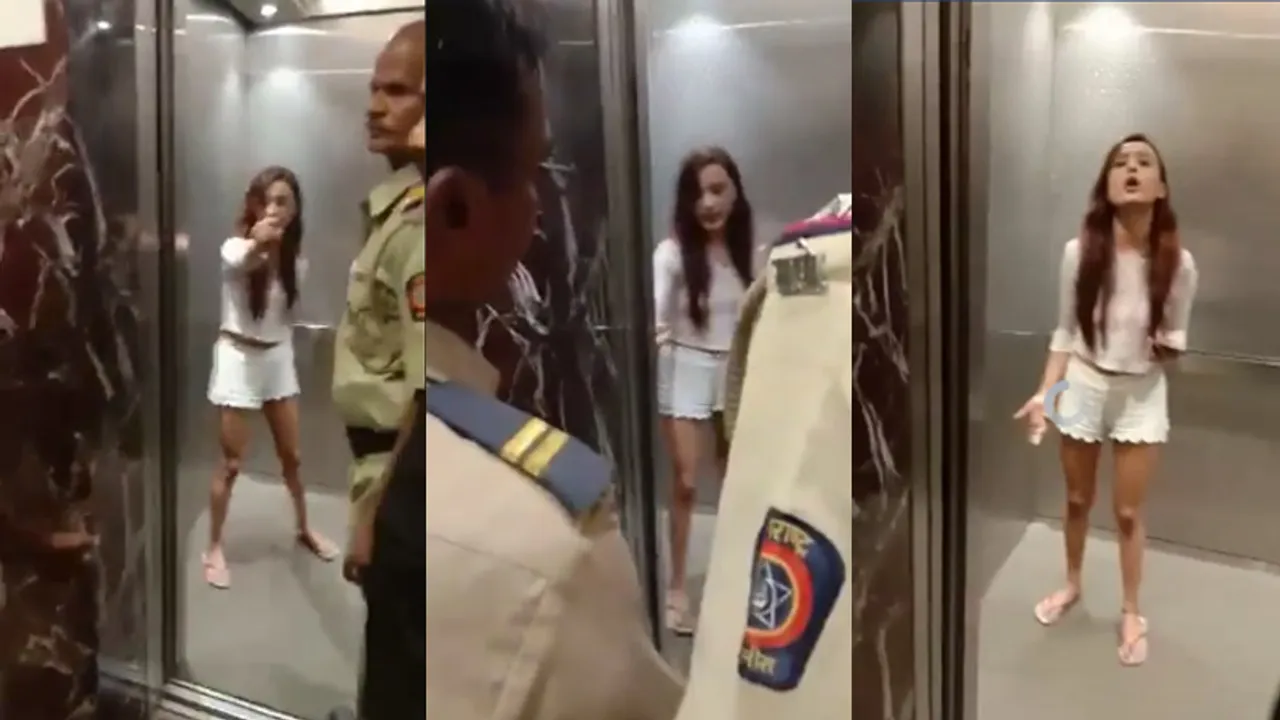 Megha Sharma, a woman staying in Andheri, Mumbai claimed that she was harassed by her building's security guard and the police that arrived on the scene on call pressured her to come to the police station without the presence of a lady constable.
The whole instance occurred post midnight. According to reports, the chain of events began when Megha asked the guard to get cigarettes for her.
So a Mumbai woman called Megha Sharma asked watchman of her building to get cigarettes for her in a drunken state. When he refused she picked up fight with him, started abusing him. He called cops and this woman created huge drama, taking her clothes offhttps://t.co/J03hG7rS1A

— Deepika Bhardwaj (@DeepikaBhardwaj) October 28, 2018
The next thing known is, a feud breaking between Megha and the guard, and as seen in the building's CCTV footage Megha is seen hitting the guard, reasons of which are unknown but in another video, Megha mentions it was because of the guard's use of profanity.
https://www.facebook.com/DeepikaNarayanBhardwaj/videos/vb.812991898744572/766425977032804/?type=2&theater
When the police arrived on call, they are seen insisting Megha comes to the police station, but Megha is seen resisting given the time and as there was no female constable present. Instead, she proposed that she'd do it later in the presence of her lawyer and as it was late at night, she just wanted to go home but the officers present and the guards(as seen in the video) are trying to stop her.
https://www.facebook.com/megha.sharma.3348/videos/2150301411689389/
After several minutes of this going on, thereafter breaking down and boiling with anger, Megha resorted to stripping in the lift as the police and the guards were not letting her go.
https://www.facebook.com/ImAryaAcharya/videos/10156708966570138/
Megha tried to file a complaint against the guard and the cops present during the scene later, but as stated by her, they were only ready to file a complaint against the guard, not the cops.
N also I have been yesterday to file a complaint regarding all of them ,watchmen n copes too...but the police was so defensive that thy didn't put a complaint against those copes ...thy were ready to file complaint against that watchmen but not for the cops ...

— Megha Sharma (@MeghaSh77484473) October 28, 2018
As of now, it's unclear who the real offender is; the guard, the cops or Megha. The reports floating are based on the available footage and Megha's claims.
Few of these reports and opinions emerging maybe manipulated or fabricated to from click bait. As the Police itself is investigating the incident and have not announced an official statement.
Some have come out in Megha's support, as they think it was wrong on the cops' part to try and strain her to come to the police station without a female constable's presence.
. @MumbaiPolice your senior PI at Oshiwara station refused to file an FIR of a girl in extreme distress who was harassed,unlawfully forced by 3 constables to come to the police station at 3am& these men blocked her entry to go home. Completely unacceptable. Kindly take note.

— Trisha Shetty (@TrishaBShetty) October 27, 2018
Some think that Megha was at fault, as they think the available proof indicates so.
.@MumbaiPolice should have booked Megha Sharma under IPC 323/294/504/506 for thrashing/abusing watchman & under Section 110 of the Bombay Police Act for indecent exposure/behaviour.

Police has not taken any action against woman even after having enough evidence to prosecute her.

— Neeraj Pattath (@neerajpattath) October 28, 2018
The incident is being investigated as of now and it has not been concluded who is the wrongdoer. Any arrests regarding the same are also not known.