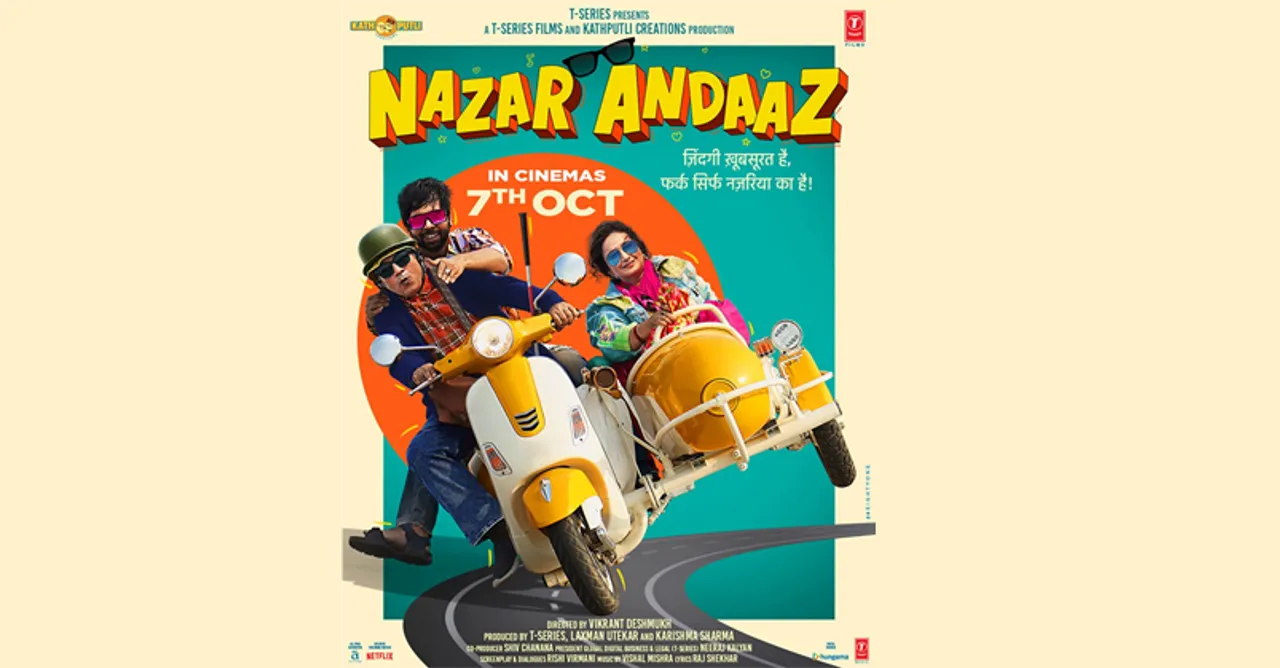 Directed by Vikrant Deshmukh, Nazar Andaaz maybe a simple film at its heart but it leaves you questioning the meaning of life itself by showing you a different perspective via Sudhir's take on life.
Like everyone else, I spend a lot of my time sulking over the things I don't have. The newest iPhone, coords from Zara, having a bank balance that allows me to travel across the globe simply so I can flaunt that on Instagram and show the world that I, too, am living a fun life; the hunt for something that might fulfil us never truly ends, no? Every time I'd catch myself feeling like this, it would be hard to snap out of it and 'count my blessings' because while that sounded great on an IG post, I never knew how to implement it, that's until I came across this underdog of a film! With the most natural facial muscle twitch, Kumud Mishra's visually impaired Sudhir in Nazar Andaaz teaches you this by showing you what he's longed for all his life - the ability to see colours, run and explore things that you and I take for granted.
Cast - Kumud Mishra plays Sudhir, a visually impaired man who is too busy making the most of his life to feel sorry for himself. Abhishek Banerjee plays Ali, a thief who Sudhir takes under his wing. Divya Dutta plays Bhavani, a runaway who is working as the caretaker of Sudhir's house.
Storyline - Sudhir lives in a beautiful bungalow in Mumbai with his caretaker, Bhavani. While she's out of town, he befriends Ali, a thief, by offering him some lunch and a roof which triggers a competition between these two for Sudhir's wealth since he has no family of his own. After that, one road trip is all it takes to show them how they really feel about this 'too good to be true' man.
Also Read: With a rather affable ensemble cast that has Maya Rudolph at its front and centre, Loot on Apple TV+ feels like a warm hug on a bad day!
Watch the trailer here!
What I liked - Ali helping Sudhir see the world through his made up stories and the reaction this brings out in Sudhir is probably my favourite part of this film, especially the end where Bhavani and Ali take Sudhir to a desert so he can finally run without hurdles, for the first time in his life; this one scene held so much significance because it showed Sudhir's unfiltered glee and Bhavani and Ali's growth as individuals too. Vishal Mishra's soundtrack goes so well with the film, leaving you feeling things more deeply. Kumud Mishra shape shifts into every role he plays just so effortlessly, whether it's Sudhir, a 50-something visually impaired man in this one or Chinmay Sharma, a parent who wants to venture out on his own in Tripling. His performance is ridiculously authentic and is guaranteed to leave you sobbing especially in the second half of this movie. Nazar Andaaz is one of those films that says a lot without really saying anything at all. It was like the movie version of Jeena Isi Ka Naam Hai by Mukesh.
For more reviews, follow us on @socialketchupbinge