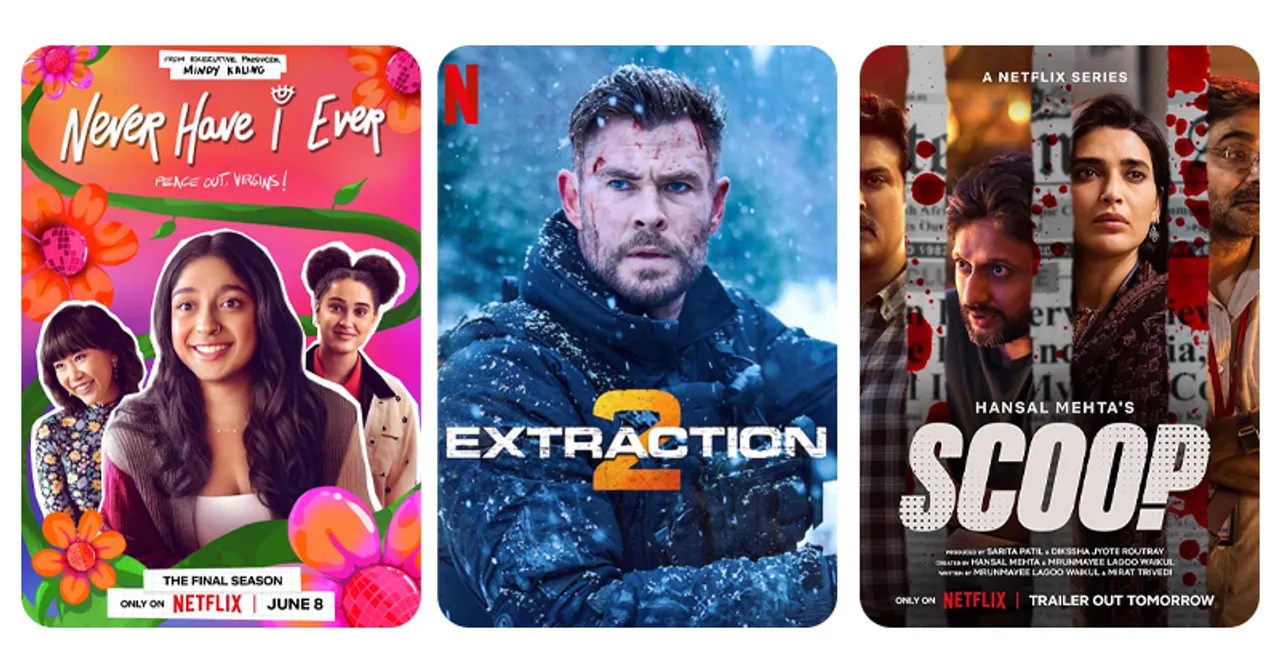 From the last season of Never Have I Ever to Chris Hemsworth's Extraction 2, Netflix releases in June have a lot of exciting and binge-worthy content coming our way!
With the beginning of June, we not only anticipate the monsoons to make us feel better but also new releases that will keep us entertained in this cozy season and Netflix releases in June look like a promising line up of just that! The dystopian drama Black Mirror is coming back with season 6. Hansal Mehta's Scoop starring Karishma Tanna is a true story about a leading crime journalist who gets tangled with the police and the underworld in her journey to find justice. Devi and her gang are back with the last season of Never Have I Ever and we cannot wait to see what kind of teen drama the last year of high school has in store for her! If you loved Chris Hemsworth in Extraction, it's time for you to go on an action packed adventure with him again in Extraction 2 which looks more larger than life than the previous one.
So without further ado, have a look at when to stream these titles on Netflix!
June 1
A Beautiful Life
Black Mirror season 6
The Days
June 2
Scoop
Manifest Final season
June 7
Arnold
June 8
Never Have I Ever season 4
Tour De France: Unchained
June 9
Bloodhounds
You Do You
This World Can't Tear Me Down
June 16
Extraction 2
Scream
June 17
Outlander season 7
June 22
Let's Get Divorced
Social Currency
Skull Island
Sleeping Dog
June 23
Through My Window Across the Sea
The Perfect Find
Catching Killers: Season 3
June 25
Titans season 4
Which of these would you definitely add to your watchlist? Let us know your thoughts in the comments below!
For more such content, follow @socialketchupbinge