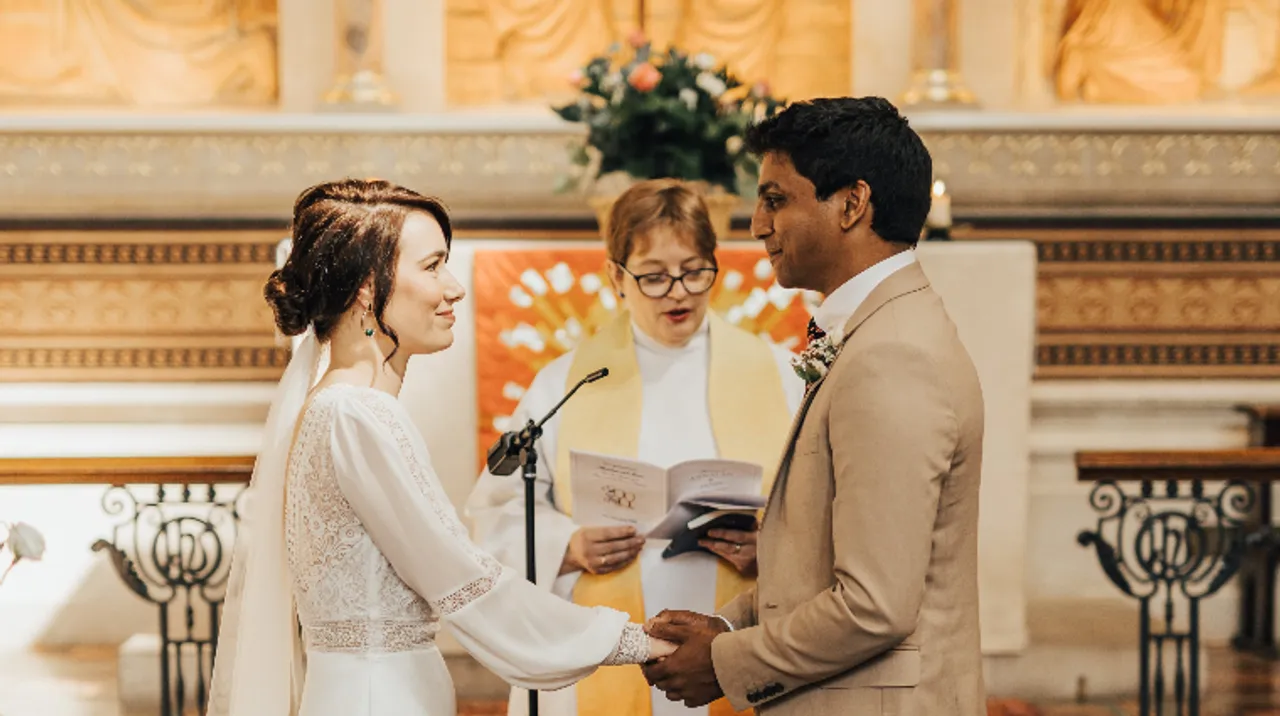 Take a look at how Twitter congratulated and blessed the young nurse-doctor duo Jann Tipping and Annalan Navaratnam who got married in a chapel at the hospital they work in.
During this pandemic people finally got to see their superheroes who walked straight out of the crowd with their while jacket shield and medical spells. Our doctors and nurses. There are not enough words to appreciate and celebrate these frontline workers who are doing the noblest job during this crisis. Since the pandemic broke, most of us have either cancelled or postponed some of the most important days of our lives. And among them has to be our doctors and nurses who are also suffering from the same. However, there was no stopping for a couple from enjoying their special day. A nurse-doctor duo, Jann Tipping and Annalan Navaratnam from St Thomas' hospital in London finally tied the knot in the hospital that they work in, and the internet can't stop gushing over the couple.
The couple who was supposed to get married in August cancelled it worrying about their family travelling for the occasion during such hard times. But instead of postponing it any further, the couple decided to get married earlier at the hospital itself? Taking permission from the hospital's chapel the couple got married in a beautiful ceremony in the attendance of two, one of whom live-streamed the wedding for the family. Although the couple got married last month, the hospital shared the pictures of the ceremony only recently. The internet could not stop sending love their way.
A doctor and nurse from St Thomas' who had to cancel their wedding due to the #coronavirus outbreak have got married in the hospital's historical chapel.

Read about Jann and Annalan's special day and why it meant so much to them to tie the knot at work https://t.co/ECH4nJuBSo pic.twitter.com/tz6T0jj2Bi

— Guy's and St Thomas' (@GSTTnhs) May 26, 2020
Take a look all the wishes for the nurse-doctor duo:
Fantastic story. Lovely to see some joy and that this couple were able to enjoy their very special Big Day.
More news like this please!

— Janny Girl (@SilkCutBlue) May 26, 2020
Truly delighted for you both many congratulations and much love and happiness for your future together as husband and wife.

— AlisonJane Addison (@ALIROB17) May 26, 2020
Wonderful! Congratulations to
Jann and Annalan, what a lovely couple. Wishing them a long and happily married life together ?
Thank them for their service and to you all ??

— Etta ? ?? ?? (@IckleMrsG) May 26, 2020
Wishing the couple every happiness and a future blessed with health. I was able to secure permission to use the chapel in the Bishop's Palace, Ely for my husband's funeral in 2006 as he was a Sue Ryder Care resident there so can relate to how special and significant this must be

— Sue Wright ... #StayHomeSaveLives #ProtectOurNHS (@sue_twin2) May 26, 2020
It's is so lovely and heart warming in these dark times to see a true love story

— Karthic Sinnadurai (@karthic180) May 27, 2020
Congrats, I love the dress, beautiful ?

— Jillian Thomson (@JillBile) May 27, 2020
What a beautiful bride! What a lovely couple! Blessings to you! ❤️

— Ana Maria Diaz (@namarievenstar) May 27, 2020
That is amazing. Congratulations to you both and well done @GSTTnhs for allowing these guys to get married in that beautiful chapel ??

— Karwai Tsang (@TsangKarwai) May 26, 2020
Amidst all that is wrong in the world at present, it is nice to read about these two who clearly have their priorities right and I wish them the best for their journey through life together.

— Jay Shah (@Jayszen) May 27, 2020
Congratulations to you both ?Wishing you a long life together filled with great health, some wealth and many happy memories

— Gini (@planetgini) May 27, 2020
What a fantastic post. Wishing them both much happiness for their future together ?

— Lynne Powell (@Lyn2301) May 27, 2020
congratulations both ,the bride looks beautiful and the groom handsome
Have a wonderful life together.

— wendy moore ? (@wendymo94921768) May 26, 2020
They make an amazing pair, don't they?