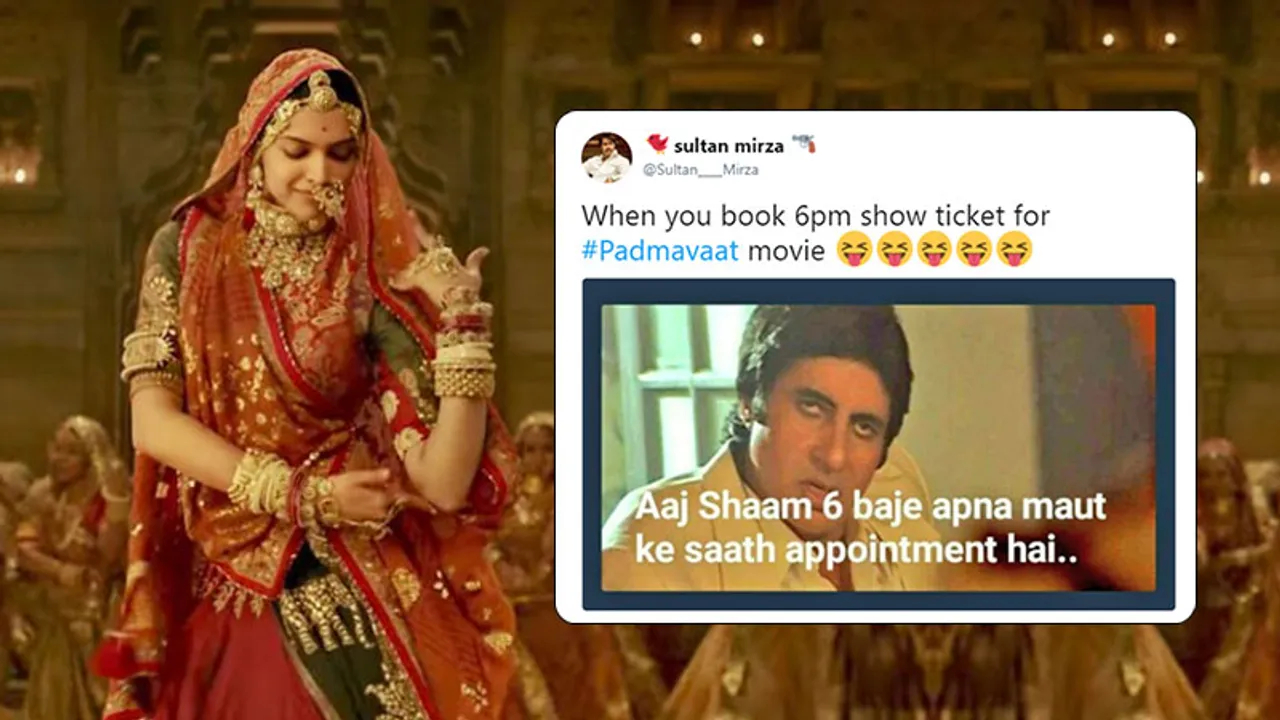 Look, I know the entire Karni Sena x Padmaavat issue is exceedingly unfortunate and grossly stupid for starters, but you can't help but laugh at the sheer futility of their agitation. And while it may not be safe to venture out to watch Padmaavat right now, you sure as hell can watch Padmaavat memes!
The (almost) entire nation has been in a perpetual facepalm ever since this fiasco began. Theaters are being threatened with arson, vehicles are being pelted with paraphernalia and these heathens did not even spare schoolchildren. Our politicians are protecting their vote bank, whereas Twitter is busy making Padmaavat memes to poke fun at the situation.
Agreed, the violence and loss of property and livelihood is no laughing matter, but when the establishment and the government has chosen to not act, what else can ordinary citizens do but lambast the Karni Sena for being unreasonable without even watching the film first.
While the film itself has received negative reviews from many publications, including Arre's popular Fitoor Mishra, India Today Showbiz and more. It makes me wonder whether the movie would have been declared a hit if the Karni Sena had not arranged for such free publicity for the film?
Karni Sena ne muft mein dekhi film toh gussa jhat se diye thook. Yeh toh wohi ho gaya, khoda pahad par Padma-vaat lagi toh sirf bechare Bhansali ki. #Padmaavat #FitoorMishra pic.twitter.com/M0NIfn7e3k

— Arré (@ArreTweets) January 24, 2018
#PadmaavatReview : @deepikapadukone -@shahidkapoor mediocrity covered in jewels, @RanveerOfficial not convincing, writes @Sushant_IToday https://t.co/l3z9L884aQ pic.twitter.com/eP2pj9j04L

— India Today Showbiz (@Showbiz_IT) January 24, 2018
These Padmaavat memes have flooded Twitter as the film releases nationwide today, after the Supreme Court intervened and granted relief to the makers of the film who were staring at death threats and considerable financial losses.
I strongly feel #KarniSena should chop off @aamir_khan 's nose too...

How dare he defeat #Rajput college in #JoJeetaWohiSikander #PadmavatiControversy #Padmaavat pic.twitter.com/UCE1CLUS4k

— Arnaz Hathiram (@Milkyway1955Z) January 18, 2018
The real reason why Karni Sena has a problem with #Padmaavat... pic.twitter.com/R617BEDYeq

— Ramesh Srivats (@rameshsrivats) January 24, 2018
Loved the climax in #Padmaavat when everyone was worried about Karni Sena waiting for them outside the multiplex.

— Trendulkar (@Trendulkar) January 25, 2018
Watching #Padmaavat in 3D

"Wow! This war scene looks so realistic"

"Oh Wait! No! The Karni Sena has entered the theatre"

"Bhaago"

— Atul Khatri (@one_by_two) January 25, 2018
Watching #Padmaavat, there are at least 7 police personnel inside the theatre premises. What a time to be alive! Pun intended.

— Trendulkar (@Trendulkar) January 24, 2018
Karni Sena on a rampage! @sifydotcom cartoon #Padmaavat #KarniSenaViolence pic.twitter.com/tpo98lj0O6

— Satish Acharya (@satishacharya) January 25, 2018
Breaking: One more controversy has erupted out of #Padmaavat as Twitter clearly looks divided over the spelling. pic.twitter.com/N1xz7vUFWB

— Punster® पकोड़े वाला (@Pun_Starr) January 25, 2018
Pic 1: Before going to watch #Padmavaat
Pic 2: After watching #Padmavat #PadmavatiControversy can change you drastically.... ??? pic.twitter.com/k2USyDUXP9

— Gitanjali D.S (@Gitanjali_DS) January 19, 2018
When you book 6pm show ticket for #Padmavaat movie ????? pic.twitter.com/UBXcmEI5cO

— ? sultan mirza ? (@Sultan____Mirza) January 25, 2018
Response of All Political Parties on #KarniSenaViolence .#Padmavaat pic.twitter.com/vdP9iNq6GI

— Kanatunga (@Kanatunga) January 24, 2018
Seems to be running smoothly all over India without any problems. #PadmavatiControversy #Padmavaat pic.twitter.com/kpJyzjo5l6

— Flyingelephant (@udtahaathi) January 24, 2018
Will #KarniSena break their own TV and fire their own houses when the movie #Padmavaat will get premiered on TV?

— Vihahahal (@iVihlTrollU) January 24, 2018
#Padmavaat Reviews.
TOI: 4 out of 5 stars.
Indian Express: 2.5 out of 5 stars.
Karni Sena: Burnt 40 out of 5 cars.
Govts: Detained 200 out of 10 Lakh kars.

— Sorabh Pant (@hankypanty) January 24, 2018
Well this controversy is no laughing matter. Or maybe it is?