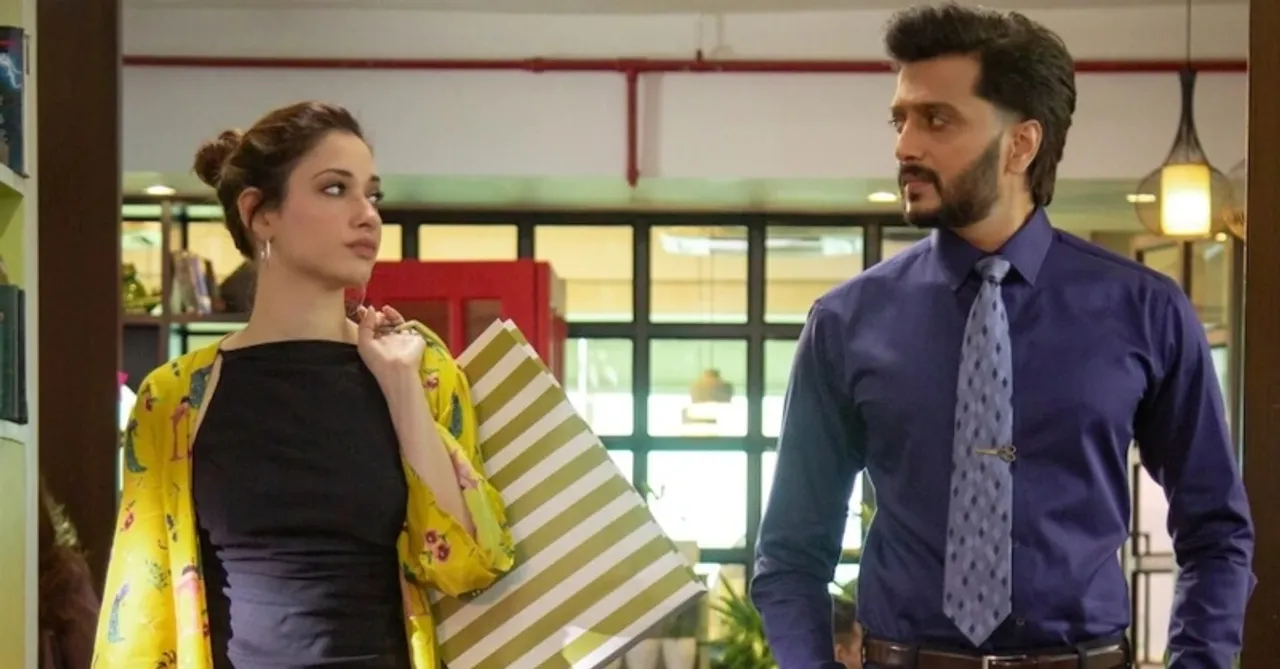 Starring Ritesh Deshmukh, Tamnaah Bhatia, Poonam Dhillon, and Kusha Kapila, Plan A Plan B that released on September 30 on Netflix, is just like any other rom-com that is way too predictable.
A divorce lawyer with his divorce pending and a matchmaker with a broken heart lays the foundation of a perfect rom-com. As poles apart as their profession can be, their characteristics too, are like a flip of a coin. He's suited up, obsessively organized, and loves dancing; her office is cluttered, and she has messy hair and a lazy fashion. While she is still grieving losing her Mr. Perfect, he's escaping from finalizing a divorce with the woman he loved. Tell me you can't sniff a cheesy-cliche rom-com of opposites attract from their first interaction! The storyline had everything you might expect from a rom-com from the beginning to the end!
First meeting fight - check; Hate each other - check; Baggage from the ex - check; Interaction with ex - check; Drunk dialing each other - check; Protagonists in an awkward romantic situation - check; Instant love - check; Kiss and make-out scene - check; Heartbreak - check; Return of the ex- check; Happy ending - Check. There is nothing that the writers haven't referred to from the book 'How to write a rom-com'!
Watch the trailer here:
Unfortunately, what was missing in the movie was a story that's new, something that I haven't seen a thousand times in the past. In the hoard of taking characters through different phases in the relationship, the scenes were rushed and poorly directed. The disappointment comes when you know the director, Shashanka Ghosh, has given some good hits like Khoobsurat, Veere Di Wedding, and a writer like Rajat Aroraa is behind masterpieces like Once Upon a Time in Mumbaai and The Dirty Picture. However, the actors did a good job but were underutilized, especially Kusha Kapila and Poonam Dhillon. We have seen Kusha giving better performances in different shows instead of being reduced to a friend who provides a shoulder to cry on. But definitely, their performance couldn't save the patchy screenplay!
I don't mind the story missing the freshness, but like any rom-com, the film should at least make you wait for the happy ending, but Plan A Plan B falls flat and fail to hold your attention.
For more entertainment content follow us at @socialketchupbinge