It's never too late to admit you are wrong, especially about a sweet like son papdi that'll dominate Diwali soon. Here are a few life lessons we all get to learn from it.
Talking about being a part of 'something auspicious' and sweets always make it to the list. Indians' association of sweets with new beginnings and good deeds might be a contributing factor to all the extra weight we gain during festivitals, but hey, we aren't complaining! Like everything, each sweet holds its own little place in our hearts. But if there is one sweet that tends to only pop up during Diwali it's gotta be son papdi. A simple sweet with everything that's needed during the festive season - ghee and sugar, son papdi is also the bud of many Diwali memes.
We often talk about how it is one sweet that people are least interested in and how it's just another cheap gift that people love passing around rather than buying it willingly. But if you look closely, you'll see that there is a lot that you can learn from this sweet. We refuse to stand by anyone trying to ridicule this dessert which is also the reason why most people smile. 
Also Read: Dadi Ji Ki Rasoi is the adorable antidote that every stressed-out, hungry soul like us needs!
Naturally, we made a list of things we can all learn from it!
You have to face a lot of beating and stretching for you to turn out to be the best version of yourself.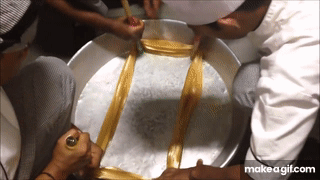 You might get ignored all year long, but you will surely get your time to shine.
No matter how put together everyone might seem, it won't take a moment for them to crumble. And that's fine. It doesn't mean that they are any less valuable.
Considering how it's a perishable dish that has become a staple for every Diwali, it proves that no matter how alien you may feel in this world, you'll always find a home.
It's all about simplicity and being accessible to anyone. Hope you can be that to someone!
And finally, no matter how much you get passed around, never think you are any less. You are and will always be worthy!
Here's hoping you will keep these life-lessons in mind before the Diwali festivities begin!