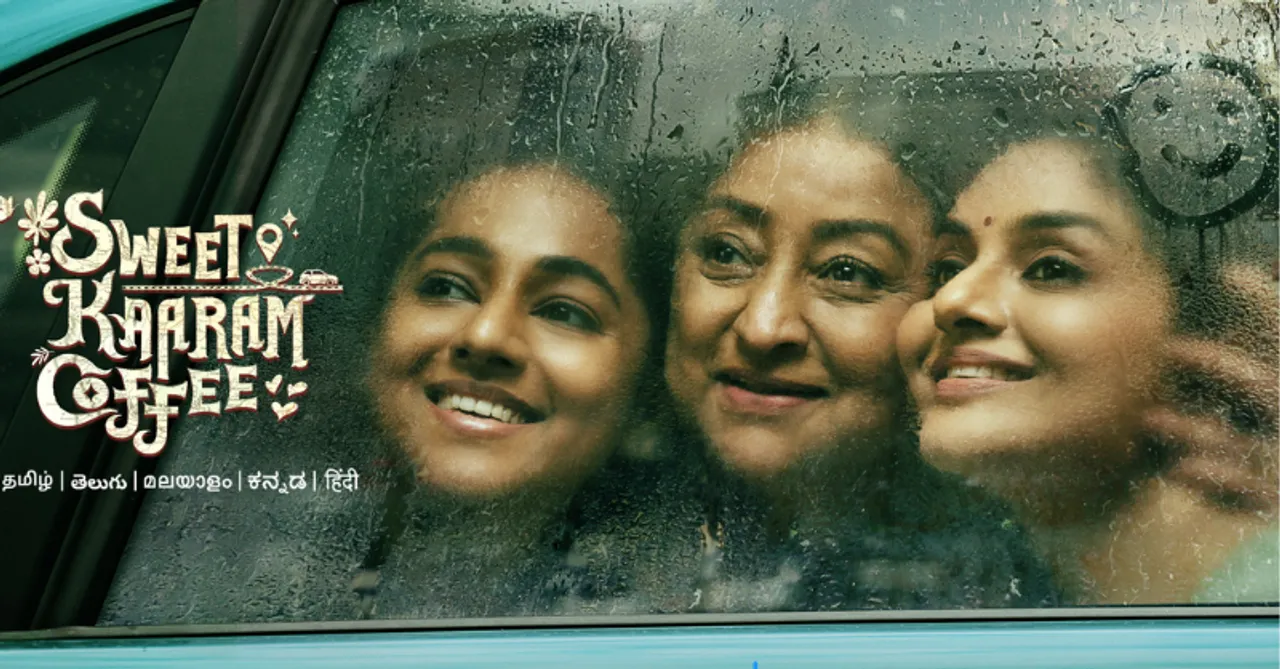 The Sweet Kaaram Coffee trailer showcases how three women from the same family, and of different generations embark on an unforgettable journey.
Prime Video unveiled the trailer of the upcoming Original Tamil series, Sweet Kaaram Coffee, premiering on 6 July. Created by Reshma Ghatala, and produced by Lion Tooth Studios Pvt. Ltd., the heartwarming series is directed by Bejoy Nambiar, Krishna Marimuthu, and Swathi Raghuraaman; and stars Lakshmi, Madhoo, and Santhy. Prime members in more than 240 countries and territories around the world will be able to stream the series starting 6 July in Tamil, along with dubs in Telugu, Malayalam, Kannada, and Hindi. Sweet Kaaram Coffee is the latest addition to the Prime membership.
The heartwarming trailer of Sweet Kaaram Coffee, a fervent family drama beautifully showcases how three women from the same family, and of different generations embark on an unforgettable journey. What starts as an impulsive road trip to take a break from not only their daily lives but also the archaic expectations laden on them, along the way transforms into a passage to rediscover themselves and reignite their zest for life. Helming different episodes, directors Bejoy Nambiar, Krishna Marimuthu, and Swathi Raghuraaman seamlessly collaborated to bring to life the riveting story, through their exceptional skills and talent.
"It is the first time that I was directing a show with two other directors and a showrunner. So, despite having three different directors directing different sets of episodes, we were all completely aligned to how the story journeys along with the characters through the series. We individually connected to the material on a deeper level and I think Reshma really tactfully brought us all together to make sure we do justice to the vision that she had for Sweet Kaaram Coffee," said director of episodes one and eight, Bejoy Nambiar.
Directing episodes five, six, and seven, Krishna Marimuthu added, "The story was everything for me. Right from the start to the very end, (writer & show-runner) Reshma Ghatala's five-minute narration on the phone about a grandmother of a household on a road trip with her daughter-in-law and granddaughter just made me want to be a part of this journey. In a time where dark dramas are more prevalent, kudos to Prime Video for backing scripts like Sweet Kaaram Coffee, which is vital for audiences across the spectrum. I'm proud of the fact that I'm constantly debuting with every project of mine, and to share the director's hat with Bejoy Nambiar and Swathi Raghuraaman in this series has been truly enriching.  A big shout to Music Director – Govind Vasantha, Cinematographer – Krishnan Vasant, and Editor – Praveen Anthony for helping me achieve the vision I had for this series, and in the process making me a better filmmaker."
"Sweet Kaaram Coffee is about a family encountering big changes in their lives. As people evolve, relationships and the family too must evolve. Some dive into change with gusto, some drum up the courage for it slowly, while some others go in screaming and fighting. Exploring these different shades through a cracker of a cast, the likes of Lakshmi Ma'am, Madhoo and Santhy with an equally amazing crew totally invested in this story, especially as my first outing, was as fun and heartwarming for me as the series itself," said Swathi Raghuraaman, director of episodes two, three and four.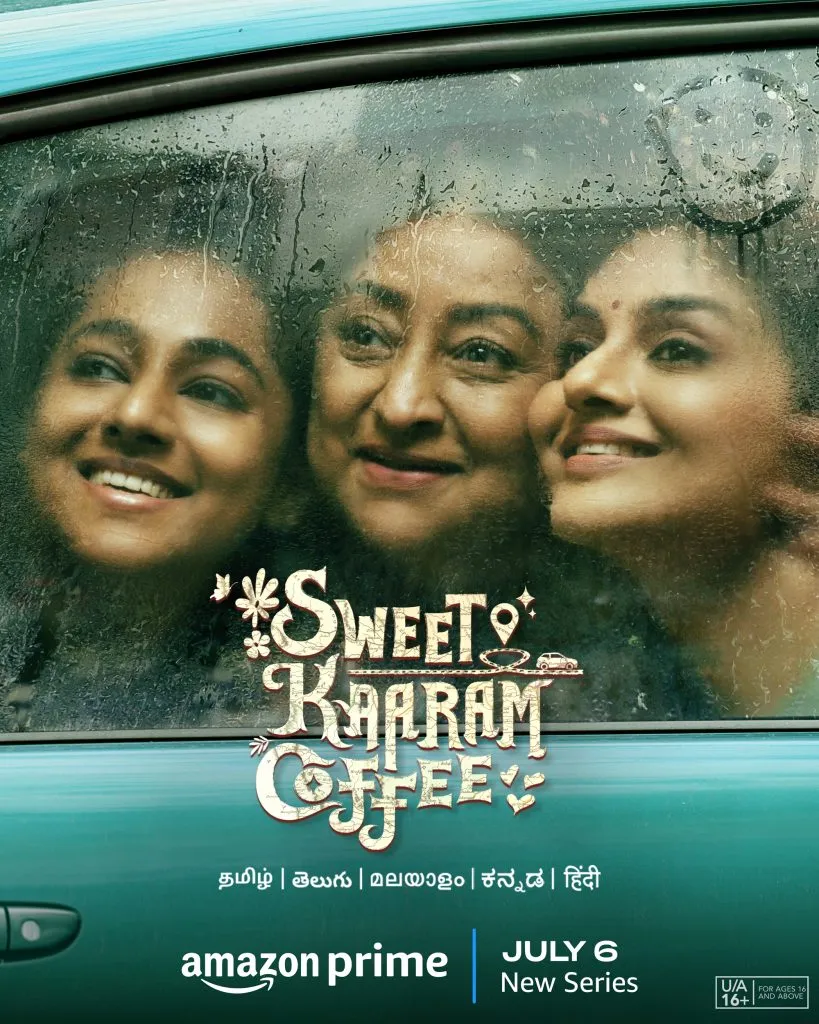 Making her streaming debut, the evergreen Lakshmi said, "I have had a long and illustrious career that spans many decades, but making my streaming debut with Sweet Kaaram Coffee will definitely be special. Free-spirited, free-willed, and free to speak your mind is how we all must live our lives, and my character – Sundari represents all of that in the best possible form. Being able to play a role that resembles me and my ideas in so many ways is truly refreshing. Suited for audiences of all ages in the family, I believe everyone who watches the series will realize the importance and need to live life on their own terms and to their heart's content."
Playing the role of the locus that binds the story, the characters, and the home together, Madhoo said, "Kaveri is a responsible homemaker, who loves her family more than anything, and takes care of everyone, but somewhere along the way she loses herself. So, when her mother-in-law and daughter convince her to accompany them on an impromptu road trip, it reignites a spark in her to embark on this journey for herself," she further added, "Streaming has revolutionized the way we create and consume content, and Prime Video has given an incredible impetus to women-oriented stories such as Sweet Kaaram Coffee. It is a beautiful telling of a journey about rediscovering yourself, and exploring the possibilities of life beyond the confines of your home, outdated and stereotypical norms, and societal expectations. Being a part of this series has been an extremely rewarding experience, and I really appreciate Reshma, and Prime Video for bringing me a role that is so nuanced, controlled and patient, as if it was written just for me."
"Sweet Kaaram Coffee invites the audience to join three unique, interesting characters — a young woman, her mother, and her grandmother — as they embark on a trip across the country. Each woman is on a journey of self-discovery, and in the process of finding themselves over the course of their adventures, they also establish a camaraderie that promises a lifetime of solace and support. As actors we had the opportunity to play nuanced, well-designed characters whose perspectives, experiences and dilemmas are specific yet relatable. I feel blessed to have had the opportunity to collaborate with this brilliant cast and crew, and I'm excited to share a warm, comforting show that has the potential to resonate with audiences across generations." said Santhy, who plays Niveditha, the youngest of the three protagonists.
For more binge-centric content, and reviews follow us on @socialketchupbinge.