This weekend, the entertainment industry saw Priyanka Chopra getting injured on set, Tom Cruise riding a bike off a cliff and so much more.
The entertainment industry was quite buzzing over the weekend with ongoing shootings to new projects being announced. Priyanka Chopra got injured on the set of Citadel for which she's currently shooting while Tom Cruise rides a bike off from a cliff for the new installment of the franchise, Mission Impossible. Shah Rukh Khan and Deepika Padukone will fly off to Spain to shoot a song for their upcoming film, Pathan. Scarlett Johansson and Chris Evans are coming back onscreen for the film 'Ghosted' while Ben Kingsley reprised his role of Iron Man 3 back in Shang-Chi and the Legend of the Ten Rings. Vicky Kaushal's film The Immortal Ashwatthama is put on hold while Daniel Craig's 'No Time to Die' will be screened at the Zurich Film Fest.
All of this and much more happened over the weekend in the entertainment industry! Check it out where Priyanka Chopra got injured and how did Tom Cruise performed the stunt!
Priyanka Chopra gets injured on the sets of 'Citadel'
Priyanka Chopra wounded herself on the sets of 'Citadel'. Earlier in the day, Priyanka Chopra had shared a picture in which she posed with a bloodied face and asked fans 'what's real and what's not?' Priyanka Chopra shared another zoomed-in photo of her injury, revealing that she got a cut in the middle of her right eyebrow. Priyanka Chopra is currently busy shooting for this.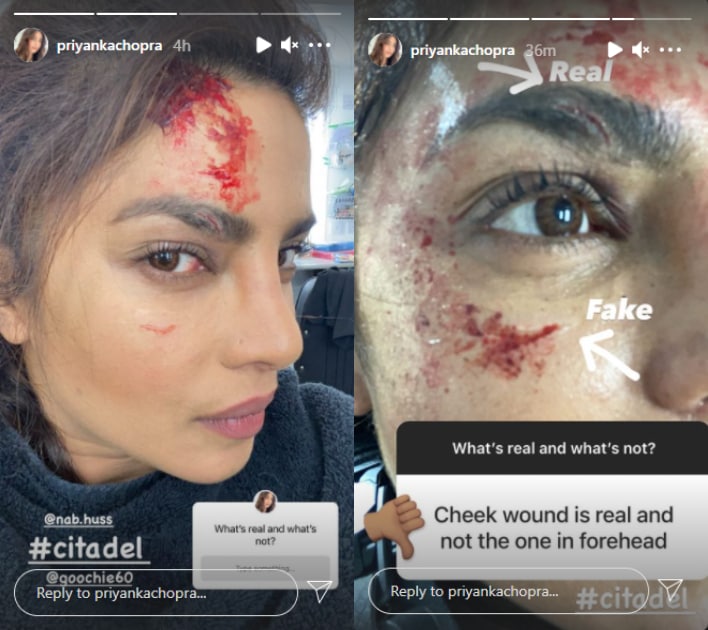 Tom Cruise rides bike off a cliff in 'most dangerous' stunt for Mission: Impossible 7
Tom Cruise presented what he called his most dangerous stunt ever in a clip from his upcoming 'Mission: Impossible 7' movie. Cruise, 59, took a motorbike ride down a ramp and off a cliff in Norway and let go mid-air before his parachute was released. He trained for over a year, including 500 sky-diving sessions and 13,000 motor-bike jumps.
Chinese actress Zhao Wei, who starred in Shaolin Soccer, was banned from the country's internet
Chinese billionaire actress Zhao Wei, known for her roles in films like Shaolin Soccer and Mulan (2009), has been banned from the country's internet, state media reported. Her name was removed from many of the works she starred in on Chinese platforms and many of her films and shows were also taken down. The reason for the move is unknown.
Stay just the way you are: Angad Bedi wishes Neha Dhupia on her birthday
Angad Bedi took to Instagram on Friday to wish his wife Neha Dhupia on her birthday. Angad, who's expecting his second child with Neha, shared a picture wherein the actress can be seen flaunting her baby bump. "Happy birthday to my pillar of strength," he wrote, adding, "Stay blessed and stay real just the way you are!!!!"
Left my whole life, took a dead soul with me: Afghan woman filmmaker on escape
Afghan filmmaker and photographer, Roya Heydari tweeted about fleeing Afghanistan after the Taliban takeover and said, "I left my whole life, my home in order to continue to have a voice." "I took only my cameras and a dead soul with me across an ocean. With a heavy heart, goodbye motherland. Until we meet again," she wrote.
Anupam Kher wraps up 519th film 'Shiv Shastri…'
Veteran actor Anupam Kher has finished shooting for his upcoming film 'Shiv Shastri Balboa'. He took to Instagram to share the news and wrote, "Finally it's a wrap for my 519th film!! What a roller coaster ride it has been!" He also shared a video of him celebrating the last day of the shoot with the crew of the film.
Aparshakti Khurana and his wife Aakriti Ahuja blessed with a baby girl; name her Arzoie
Actor Aparshakti Khurana took to social media on Friday to announce that he and his wife Aakriti Ahuja have been blessed with a baby girl. "Aakriti and Aparshakti welcome with love Arzoie A Khurana," the post read. The couple had announced in June that they are expecting their first child.
He was a volcano of talent: Dharmendra on recommending Amitabh for 'Sholay'
Speaking about recommending actor Amitabh Bachchan's name for Sholay's cast, actor Dharmendra said, "Amit was relatively new at that time. And obviously a volcano of talent." He added, "When I came into the industry so many seniors recommended me. The one thing that I've learned to be most valuable in life is kindness and generosity."
Taapsee to play the female lead in Hirani's next with SRK
Taapsee Pannu is all set to star opposite Shah Rukh Khan in Rajkumar Hirani's next film, according to reports. The producers, Shah Rukh's Red Chillies and Hirani's production house will make the announcement soon, reports stated. The yet-untitled film is reportedly co-written by Kanika Dhillon, who penned Taapsee's 'Haseen Dillruba' and 'Manmarziyaan'.
Delighted to revisit Trevor's role for 'Shang-Chi…': Ben Kingsley
Actor Ben Kingsley opened up about reprising his 'Iron Man 3' role as Trevor Slattery for the upcoming Marvel film 'Shang-Chi and the Legend of the Ten Rings'. He said, "It was a marvelous opportunity to add more layers and see another aspect of him in his element…I was…delighted to revisit Trevor and to give him another breath of life."
Shibani Dandekar gets boyfriend Farhan Akhtar's name tattooed on her neck
Actress and television host, Shibani Dandekar has tattooed the name of her boyfriend, Farhan Akhtar on her neck. Taking to Instagram Stories, Shibani shared a glimpse of the new tattoo. Notably, Shibani celebrated her 41st birthday on Friday.
Raveena Tandon shares pic from the day she bought her 1st convertible sports car at 18
Raveena Tandon on Thursday shared a throwback photo from the day she bought her first "swanky sports convertible". The actress posted the picture on Instagram Stories, revealing that she was 18 years old when she bought the car. "Gifted it to myself. At second hand," she further wrote in the caption.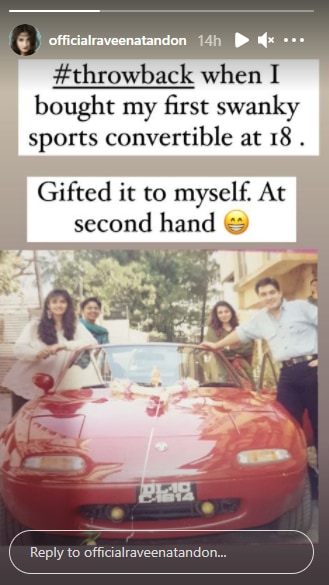 SRK, Deepika to shoot 'visually grand' song in Spain for Pathan
Shah Rukh Khan and Deepika Padukone will fly to Spain to shoot a song for their upcoming film 'Pathan', as per reports. The intent is to create a song that is visually so grand that it's an instant hit, reports said. Directed by Siddharth Anand, the action thriller will feature Salman Khan in a cameo role.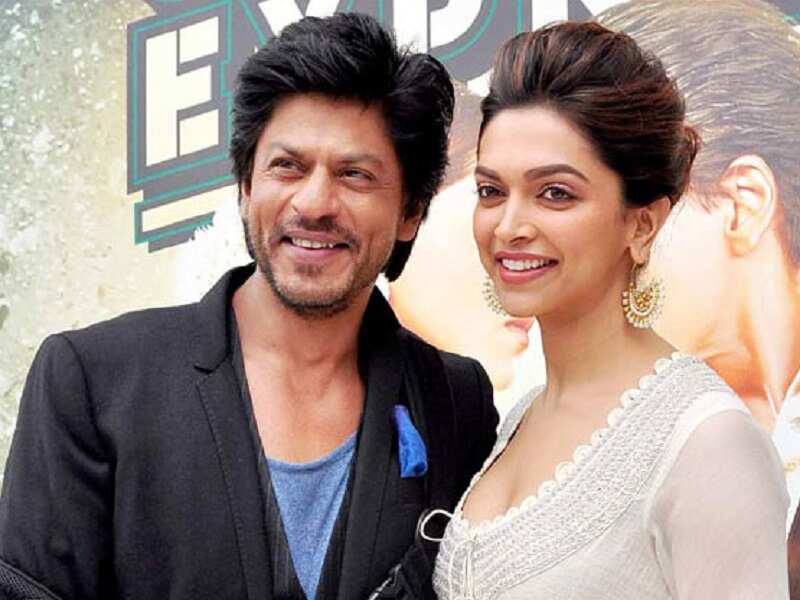 Daniel Craig's 'No Time to Die' to be screened at Zurich Film Fest
Daniel Craig's 'No Time to Die', the 25th James Bond film, will premiere at the 17th Zurich Film Festival on September 28. This is the first time a Bond movie has been in the official selection of a festival, Christian Jungen, the festival's Artistic Director, said. "We fought for months to get this premiere," Jungen added.
Felt embarrassed doing intimate scenes: Jackie Shroff on film 'The Interview…'
Veteran actor Jackie Shroff opened up about filming intimate scenes in his upcoming film 'The Interview: Night of 26/11' and said, "I was really embarrassed." "So many people watching you on…camera with an unblinking eye, the director…and entire world watch you and it's very embarrassing," the 64-year-old actor added. "But you've to do it as it's a job," said Jackie.
Abhishek Bachchan opts out and Arjun Kapoor enters in John Abraham's 'Ayyappanum Koshiyum' remake
Abhishek Bachchan has reportedly opted out of the Hindi remake of the Malayalam film 'Ayyappanum Koshiyum'. The prep-work had begun. However, just a couple of weeks back, Abhishek conveyed to John (Abraham) and the entire team about his reservations about coming on board, reports stated. Now, Arjun Kapoor has reportedly replaced Abhishek Bachchan in the film as recommended by John Abraham. The remake will be helmed by 'Mission Mangal' director Jagan Shakti. The preparation has begun and the film will go on floors by November 2021.
Eddie Murphy to star opposite Jonah Hill in Kenya Barris' comedy film
'Coming 2 America' actor Eddie Murphy will star opposite Jonah Hill in filmmaker Kenya Barris' upcoming comedy film. Sharing the update on Instagram, Jonah wrote, "Sometimes you gotta get the GOAT (Greatest Of All Time)." The upcoming project has been co-written by Jonah and Kenya, and they are also producing through their respective production companies.
Vicky, Sara's 'The Immortal Ashwatthama' put on hold
Vicky Kaushal and Sara Ali Khan's 'The Immortal Ashwatthama' has reportedly been put on hold due to budget issues. "There are also murmurs that there's…issue with…script and…production house would like to fine-tune it before they revisit the film," The Indian Express said quoting a source. The film will be directed by Aditya Dhar and produced by Ronnie Screwvala's RSVP Movies.
Black Panther star Lupita pays tribute to Boseman on his death anniversary
Taking to Instagram on Saturday, 'Black Panther' actress Lupita Nyong'o paid tribute to her former co-star Chadwick Boseman on his first death anniversary. Sharing a picture of herself with Chadwick, Lupita wrote, "Didn't know…I could miss both his laughter and…silence in equal measure. I do." "One year after his passing, memory of Chadwick remains this alive in me," she added.
Saw kids crying, old people fainting at Kabul airport: Afghan filmmaker after escape
Afghan filmmaker Shahrbanoo Sadat, who escaped to Paris after the Taliban's takeover, said, "I was lucky but this isn't the situation for many people." Describing scenes while queuing outside Kabul airport, she added, "Children were crying and…old people were fainting because it was so hot." Shahrbanoo said she nearly gave up queuing but was encouraged to keep going by her sister.
Jason Statham to star in thriller film 'The Bee Keeper'
Actor Jason Statham has been roped in for a thriller film titled 'The Bee Keeper'. "[The film] explores universal themes with an unconventional story that will have fans sitting on the edge of their seats," Bill Block, CEO of Hollywood studio Miramax, said. Written by Kurt Wimmer, 'The Bee Keeper' will start production in 2022 in London and Atlanta.
Indian Army Chief General MM Naravane praises 'Shershaah', producer shares letter
Chief of the Army Staff, General MM Naravane, wrote a letter of appreciation for the team of 'Shershaah' and lauded them for their "genuine efforts…in depicting realistic battle scenes of the Kargil War". Sharing the letter, the film's producer Shabbir Boxwala wrote on Instagram, "Humbled and beyond delighted to have received such high praise."
It was a real gift to be pregnant during the pandemic: Mindy Kaling
Hollywood actress Mindy Kaling, who welcomed her son Spencer Avu about a year ago, said, "It was a real gift to be pregnant during the pandemic." She told Access, "I felt really scrutinized during my first pregnancy…it was such a joy to spend the last seven months of my pregnancy under the cover of just nobody…nobody was taking photos."
Never listened to my songs again after recording: Lata Mangeshkar
Speaking about her journey as a singer, Lata Mangeshkar mentioned, "I don't remember this song. I wish I could remember all my songs, as well as you [listeners], remember them." She added, "The fact is, once I recorded the songs, I never listened to them again. Even when I hear a riff on television, I quickly switch it off."
Will take 'Ludo' franchise forward, but not immediately: Anurag Basu
Filmmaker Anurag Basu, who recently received the Best Director award for 'Ludo' at the Indian Film Festival of Melbourne, opened up about his plans of taking the franchise forward and said, "I will surely do it, but…[not] immediately." He added, "I won't do it back-to-back…I have many ideas that I want to explore first before coming back to this."
Dimple Cheema spent only 40 days with Vikram Batra: 'Shershaah' writer
'Shershaah' writer Sandeep Shrivastava opened up about meeting Captain Vikram Batra's girlfriend, Dimple Cheema while researching for the film. "[Dimple] said that Captain Batra and she knew each other for four years but the time they spent together was just…40 days…we've captured the essence of those 40 days, which means a lot to the wonderful lady," Sandeep told News18.
Akshay Kumar's 'Bell Bottom' screened at the world's highest mobile theatre in Ladakh
Akshay Kumar on Sunday said his recent release 'Bell Bottom' was screened at a traveling cinema hall in Ladakh, touted as the world's highest mobile theatre. "[It] makes my heart swell with pride," said Akshay, sharing a picture of the theatre on Twitter. He added, "At an altitude of 11,562 feet, the theatre can operate at -28 °C."
Scarlett Johansson, Chris Evans to star in the film 'Ghosted'
Avengers' co-stars Scarlett Johansson and Chris Evans will reportedly star together in the upcoming adventure movie, titled 'Ghosted', which will be released on a streaming platform. The film will be helmed by 'Rocketman' director Dexter Fletcher and will be penned by 'Deadpool' writers Rhett Reese and Paul Wernick, according to The Hollywood Reporter.
The Empire director and Kunal Kapoor on GOT comparisons
'The Empire' director Mitakshara Kumar spoke about the comparisons being made between her show and 'Game of Thrones'. Mitakshara said there is a big difference between the budgets allotted to the two shows. She added, "Our entire series could be made in the budget they use…for…one or two episodes." "They have dragons and zombies, how can people compare?" she said. Kunal said, "These are unnecessary comparisons…it is tragic." He added, "Some will say it's like 'Padmaavat', 'Bajirao' or 'Game Of Thrones', but it's a different story, it's a different world, different characters [and] different people."
Hope you are all caught with this roundup of entertainment, from Priyanka Chopra injury to Tom Cruise's stunts!
For more entertainment content follow us @socialketchupbinge