If you heard a girl scream,'Bhagwan ke liye mujhe chod do', you know Ranjeet was there. Check out our love for one of the iconic villains of Bollywood who gave us shivers of fear (wrote this worrying his presence)
When the hero won the girls, Ranjeet was the one who stole them away (not with his charm, of course). Being iconic is not easy and being an iconic villain even more difficult. Papa Ranjeet is one of them. Although it may seem uncanny, Ranjeet made it to the iconic list because of the number of times he's played a cringy villain. We have all been shell-shocked seeing Ranjeet perform this ghastly act on-screen while he entered with his bare hairy chest with a locket hanging from his chain. We all wished we could kill him, don't @ me. He made us hate him so bad, that we still can't watch him without grinding our teeth in anger.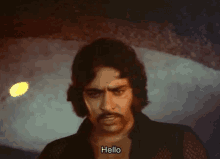 Ranjeet is an Indian actor who has been a major part of the Bollywood industry in the 80s and the 90s. Apart from Bollywood, he has also been part of the television industry. He has played a villain in over 200 movies. He rose to fame after he played a villain in the movie, Sharmeelee and has been named 'Ranjeet' in a number of movies. While he brought his villainous self on the big screen, he played a positive character on the small screen.
All our life we thought Ranjeet's real name is Ranjeet, but it's actually Gopal Bedi while his friends call him Goli because he used to be the football goalkeeper. It was Sunil Dutt who recommended the name after his performance in 'Sawan Bhadon' and 'Reshma aur Shera'. He has also tried his hand at airforce but was sent back because of his involvement with the trainer's daughter (classic Ranjeet!)
Here are some of Papa Ranjeet's iconic dialogues:
"Aur chillah! Yahaan teri cheekh sunne walah koi nahin hai.."
"Itni achi cheez bhagwan ke liye chod doon… Kabhi nahin!"
"Humne koi dharam khata nahi khol rakha hai … hum jab kuch deta hai toh uske badle mein kuch leta bhi hai" (Keemat)
"Beauty beauty beauty … beti beti beti" (Housefull 2)
Ayyyeeee! We love you Papa Ranjeet.