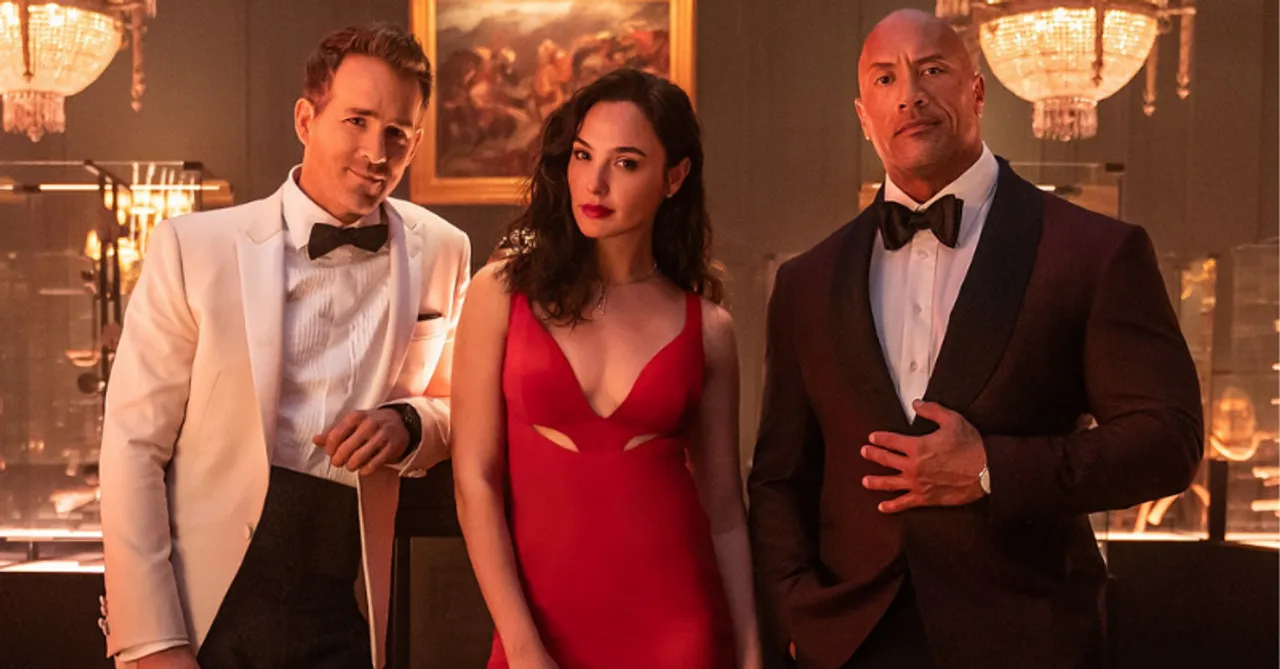 Packed with action sequences and comedy, Red Notice on Netflix is a simpleton action-adventure that leaves you with a chuckle.
Red Notice starring Dwayne Johnson, Gal Godat, and Ryan Reynolds by the looks of the trailer might hint for a usually cop-thief chase film, but it's more than that, it is a light-hearted entertaining comic movie which you should definitely watch for some enjoyable time off the regular serious dramas. Globally it is being said to be a mix of the films Indiana Jones and National Treasure but Indians could relate it more to Dhoom 2. Quite a similar plot with a lot of comic action-packed sequences and many twists and turns but doesn't keep you at the edge of your seat. The movie is filled with glitz and glamour, and the cast ensemble in itself draws attention and is the pull for the movie.
The Rock as Agent John Hartley is an FBI profiler who is on the trail of Reynolds' Nolan Booth, an art master thief. The movie begins with Nolan is busy searching for three gold-plated eggs of immeasurable value given to Cleopatra just as the thieves of the world are. But while in the sequences of stealing and saving those eggs from Nolan, Hartley finds himself under suspicion of stealing because of another thief, Gadot's The Bishop. And hence the film follows these three in a cat and mouse chase with each other with a lot of double-crosses bringing in the twists.
It sometimes feels, the film gets a predictable and formulaic pattern with sequences already seen in other films, but with its comedy kept under a perfect balance and its action-adventure to an enjoyable minimal, Red Notice seems like a family-friendly film. Written and directed by Rawson Marshall Thurber, the film majorly relies on its star-studded cast and for what they are already well-known of. Like most of the action-packed sequences are on the shoulders of Dwayne Johnson, while the comedy is for Ryan Reynolds. And as far as Gal Godat is concerned, she is a mysterious criminal mastermind, adds the necessary spice to this comedy-action-suspense drama, and watching her perform stunning stunts in dresses is a treat to your eyes.


The chemistry and timing between Ryan and Dwayne is a fun and interesting one to watch throughout the film. The movie gives hint and probability of a sequel of the film with the much mind-twisted yet predictable end.
If you are a mystery buff, the movie might not add freshness to the cop and thief drama for you, yet releasing the film at the time for holidays works for it as it is a family entertainer. It is released in selected theatres on the 5th of November globally while is slated to release on Netflix on the 12th of November.
The star-studded movie is definitely a one-time watch, especially when you are looking for something breezy and fun. And if you are a fan of Ryan, Dwayne, or Gal Gadot, do you even need any other reason?
For more entertainment content follow us @socialketchupbinge