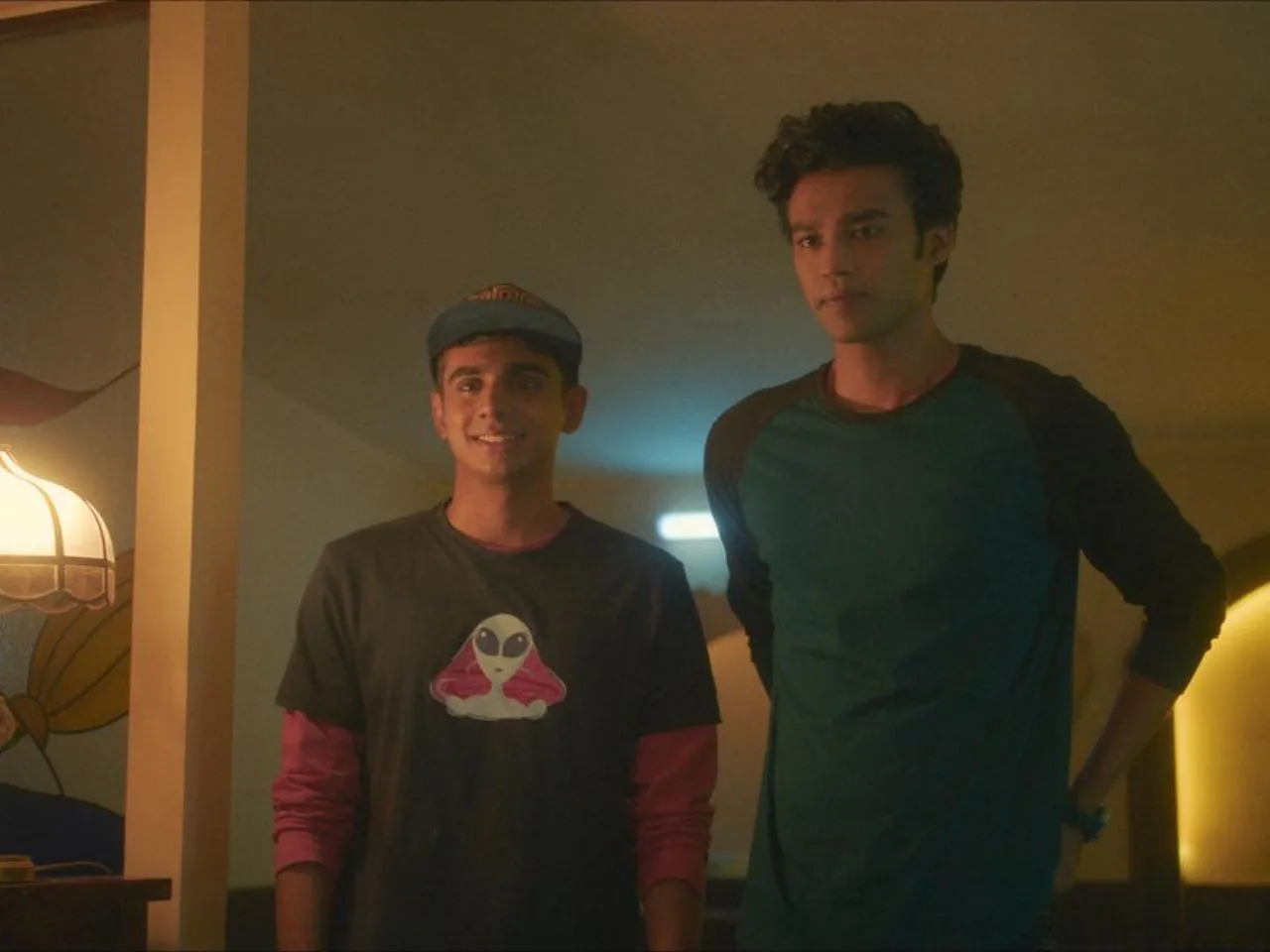 Netflix's newest offering 'Friday Night Plan' is a high school drama done right, according to the Janta.
Directed by Vatsal Neelakantan, Friday Night Plan is about Sid and Adi, two brothers who have different personalities and interests. Sid is a studious and shy football player who has a crush on Natasha, the most popular girl in school. A rebellious and outgoing prankster, Adi wants to have fun and impress senior girls. When their mother goes on a business trip, they decide to go to a fancy party hosted by Natasha's friend. When things go wrong, they have to deal with the police, their lost car, and face their rival school. Along the way, they learn more about themselves, each other, and what matters most in life. Friday Night Plan stars Babil Khan as Sid, Amrith Jayan as Adi, Medha Rana as Natasha, and Aadhya Anand as Nitya.
This coming-of-age film has received mixed reactions from the Janta. Some have praised the film for its comedy, emotions, and performances, while others have criticized it for being cliché, predictable, and unrealistic. Overall, they are drooling over Babil Khan and we couldn't agree more! 
Also Read: Friday Night Plan review: A light-hearted feel-good film perfect for a nightcap! 
Here's what the Janta had to share! 
Just finished #FridayNightPlan! Watch and learn from this film, fun funa fun.. film! 🖤🎉🪩#BabilKhan #MedhaRana #AadhyaAnand #VatsalNeelakantan pic.twitter.com/HGfbeII5dq

— 𝚁𝙰𝙶𝙷𝙰𝚅𝙴𝙽𝙳𝚁𝙰 𝙿𝙰𝚃𝚃𝙰𝚁 🎭 (@Theraghavendraa) September 5, 2023
#FridayNightPlan is so much fun
A Hindi High School Drama done right#FridayNightPlanReview #VatsalNeelakantan #BabilKhan #AmrithJayan #JuhiChawla #Netflix #FridayNightPlanOnNetflix https://t.co/LFuRLpaEL2

— Chinmay Nakhwa 🌈 (@ChinmayNakhwa) September 2, 2023
If you want to sleep for a while then just watch first 15 min of #FridayNightPlanOnNetflix
Had a good sleep in afternoon after a long time

— Nimish Advani (@NimishAdvani) September 2, 2023
Watched #FridayNightPlanOnNetflix and it was nice...i went back to my school days 👌🏻👌🏻 @NetflixIndia @excelmovies #netflix #movie #Friday

— Manzar Arora (@_iammanzar_) September 1, 2023
It felt like fresh breath of air watching #FridayNightPlanOnNetflix. truly a light hearted , feel good movie . Babil Khan has this charm like i want to see him more in movies/series .Vatsal Neelakantan did amazing job at showing the love hate relationship between the brothers

— ✿⁠ (@luvbisoul) September 2, 2023
It's like wake up sid 2 !
Comfort movie after some time !#fridaynightplanonnetflix#BabilKhan

— Deepak Purane (@Deepak1knight) September 1, 2023
A raw Babil Khan anchors Netflix's new teen comedy #FridayNightPlan, which lacks originality but is still comical and pleasant to watch. It isn't tough to gauge that the entertainer is heavily inspired by a handful of raunchy comedies from Hollywood, sans the crudeness. Watchable pic.twitter.com/uhKxg2ut6G

— Shivam (@_BeingShivam_) September 4, 2023
I soo wanna do this, once in my life. 😉

It looks fun. 💥#FridayNightPlan pic.twitter.com/ngZqnu42hM

— Tannu (@abner_678) September 5, 2023
#FridayNightPlanOnNetflix.. YOU CANNOT NOT miss this one at all... #BabilKhan #Amritjayan were so good. Add amazing @ninadkamat_ 👌 Heartwarming,clean as a whistle film about sibling bonding over a Friday night plan is a winner. Haven't seen a really good film like this in ages

— 〰️HIRA-MEHTA〰️ (@HIRAMEHTA3) September 5, 2023
Whar are your thoughts on this one? Let us know in the comments below!
For more binge-centric, follow us @socialketchupbinge.