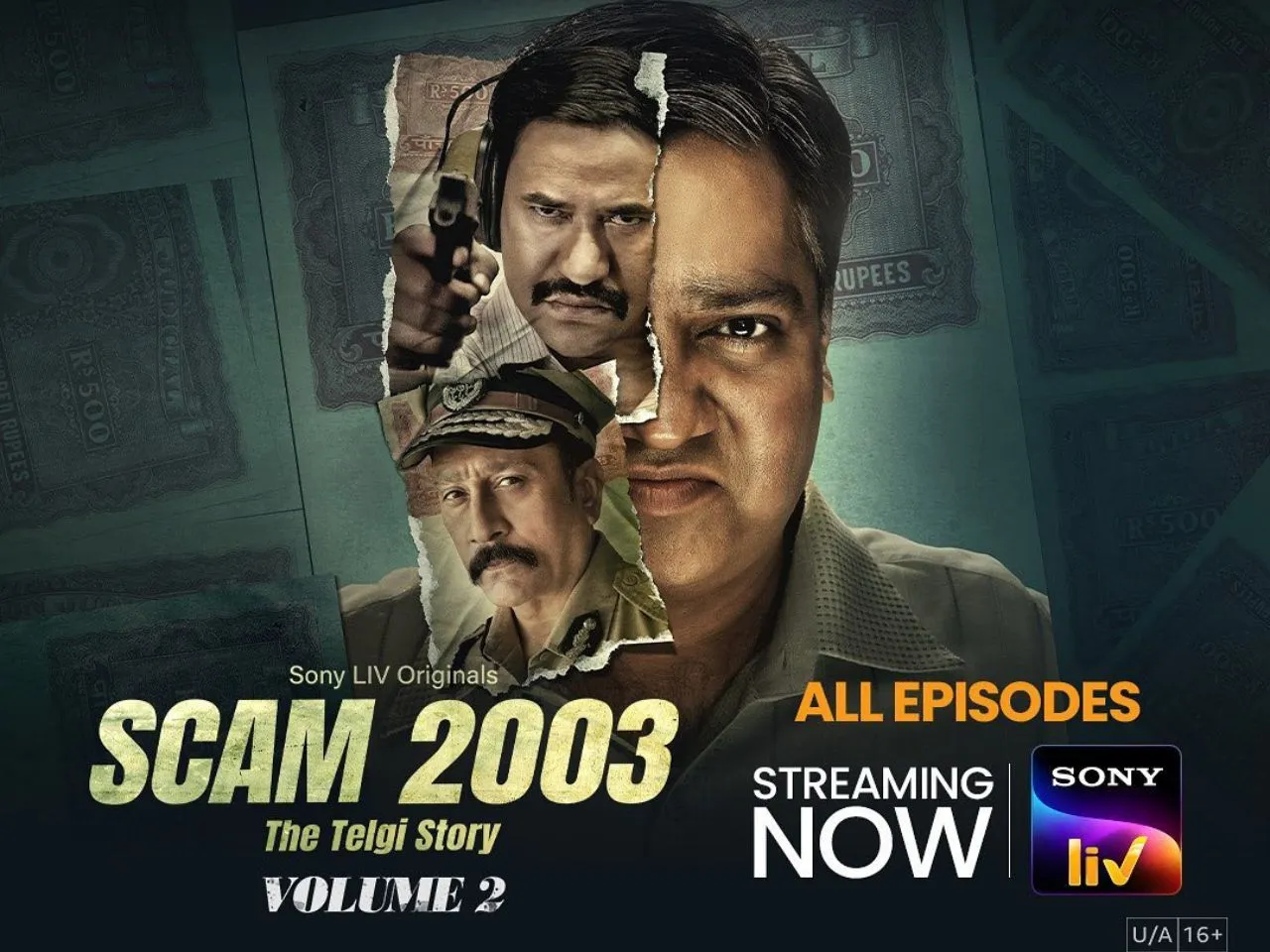 Sony LIV's Scam 2003: The Telgi Story's Volume II follows the fall of the scamster Abdul Karim Telgi, who devised the Stamp Paper Counterfeiting scam.
Scam 2003: The Telgi Story's Volume II starts on a scandalous note. Bandit Nijilingam has abducted superstar Jivram and has asked the Karnataka government for a ransom of Rs 15 crores. This sounds similar to Veerappan's abduction of actor Rajkumar. The scandalous part is that Telgi is being asked to pay the ransom. And once again, we find ourselves immersed in Abdul Karim Telgi's (Gagan Dev Riar) world- fake stamp papers, corrupt police, bureaucrats, and politicians, money, and lies. This time, however, the series runs extremely fast. In the first volume, it took too long to explain even the unnecessary parts of Telgi's rise. The second volume rushes through many major moments in Telgi's fall. What it should have detailed, it sprints through. What has stayed persistent throughout the two volumes are the exaggerated dialogues that sound unbelievable and Riar's exceptional performance. 
Also Read: The Monk and the Gun review: Unpopular but vital politics packed with heartening humour
Numerous new characters are introduced in Volume II, like Suryapratap Gehlot (Mukesh Tiwari), Commissioner of Police, Jagdish Suri (Aman Verma), and Pramod Jaisingh (Dinesh Lal Yadav), among others. Despite decent portrayal by the actors, all these characters have been marred by the overdramatized dialogues. Everyone is always a smartmouth, and it doesn't look convincing. The only actor who uses these dialogues to his advantage and gives an unforgettable performance is Riar. He runs the show. Even when he is pulling off scams, lying his way through life, and looting the government, you can't help but root for him. He is so captivating as an anti-hero that even when he is wrong, you constantly hope for him to rise up and fight it all. The scene where he sings for his mother is especially heartbreaking.
While the script is paced unevenly and even struggles with coherence at times, it still convincingly depicts how deep corruption is rooted in our institutions. Scam 2003 gives you an unfiltered look at Indian politics. It demonstrates how it takes a village to pull off a scam, and unfortunately, it is almost always the one we elected. In one of the scenes, when told that the government benefits the poor, Telgi recalls this poverty-ridden childhood, and the government's inability and unwillingness to help the poor- and the series comes full circle. Even with a stumbling script, Scam 2003 manages to make its point, and that, combined with Riar's brilliant performance, makes it a captivating watch.