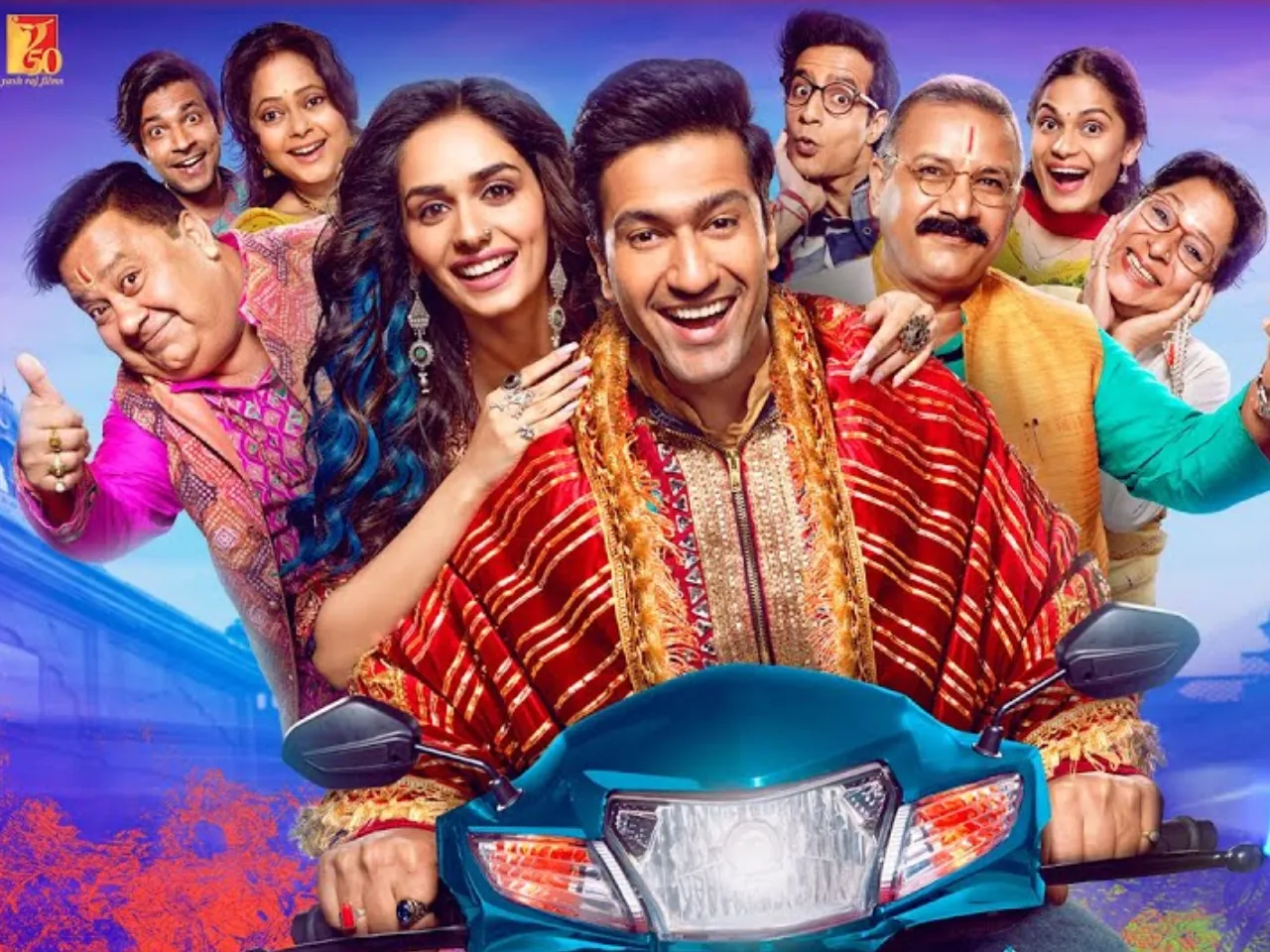 The Great Indian Family released on September 22 is getting mixed reactions from the Janta who are either in love with the film's message or just highly disappointed in Vicky Kaushal! 
The Great Indian Family is a social satire family drama that focuses on giving out a social message via devotional singerVed Vyas Tripathi aka Bhajan Kumar who is brought up in a conversative family full of pandits and finds out one day that he is actually Muslim by birth. Produced by Yash Raj Films, this film stars Vicky Kaushal as the main lead with Manushi Chillar and is directed by Vijay Krishna Acharya. 
Some of the Janta are happy with the film saying that even though it has its flaws, its message is good, and it's still a family entertainer. While others are disappointed with Vicky Kaushal for taking up bad scripts as they expect more from him. 
The Janta clearly had a lot to say about this one. Check it out!
The Great Indian Family is such a beautiful film with such a beautiful message. ♥️ Vicky pulls off one more subtle character with absolute ease. This man can literally do it all ❤️ Overall, the cast was great and complimented to the story so well. Don't miss this. #VickyKaushal

— K 💫🤍 (@miss__obvious) September 22, 2023
What in the world is #TheGreatIndianFamily 🤒? Bad stuff. I don't understand how or why Vijay Krishna Acharya, whose filmography as director includes two of the worst movies of the last two decades (Tashan and Thugs of Hindostan), gets repeated chances. A mystery. pic.twitter.com/ky76wzgjv1

— Maya (@Sharanyashettyy) September 24, 2023
Vicky Kaushal ki movie release hui THE GREAT INDIAN FAMILY. Jitne quickly, No marketing ke picture nikali… usse to Aacha ye deserve karti hai. Some issues but Family drama & hero ki situation hook to hai.. first half.

— badal: the cloud 🌩️ (@badal_bnftv) September 22, 2023
#TheGreatIndianFamilyReview
Ok at 1st
WHAT IS WRONG WITH THE MARKETING
2nd
Story is Good but predicable
Songs are useless
Acting is the main selling point #VickyKaushal #ManojPahwa #KumudMishra are Next Level#ManushiChhillar is Decent
👉A Good 1 Time Watch#TheGreatIndianFamily pic.twitter.com/8NPNgb1wkj

— MOVIE WATCHER (@moviewatcher001) September 23, 2023
Aur banao movie Vickey kaushal,Varun dhwan , Ranveer Singhko leke cinema hall me ek bhi audience nahi he , biggest distaer #the great Indian family @yrf @ETCBollywood @Bollyhungama #Bollywood

— Manoj Kumar Dash (@manoj_DDD) September 22, 2023
Caught #TheGreatIndianFamily today and I honestly need EVERYONE in this country to watch it right now. So bloody good with its heart and politics in the right place - reminding us of the pre-2014 secular cinema.

Also props to @vickykaushal09 - such an effortless star.

— Anushree Joshi (@AnushreeJoshi16) September 24, 2023
Watching #TheGreatIndianFamily - I'm only person in the theater, and it's raining heavily outside. Introduction of the film is funny…. But I feel a little scared as I am literally alone on a Saturday afternoon. Never experienced this on a weekend. Not even in covid days 😬 pic.twitter.com/PelIGWWntm

— Vishal (@vishalandcinema) September 23, 2023
Bollywood silver screen's newest power couple! #ManushiChhillar and Vicky Kaushal setting hearts on fire in The Great Indian Family ❤️‍🔥 pic.twitter.com/kTPQoAFA3e

— Debarati Bhattacharya (@Debarat19838250) September 22, 2023
There are so many films released in sept but #thegreatindianfamily 📹 is that a combination of their related real life issues and problems to connecting with our families and friends the film released @vickykaushal09 @ManushiChhillar please go and watch movie fast

— Muskan Gupta (@muskngupta) September 24, 2023
You can make good movies like Uri and Sardar Udham Singh

But you are making useless movies like Govinda Naam Mera , the great Indian family , Zara Hatke Zara Bachke.

Why?#TheGreatIndianFamily

— the सिनसिनवार (@jatonthetop) September 13, 2023
It's strange that making a social satire that aims directly at the Hindu Muslim conflict feels like a ballsy move. Cinema shouldn't feel like this, but sadly it does. #TheGreatIndianFamily preaches to bridge that gap by making the most basic point - we are humans first. pic.twitter.com/r3qtHD3V6g

— Shikhar Verma (@shikhar2907) September 23, 2023
#TheGreatIndianFamily : I am convinced that there is no such thing as a bad #VickyKaushal performance.

It's absolutely criminal that a movie with so much heart is so woefully marketed. Shedding light on religious harmony & the divisive world we live in today: the film, while… pic.twitter.com/fa4dIjGA8O

— Sahil Saifi (@Sahilsa29) September 22, 2023
The Opening of #VickyKaushal Film #TheGreatIndianFamily Showed that it's very long way to Go for Vicky Kaushal to become Popular in Fan Base
Or to Said as Star atleast

I Hope Next Time he Understands Right Film,Right Time & Proper Promotion

You Can't Easily Waste Consistency pic.twitter.com/d4L2Aebv9Y

— ✴️BOL INDIA POL✴️ (@PrashantMi555) September 24, 2023
#TheGreatIndianFamily Watch it yesterday and totally enjoyed it.@vickykaushal09 can mould himself in any character and the supporting cast have hit it out of the park.The theatre was 30% full probably because the movie is not advertised well.But it's and proper family entertainer pic.twitter.com/ovyKxdFj50

— Nitish Singh (@singhnish7) September 23, 2023
just watched #thegreatindianfamily and miss manushi, whatever degree you left, please go back and finish your pending exams or whatever because yeh toh aapse nahi hoga 👀😭 isse ek shubhchintak ki arzi samjhein 🙏🏻

— deepika in jawan era (@kunsahuja) September 24, 2023
For more binge-centric content and reviews, follow us on @socialketchupbinge.