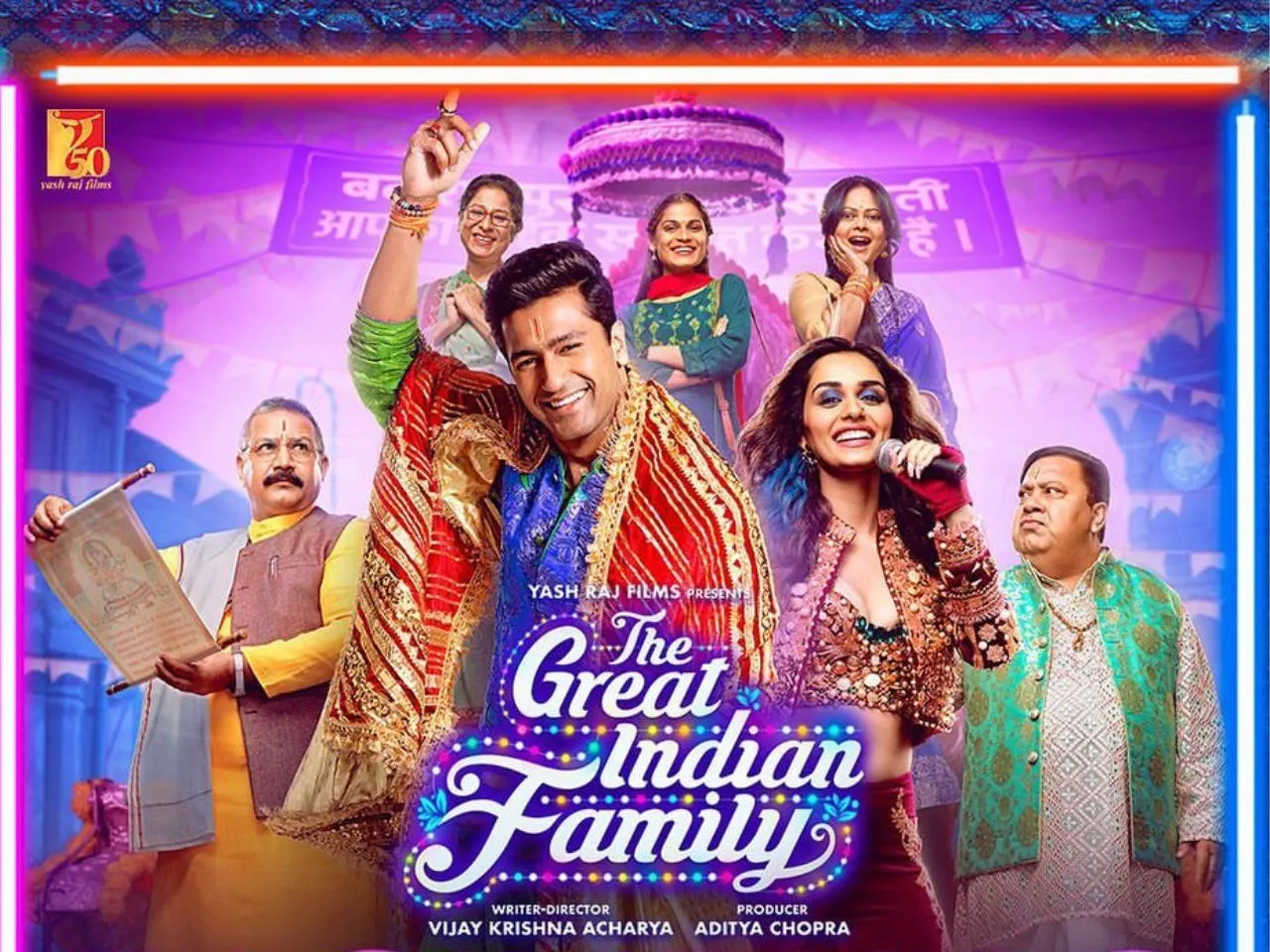 Yash Raj Films' 'The Great Indian Family' revolves around Bhajan Kumar aka Ved Vyas Tripathi whose life goes upside down upon finding out his religious identity.
Secularism is a common and overused topic in Bollywood, but it is always welcome, especially in polarising times. Giving a similarly safe and age-old but relevant message about religious unity is The Great Indian Family. The film begins with a young Ved Vyas Tripathi (Vicky Kaushal) becoming a pandit, just like his father Siyaram Tripathi (Kumud Mishra) and uncle (Manoj Pahwa). But he soon turns into the electric Bhajan Kumar who is famous across Balrampur for his bhajan programs. 

The moment Kaushal enters the scene as Bhajan Kumar, singing, "Kanhaiya Twitter pe aa jaa" and in true boomer fashion goes, "Feels ke saath gaaiyen" and "Bohot kharab cheez hai ye phone," you cannot help but cheer for him. Clearly, Ved is the hero, the Shah Rukh Khan of Balrampur. There's also a heroine, Jasmit (Manushi Chillar), who obviously has a minimal role, only to support the hero's narrative. All is fine in Bhajan Kumar's world until a religious earthquake shatters his life. In an anonymous letter, his family finds out that Ved was born a Muslim. All hell breaks loose.
With such a dramatic turn of events, one would expect high tension in the air. And as per the screenplay, there is drama. But the drama lacks authenticity and power. It seems very loosely written and stretched and it keeps distracting you. Fortunately, you see a hint of the tension coming back towards the climax especially when Kumud Mishra takes charge. But again, the tension is diffused too soon, too easily and the film ends on a simple and happy note. The climactic monologue doesn't help either.
Watch the trailer here!


Despite its flaws, the film is funny in places. The dialogues might not be hilarious, but they are strong, and filled with authentic North-Indian lingo. The dialogue delivery is even better. The actors delivering these dialogues are a treat to watch, especially Mishra and Pahwa. Mishra has majorly done soft roles in Bollywood, but in The Great Indian Family, he plays a reserved patriarch. And he plays the role with finesse. Chillar shows potential but is limited by the uselessness of her role. Srishti Dixit's comical abilities also went unutilised. Vicky Kaushal, without a doubt, lifts the film on his shoulders. His apt comic timing, body language, accent, and overall acting make him one of the best actors to play the role of a small-town character.

Along with its actors, the film's sociopolitical message is its highlight. As stated above, the message of Hindu-Muslim unity is an old one, but it is still relevant, and unfortunately even required to repeat from time to time. The film delivers this message in a sincere but entertaining way making the film a fun watch. All in all, The Great Indian Family is just like our Indian families - dramatic, and chaotic but fun with its heart in the right place.

The Great Indian Family is currently running in theatres.
For more reviews, follow us on @socialketchupbinge