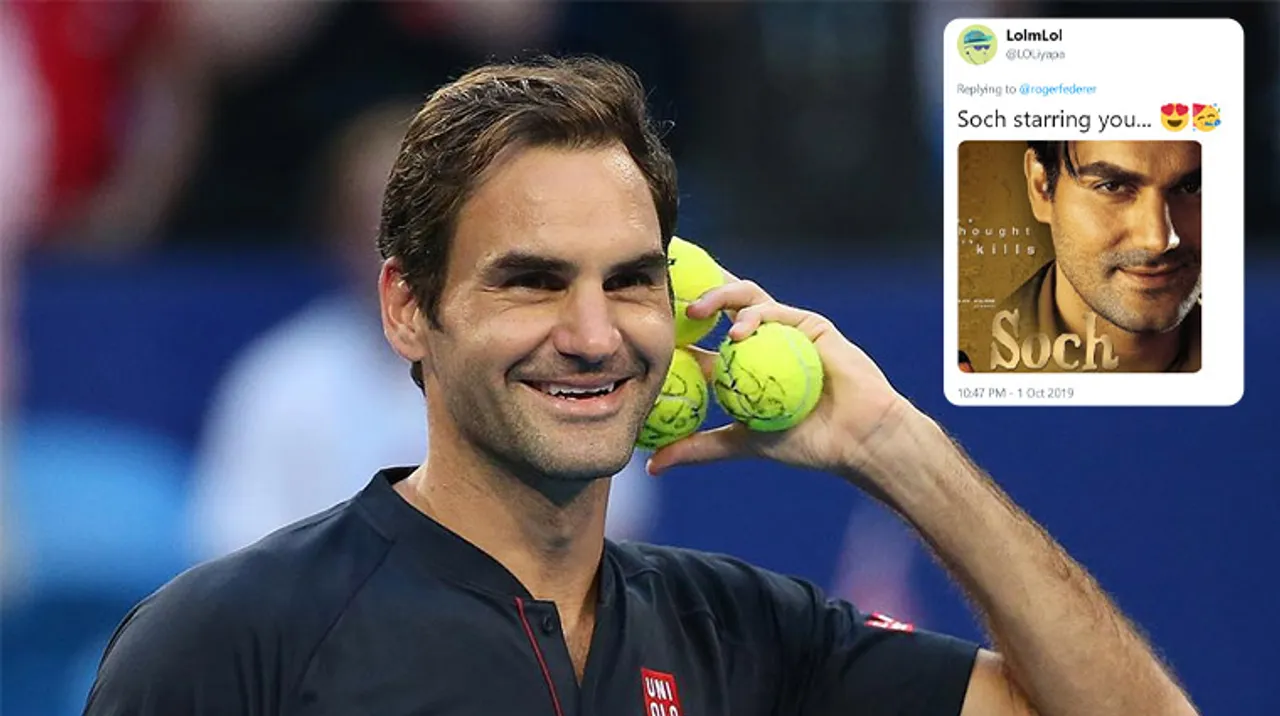 Roger Federer had suggestions pouring in as he decided to watch some Bollywood classics on Wednesday night.
What happens when an international personality decides to ask for a suggestion online? Fans from all across the globe pour in to help them out. The Internet went crazy on Wednesday because tennis star, Roger Federer reached out to his fans for help.
Wednesday was a Bollywood movie night for the International tennis camp, Roger Federer. He decided to ask his Indian fans for suggestions, and his twitter was flooded with a list of them. Movie fans began suggesting all types of Bollywood classics starting from Lagaan, Swades, DDLJ, Andaz Apna Apna to Rockstar and Gullyboy.
But the fans, however, decided to have their share of fun and shared some crazy suggestions too. They could also not help but notice his uncanny resemblance with Indian actor Arbaz Khan.
We have listed down some funny suggestions that Roger Federer received:
Soch starring you... ?? pic.twitter.com/E5I7whQdNq

— LolmLol (@LOLiyapa) October 2, 2019
Deshdrohi.... The story is intriguing, acting of KRK was insane. You'll love it

— Mayank Fan ♥️ (@ViratsMSDBhakti) October 2, 2019
Ra One, Bombay Velvet, Drona, Love story 2050.

— ° (@ScholesyLad) October 2, 2019
Watch humshakals.

— Tweetera? (@DoctorrSays) October 2, 2019
Watch Suryavansham

— Monica (@monicas004) October 2, 2019
Plz watch Bivi Tumhari, Bachche Hamare. pic.twitter.com/d8a3CD9VIE

— Er Mujib Ansari?? (@MujibAnsariMBA) October 2, 2019
Your movie
Remember this ?? pic.twitter.com/qsEOKz2TCU

— Niranjan (@UnitedNMB) October 2, 2019
Must watch.. best movie ? pic.twitter.com/LulF20ptwX

— किल बिल पांडे (@Kill_BillPandey) October 2, 2019
This. One of your best movie @rogerfederer ? pic.twitter.com/hdR0gfDcz9

— Dr. Pratiksha Rathore (@Drpratiksha1) October 2, 2019
Gangs of Wasseypur, without subtitles.

— The-Lying-Lama 2.0 (@KyaUkhaadLega) October 2, 2019
Which movies would you suggest? Tell us in the comments below.