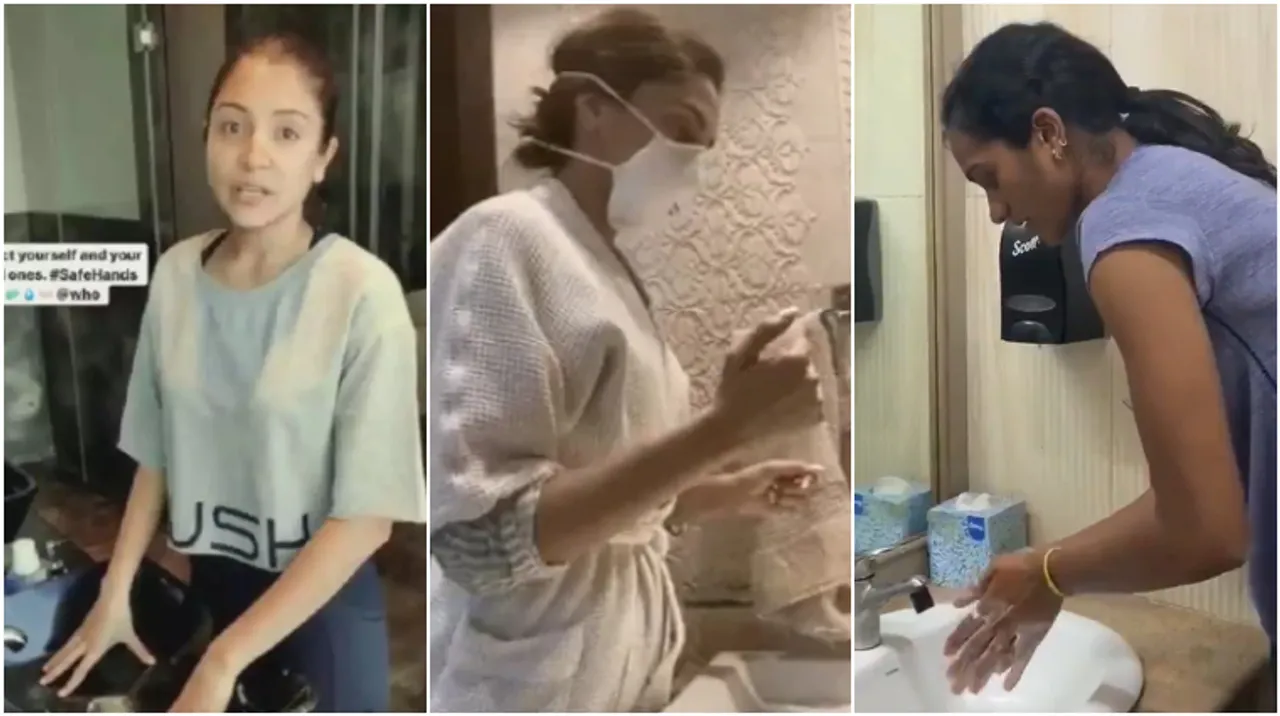 Deepika Padukone takes up the #SafeHand Challenge initiated by WHO Chief Tedros Adhanom Ghebreyesus to spread the importance of safety around the Coronavirus pandemic.
World Health Organisation General-Manager Tedros Adhanom Ghebreyesus recently posted a video of him washing his hands with the hashtag #SafeHand Challenge. He talked about how one can keep oneself protected from the recent Coronavirus pandemic by washing hands and sanitizing. Ghebreyesus explains the handwashing technique and suggests people do the same as a safety precaution.
There are several measures you can take to protect yourself from #COVID19. One of the most important ones is regular & safe hand hygiene. Here are the steps recommended by @WHO ?
Show the ? where and how you wash your hands. Join the WHO #SafeHands challenge! pic.twitter.com/5ElZyiyZun

— Tedros Adhanom Ghebreyesus (@DrTedros) March 13, 2020
After posting the video he went on to nominate celebrities like Deepika Padukone, Priyanka Chopra, Arnold Schwarzenegger and Katy Perry to name a few. He asked these celebs to nominate 3 others to take up the #SafeHand Challenge. With this challenge WHO aims at raising awareness about the importance of washing hands as a primary precaution against COVID-19.
I now nominate:@deepikapadukone@priyankachopra@Schwarzenegger@CTurlington
to take the #SafeHands challenge by sharing their video & calling on at least another 3 people to join us! Together, we can beat #COVID19!
— Tedros Adhanom Ghebreyesus (@DrTedros) March 13, 2020
In response to the mention, Bollywood actress Deepika Padukone accepted the challenge and took to Twitter and posted a video of her washing her hands while wearing a mask.
Thank You @DrTedros, for nominating me for the #SafeHands Challenge!#COVID19 surely is an uphill health and public safety task, but all of us are in this fight together!I further nominate @rogerfederer,@Cristiano and @imVkohli to take up this challenge! #coronavirus #StaySafe https://t.co/45glSxXkqP pic.twitter.com/7s7R4pIrrL

— Deepika Padukone (@deepikapadukone) March 17, 2020
Deepika nominated Roger Federer, Cristino Ronaldo and Virat Kholi to take up the #SafeHand Challenge.
Here are all the other celebs who took the #SafeHand Challenge:
हम सभी कोरोना वायरस (COVID-19) की वजह से चिंतित है।

इस वायरस को फैलने से रोकने के लिए जो एक आसान सी चीज़ हम कर सकते है वो है अपने हाथों को स्वच्छ रखना।

हाथों को 20 सेकंड तक साबुन के साथ धोना अनिवार्य है। हमेशा अपने हाथों को अच्छे से धोएं।#SafeHandsChallenge @UNICEF @WHO pic.twitter.com/63zE8OIvY3

— Sachin Tendulkar (@sachin_rt) March 17, 2020
Thank you Ms @KatherineHadda for the challenge. Definitely we all can help slow the spread of #COVID2019
I now challenge @KirenRijiju @imVkohli @MirzaSania Make sure everyone wash yours hands properly #SafeHandsChallenge @WHO pic.twitter.com/Fztd6CzGU9

— Pvsindhu (@Pvsindhu1) March 17, 2020
Stay safe and WASH THOSE HANDS DOLLS!!! ?? #SafeHands #HandwashChallenge pic.twitter.com/9YuiuK4pmw

— THE PUSSYCAT DOLLS (@pussycatdolls) March 14, 2020
Algo tan simple puede cambiar muchas cosas...Junto a mi amigo @FishCr20 nos unimos a @DrTedros & @WHO #SafeHands   #stayhomechallenge #beINFORMED

Reto a: @FernandoFiore @Jaimefmacias y @JoseBauz pic.twitter.com/zTsIVYYTI7

— Pablo Mariño (@PabloFMarino) March 17, 2020
Parce-que j'ai trop hâte de retrouver la musique du générique de #salonvip @beinsports_FR je participe au #SafeHandsChallenge @WHO @DrTedros
Faites comme moi! Et protégez vous au max du #coronavirus #COVID19 ?
A vous de relever le défi @pabanclara @SoGuitoune @hoarauguillaume pic.twitter.com/12tCL7J0XJ

— Claire Arnoux (@Claire_Arnoux) March 17, 2020
I am participating in the @WHO & @DrTedros #SafeHands challenge.

Thank you dad @PaulKagame. Challenge accepted!❤️

I now challenge @cakamanzi @Contact_Makeda @eliz_tanya @MariaSharapova @Zain_Verjee @SoniaRolland @GaelFaye @YKaritanyi @agnesbinagwaho. pic.twitter.com/gTD8e0sl9O

— Ange.I. Kagame (@AngeKagame) March 17, 2020
I tried to do a hand-washing tutorial for Cherry but I think you guys will pay more attention. Be safe. Wash your hands. Listen to scientists and experts, not foreheads. Together, we can slow this down and protect each other. #COVID19 pic.twitter.com/evDxVu6Etb

— Arnold (@Schwarzenegger) March 13, 2020
Are you following WHO's handwashing technique? Please do and be safe.