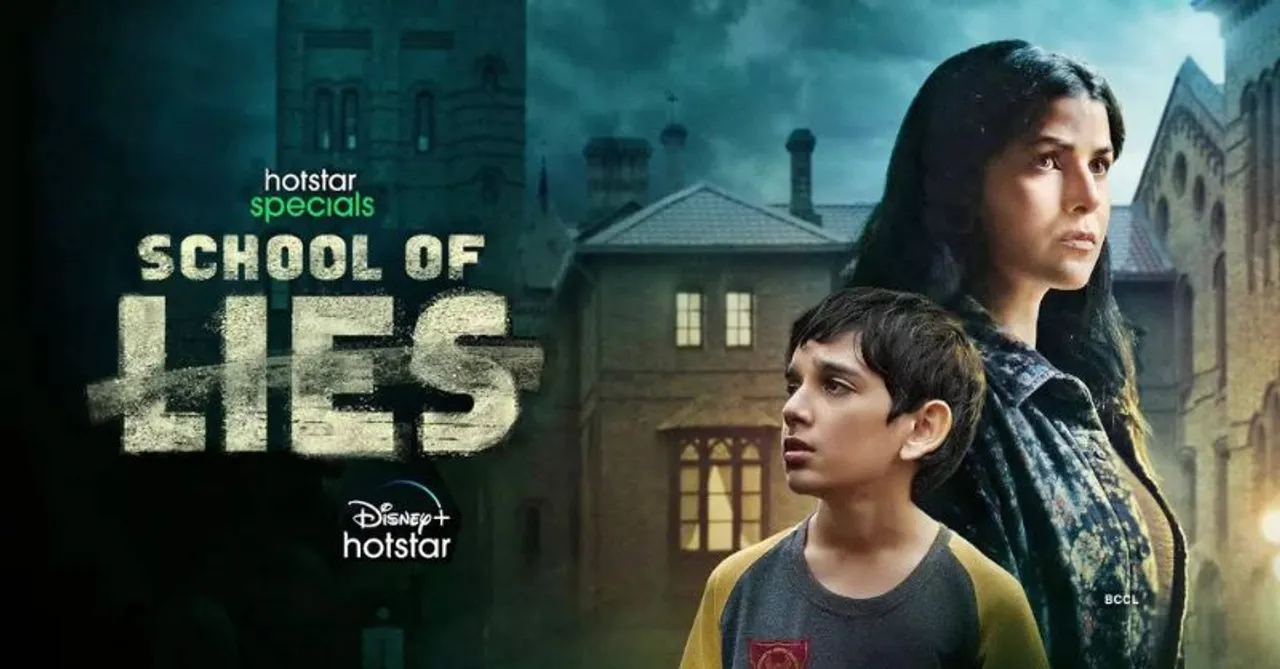 Disney+ Hotstar's School of Lies has become the talk of the town with the Janta being divided in their opinion.
Created by Avinash Arun, School of Lies is a mind-bending crime mystery that stars Nimrat Kaur, Aamir Bashir, Varin Roopani, Divyansh Dwivedi, Aryan Singh Ahlawat, Vir Pachisia, Sonali Kulkarni, Hemant Kher, Parthiv Shetty, Adrija Sinha, and Aalekh Kapoor. It's a story about a 12-year-old boy, Shakti Salgaonkar who is studying in a boarding school called River Isaac School of Education (RISE) which is located in a fictional place, Dalton town. During some commotion in the corridors one night, Shakti witnessed two boys, Vikram (Varin Roopani) and Tapan (Aryan Singh Ahlawat), from the same school in the washroom. Since he was the eyewitness there, he is seen as a threat. Soon, he was declared missing and that branches out to develop several connecting threads and an investigation takes place.
The Janta had mixed reviews about School of Lies. While some thought the show was one of the best shows they've watched this year, others seem to be a little disappointed by the queer troupe in the show! Overall, the writing and its execution is what had the Janta hooked.
Also Read: School of Lies review: Our very own Indian Hogwarts where magic is replaced with lies!
Check what the Janta had to share!
Avinash Arun's frames from School Of Lies, a show he lensed and directed.

I don't say this lightly or with exaggeration, but I don't think is a single show in India that comes close to the sensual-bulldozing, aesthetic perfection of this show. pic.twitter.com/z79E8nOa1g

— Prathyush (@geekoutyush) June 3, 2023
#SchoolOfLies Brilliant pic.twitter.com/C6iW2PW0d8

— Pritish (@Fortunedigger) June 4, 2023
Was haunted by the woods and hills setting and the trauma that runs through the series as a common thread. #SchoolOfLiesOnHotstar draws you in and traps you in its world of damaging secrets and emotional baggage. Nicely told. #Schooloflies

— Renuka Vyavahare (@renukaVyavahare) June 5, 2023
#schooloflies is boring, long, drags the shit out of multiple issues. How is it possible that every character is fucked up!

— I am Reema 👠 (@iamreeemaa) June 4, 2023
An indian show with gay throuple but so so fucked up- School of Lies

— Pranavoid (@pranx40) June 5, 2023
Just started watching #SchoolOfLies on @DisneyPlusHS and I'm hooked! The perfect mix of thrill and mystery. Can't wait to see how the story unfolds. #BingeWatching

— Paapi Gudiya😎 (@epic_meme00) June 3, 2023
Stunning performances by the children from #SchoolOfLies who remain the highlight of the show - Vir Pachisia, Varun Roopani and Aryan Singh Ahlawat deliver some solid performances- dealing with Loneliness, drugs, sexuality and more

— Shelby (@Meme_Canteen) June 4, 2023
If there is one show you want to commit to this weekend, let that be #SchoolOfLies on Disney Hotstar. My friend @thebombaybong has put her heart and soul into it and it shows. Not for the faint-hearted and yet, an extremely important show that raises a lot of pertinent issues.

— Pallavika Ghising (@Pallavika18) June 2, 2023
#SchoolOfLies is hands down the best Hindi show I've watched this year. So very well made, so sensitively written, so well performed! Kudos to #AvinashArun!

Do yourselves a favour and watch it. Thank me later.@DisneyPlusHS #HotstarSpecials @nimratofficial @thebombaybong pic.twitter.com/tFUhs4aVOL

— Titas C (@thatzanychick) June 3, 2023
It has been a while since I watched something as gut-wrenching and cathartic as #SchoolOfLies.

Thank you, #AvinashArun, along with #NishantAgarwala, @thebombaybong, and @nazeer_e_aazam. A special shout-out to @AamirBashir! Hope this show goes places.

— Adeesh A (@andadeesh) June 3, 2023
In #SchoolOfLies , they feel real and the struggles be it the sexuality, abuse or the generational trauma is detailed in a way we rarely see. And the kids are not seen either through a rose tinted glasses.The story of a missing kid paves way to understand how they cope with (2/n)

— Tharun (@tharunwrites) June 3, 2023
This school of lies is a gripping masterpiece that will keep you on the edge of your seat from start to finish #SchoolOfLiesOnHotstar pic.twitter.com/GDbpluZToF

— Rony patel (@ronypatel040) June 2, 2023
Are you planning to binge watch this School of Lies? Let us know in the comments below!
For more binge-centric content, follow us @socialketchupbinge.