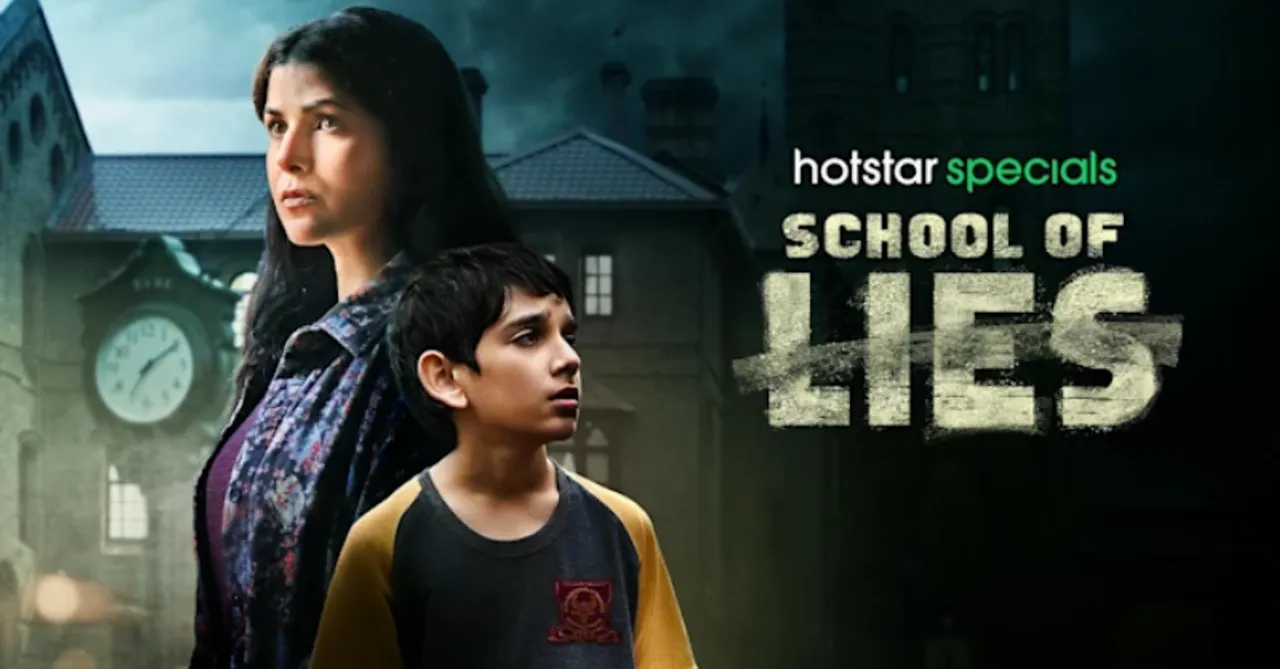 School of Lies review: This intense and dark psychological thriller drama speaks louder than words about mental health and the necessity of it especially for children!
School of Lies review: Trauma is generational, hierarchical, transactional, and apparently even empathize-able, and dump-able. It is omnipresent in all of our lives, carries on forward, and affects us in one way or another irrespective of our wants. That is what School of Lies explores essentially! Trauma and its various shades and moods in a gripping tale about how a young child goes missing from a boarding school up on the hillside and all hell breaks loose. The show is allegedly said to be based on a true story by the makers but it isn't clear which one exactly. Similarly, on the face of it, the show is a psychological thriller but if you look closely it talks about a sort of disconnect or isolation from the world extending from trauma.
Set up in a fictional place called Dalton town, Avinash Arun's (Pataal Lok, Masaan, Drishyam) world is filled with dark themes of loneliness, separation, grief, and repression, especially in children. It is set up inside the world of a Hogwarts like boarding school, RISE (River Issac School of Education) where there are different houses according to which these kids live, study, and function in. Hierarchy and discipline are key factors as juniors refer to their seniors as 'sir' who are responsible for these younger kids in every way possible. But the skeletons start falling out of the closet making it quite a chaotic khichdi that's gripping to watch and unfold when Shakti, a 12-year-old boy goes missing from the school suddenly.
The show's essence lies in its naturalism, everything that is happening is part of the surroundings rather than stylised or dramatised to heighten the experience. Like the way locations are utilized either revealing or hiding something. Every frame (the cinematography is done by the director), edit, production, sound design and background score is carried out so beautifully and consciously that it blends with the narrative structure. Not once do any of these elements try to beautify or fill in the gap in emotions. This makes you feel like being completely involved in the world of RISE. Irrespective of the show's technical soundness, the show's trump card lies in its writing as it makes every character equally important.
The entire time when Shakti's disappearance is unsolved, on a side track he is visible while running around through the jungle with another kid, cunningly planning his own escape. This almost makes you believe that he ran away, up until the interesting twist that comes up after episode 6! Every character here from Vikram, Tappan, Nandita, Samuel to Shakti's or Vikram's moms is walking around with a deep dark secret of their own, like a weight on their shoulders from a massive traumatic incident that only they were privy to. This adds a deeper and darker metaphor to the whole setup of this boarding school. Because it feels like these cast-outs of the world, that share a common point of trauma are isolated together in a place far away from the rest of the world on a hillside.
It is evidently clear that School of Lies is nowhere making a commentary about the line of morality, that line drawn between right and wrong. Befitting the title, this show portrays human beings' second nature - lying and how apparently that is transcendental from one generation to another. Because honestly, the truth is rather complex than people understand it to be and everyone has their own versions of it. Here everyone involved in this domino effect of inflicting their untreated pain unintentionally onto each other are simply just part of a chain of series of events. And they all make choices when faced with situations that lead to various consequences.
The intense dark gaze of the show bustles in through the rustling of the leaves on extremely tall trees, echoing through the misty fog, and the grim color tone. It's rather interesting to see how young children are the highlight of this show whether it's the young and extremely smart Shakti who is a master at lying, his classmates or 17-year-old's Virkram and Tappan who are always just standing on the edge of hope and despair. While adults like Nandita, Sam and Mrs. Salgaonkar who are so haunted by their own traumas are tired of fighting battles for so long. They seem to have given in to the compulsions of society, accepted their realities, and have stopped trying to escape their own mental prisons. Hats off to the entire cast for nailing their assignments perfectly. But in a sea of exceptionally talented actors like Nimrat Kaur, Aamir Bashir, Geetika Vidya Ohlyan, and Sonali Kulkarni, it is the young actors like Vir Pachisia, Varin Roopani, Aryan Singh Ahlawat, and Divyansh Dwivedi that shine out the best.
Even though the show minutely falters here and there in a logical sense, it is still a show that puts forth a valuable chapter forward in the book of mental health and inbred of a toxic culture. People who have grown out of hurt only end up hurting other people and how's that helpful to anyone? As Clay from 13 Reasons Why says, "It has to get better the way we treat and look out for each other!" Otherwise, the consequences are dire because either we end up as Shakti, butchered away from our will to escape or like Vikram, become exactly who we are trying to escape in the first place! And the last scene of School of Lies poses exactly this dilemma of choice that all of us have got make.
School of Lies is streaming on Disney+Hotstar.
For more entertainment, follow us on @socialketchupbinge