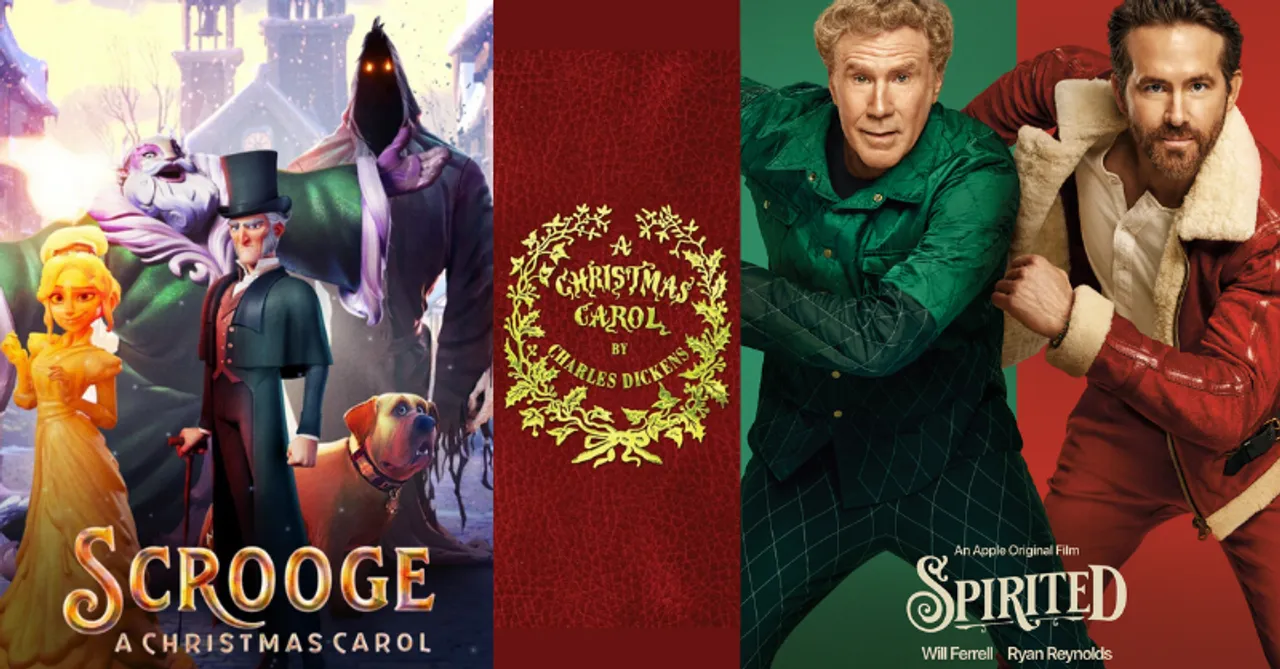 Scrooge and Spirited ring in the Christmas bell with a revamp of Charles Dickens's classic A Christmas Carol in their own unique way!
Sometimes a tale as old as time becomes as old and redundant as it was initially told, hence it needs a revamping for the newer generation. And there are two ways you can go about it, either you can keep its story intact by narrating it in a different manner or change the story while maintaining its core values to make it a story of this time and generation. Scrooge and Spirited does exactly this with Charles Dicken's A Christmas Carol! And even though there have been various adaptations in the past year that have been made on this story, Scrooge on Netflix takes the path of visually stunning animation to tell the same story, on the other hand, Spirited takes a whole new route of comedy and changes the story to make it a narration befitting today.
The story by Dickens goes like this - Ebenezer Scrooge is a grumpy old banker who doesn't like Christmas and everything to do with it at all. He is mean, grouchy, and irritated by everyone. On Christmas eve, he's visited by the ghost of his former business partner Jacob Marley, who desperately asks him to change his ways otherwise it won't end well for him in his afterlife. And then three spirits , Christmas Past, Present, and Future visit him at night. All of whom take turns and take him on a journey to his past, his present, and what his future will look like, showing him how it just doesn't impact him but everyone around him as well. After their visits, Scrooge is transformed into a kinder, gentler man who changes his ways for the greater good!
Scrooge- A Christmas Carol tells the story exactly like it's written in the classic by Dickens with the most visually stunning animation that keeps you enthralled with its music and visuals while wrapping you up like a warm blanket in some Christmas miracle, cheer, and hope. Its voice is given by popular actors like Luke Evans, Olivia Colman, and more. Whereas Spirited just like its actors Ryan Reynolds and Will Ferrell is comedy at its best chuckling form and shows you the other side of the story i.e. from the angle of ghosts preparing for a new Ebenezer Scrooge every time. Changing the story and making it befitting into the world of today, it teaches you that change is an everyday decision in the morning that a person has to take rather than a miracle happening in a single night.
Both films have their own charm as Scrooge provides you with the warmth of the usual Christmas escape and miracle in animation that you just can't take your eyes off. Spirited adds in to the fun of Christmas with a much-needed revamp of the story and of course the ever-so-charming Ryan Reyonalds! Both films are equally important in their own ways and are much-needed Christmas films that focus on love stories, and also have a clever and inclusive way of retelling the classics to the new generation, especially the children.
Even though both films are telling you the same story in their own unique way, there's one thing in common - they are both musicals. So get ready to see some eclectic-flamboyant dance pieces and listen to some energetic songs! And while I get that the story in A Christmas Carol by Charles Dickens is a lot popular outside but it might not be the case here.
If you are one of those people who haven't watched the classic then we'd recommend watching Scrooge- A Christmas Carol first on Netflix and then Spirited on Apple TV+ for a better understanding and watching experience.
For more entertainment content follow us at @socialketchupbinge