Before you start binge-ing on TFATWS, check out the most adorable ship of the century as Anthony Mackie and Sebastian Stan melt us with their friendship off-screen.
We are recovering from a week-long Marvel break, right after we finished watching Wanda Vision and DisneyPlus is all set to welcome back fans with the premiere of the highly-anticipated, The Falcon and The Winter Soldier. The show will continue Wanda Vision's work and take us to the next phase of MCU. We will also get to see Cap's shield and his best friends make a comeback after Endgame. While Falcon and Winter Soldier may be frenemies on screen, the actors of TFATWS share an off-screen bromance that we all wish to be have.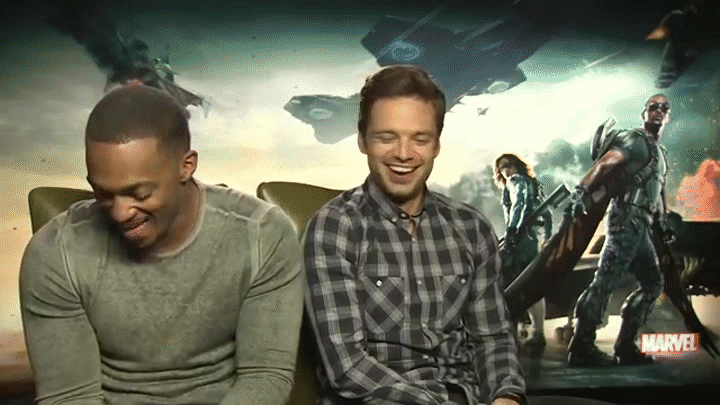 It is a known fact to every Marvel fan that Anthony Mackie and Sebastian Stan are a chaotic duo. Putting them together in interviews is probably the best thing that Marvel could have done. The loud, witty persona of Anthony and the shy yet equally crazy vibe of Sebastian make for an iconic duo. The way they talk about and appreciate each other gives us a glimpse of their friendship. How can we forget Anthony describing and falling in love with Stan's steel-blue eyes? In his words, 'Sebastian Stan is the mark of greatness, the measure of beauty among men.' And we agree with you, Anthony. (Also, I wish my friends learn something from this!) While he has high praises from Sebastian, Stan also did the sweetest gesture and sent Mackie a pocket square with his face on it for Christmas. (Cue 'Awwww!')
Even when they are not together we have seen them talk about each other. Remember the time when Anthony talked about Seb's couch with an expensive Cashmere shawl on it, and Stan clarified that he has never been to his house. Not to forget all the clap backs the duo have when talking about their nemesis (not literally) Tom Holland. One bad thing about the pandemic was that we didn't get to see both together, in the same room again for the press interviews, and we missed that dearly. TFATWS is now streaming on DisneyPlus Hostar and before you watch that, we made a list of 'Stackie' interviews that will melt our hearts.
Check out this bromance: