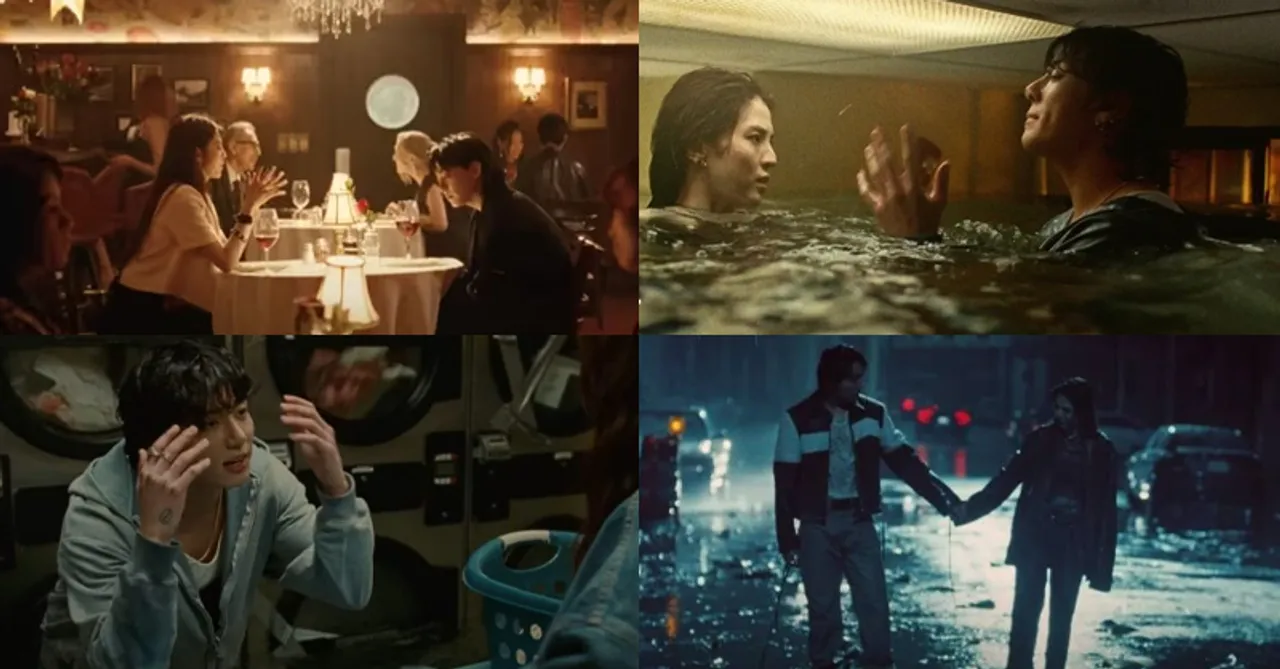 Seven by Jungkook is a summer song that unabashedly shows his hopeless romantic side, as he adorably tries to win back the love of his life, while also exploring themes of desire and intimacy!
Armys have been waiting with bated breaths for Jungkook's solo for almost a month now, with so much hype around it, the day is finally here where Seven by Jungkook is out in this world.  The music video features him and Han So-Hee, one of the leading K-dramas actresses in Korea. The duo is playing a couple and after an argument, he tries all things silly and cute to win her back. From buying her flowers to hanging outside the window of her train, he goes to heaven and back to tell her how much he loves her. It is over the top and exaggerated in places and yet fully melts your heart. But the song, undoubtedly, is also about sex. It's about reminiscing the good sexual chemistry they had and how he misses that in his life. It ends with the two of them reuniting on a rainy night. The song is also a collaboration between Jungkook and American rapper Latto who also has a rather hot cameo in the music video.
Jungkook was right when he said that it shows a more mature, and grown up side of him. We are definitely not used to this and hence explains the chaotic reactions all over social media since this morning. For armys who have known him since the last 10 years and have watched him grow from a young teenage boy to a man, he has always had a child-like innocence to him which is a quality his fans love the most. But with this song, he breaks that image of his, and wants to tell the world that he is as human as the next person. He too falls in love, he normalises the thought of having sex with the love of your life, which in the K-pop world is not received very well sometimes given that fans expect their idols to devote all their time to them. He goes from Jungkook the idol to Jungkook the boyfriend who'd do anything for the woman in his life. He is adorably silly and he wants to be seen as that boy next door rather than the superstar everyone obsesses over. He is seen wearing a hoodie, a suit, leather jacket and pants, serving look after look in every frame.
The song is gender neutral which means it's a summer song fit for anyone and everyone who wants to confess their love or win their love back. With shirtless pictures, a catchy yet nonchalantly cool song, a small summer concert and a performance video, the song is super romantic yet comedic gold and that is why Seven reflects Jungkook's personality through and through. 
Have a look at armys ecstatic reactions after the song release!
What are your thoughts on the song? Let us know in the comments below!
For more entertainment content follow us @socialketchupbinge