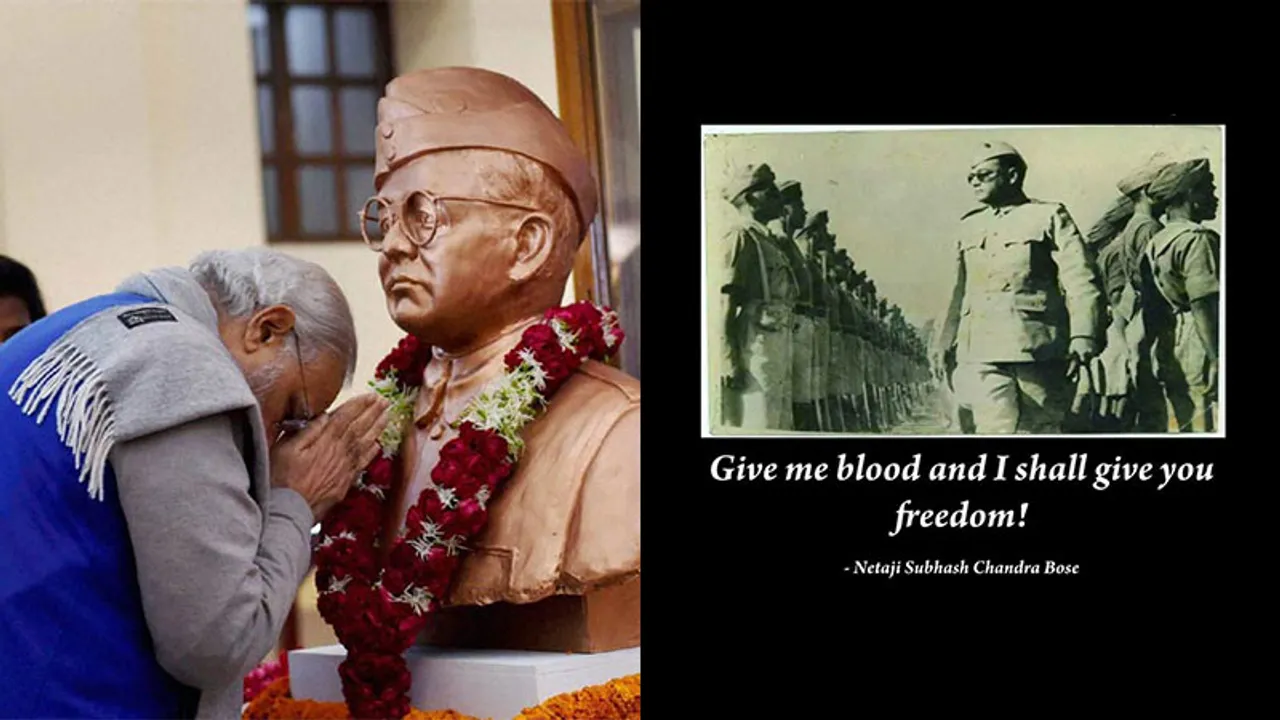 On the 122nd birth anniversary of Netaji, we pay tribute to one of the most celebrated revolutionaries.
Today, India honors one of its most revolutionary freedom fighter and a patriot in the truest sense by inaugurating his museum in Red Fort, Delhi. Prime Minister Narendra Modi will be unveiling the museum. It has a various relics associated with Subhash Chandra Bose and Indian National Army.
I bow to Netaji Subhas Chandra Bose on his Jayanti.

He was a stalwart who committed himself towards ensuring India is free and leads a life of dignity. We are committed to fulfilling his ideals and creating a strong India. pic.twitter.com/QpE967nuUH

— Narendra Modi (@narendramodi) January 23, 2019
Museums on Netaji Bose and Azad Hind Fauj are a key part of Kranti Mandir. History echoes from these walls. In this very building, brave sons of India, Colonel Prem Sahgal, Colonel Gurbaksh Singh Dhillon and Major General Shah Nawaz Khan were put on trial by the colonial rulers.

— Narendra Modi (@narendramodi) January 23, 2019
In addition, Prime Minister will also inaugurate a few other museums like Yaad-e-Jallian Museum in memory of Jallianwala Bagh massacre, Museum on 1857-India which reminisces the sacrifices of our leaders and Drishyakala museum to laud the art and culture of India.
This complex includes Museums on Netaji Subhas Chandra Bose and the Indian National Army, Yaad-e-Jallian Museum (on Jallianwala Bagh and World War 1), Museum on 1857- India's First War of Independence and Drishyakala- Museum on Indian Art.

— Narendra Modi (@narendramodi) January 23, 2019
Netaji, the man who rightly said, "one individual may die for an idea, but that idea will, after his death, incarnate itself in a thousand lives".
His beliefs and his ideas impacted the freedom movement of India, today we look back and cherish his iconic quotes
It doesn't matter who among us will live to see India free. It's enough that India shall be free, and that we'll give our all to make Her free. - #NetajiSubhasChandraBose #SubhashChandraBose pic.twitter.com/S1boM4w4EJ

— Priyanka (Astrology Guidance) (@AstroAmigo) January 23, 2019
Freedom is not given, it is taken.
~ #SubhashChandraBose pic.twitter.com/nGcHMLsy50

— NAY India (@NAY4India) January 22, 2019
#SubhashChandraBose
Happy birthday sir pic.twitter.com/2E3HCWh002

— Darshan Ghanaathe (@DGhanaathe) January 23, 2019
"No Real Change in History can be Achieved by DISCUSSIONS"

Happy Birthday #NetajiSubhasChandraBose #SubhashChandraBose pic.twitter.com/OAi5xxgGmF

— RKs WARRIOR (@RKsWarrior) January 23, 2019
- 122nd birth anniversary of #NetajiSubhasChandraBose is being observed today across the #country

#SubhashChandraBose's birthday observed as #DeshPremDivas.

- In 1943 #Netaji, proclaimed the formation of the provisional government ofindependent India (#AzadHind) in Singapore. pic.twitter.com/McQYQQ4zlf

— Aarohi Sharma(हिन्द राष्ट्र)?? (@bestie_aarohi) January 23, 2019
Remembering #SubhashChandraBose on his birth anniversary ? pic.twitter.com/qITmMes5Di

— Ritika Sanwal (Pahadan) ? (@solivagant29) January 23, 2019
Remembering the great personality on his 122nd birth anniversary #NetajiSubhasChandraBose #SubhashChandraBose pic.twitter.com/IOysmNUIOL

— ѕяιкαитн ιąιąɱɱąιą (@Gangaputra_here) January 23, 2019
"तुम मुझे खून दो, मैं तुम्हें आज़ादी दूंगा"

Tribute to #NetajiSubhashChandraBose for his Significant Role in Helping us Achieve and Secure #Freedom.#SubhasChandraBose #Netaji #SubhashChandraBose #IndianNationalArmy #INA #AzadHindFauj #AzadHindGovernment #WednesdayWisdom pic.twitter.com/pL22mxcfQG

— Testbook.com (@Testbookdotcom) January 22, 2019
We salute Subhash Chandra Bose, a man who persistently fought for India's freedom.