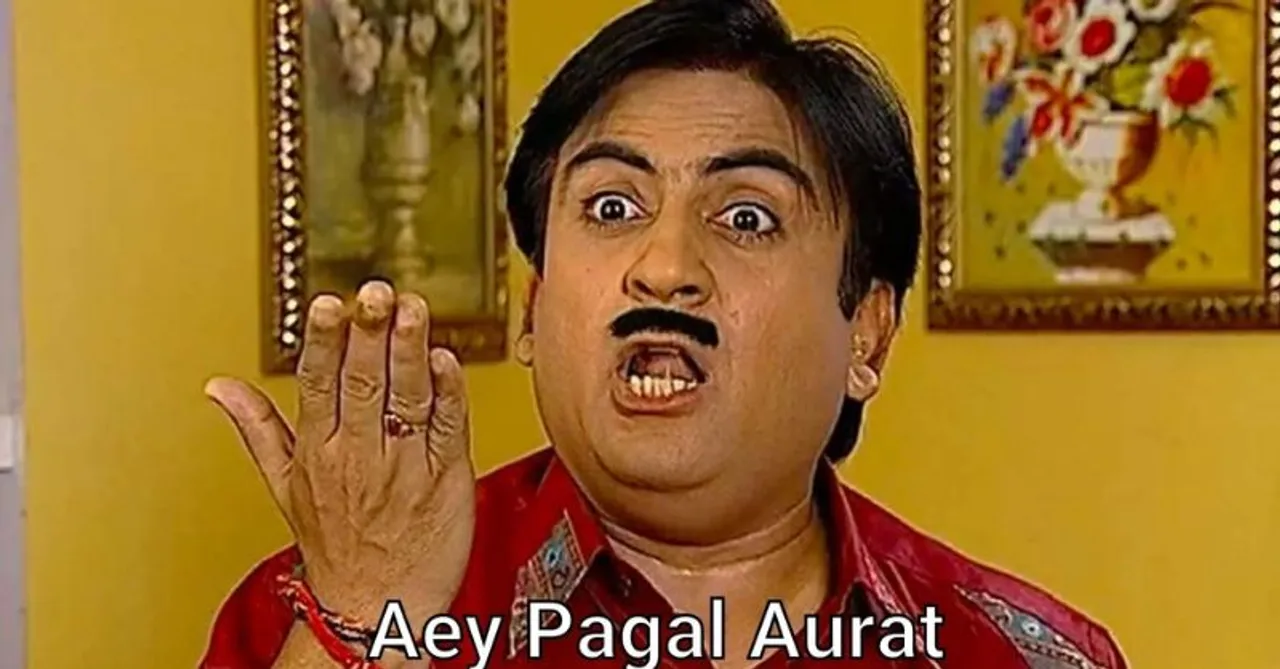 Taarak Mehta ka Ooltah Chashmah consistently displays subtle yet damaging misogyny in the name of comic relief.
For years, many in India turn to SAB TV to watch the repeat telecast of India's beloved show Taarak Mehta ka Ooltah Chashmah. It's a breezy show that takes the load off your mind and makes you laugh without making you think much. However, it has recently been making headlines for all the wrong reasons. Actor Shailesh Lodha (Taarak Mehta) sued producer Asit Modi and his production firm for not clearing the dues. Jennifer Mistry (Roshan Sodhi) accused Modi, Project Head Sahil Romani, and Jatin Bajaj of sexual harassment. Priya Ahuja (Rita reporter) and Monika Bhadoriya (Baawri) also spoke about facing mental harassment on the sets. TMKOC's content also has a similarly troubling legacy.
Also Read: Alia Bhatt's saree looks are a captivating blend of tradition, style, pizzazz, elegance, and something for everyone!
The lead character Daya "Tappu ke Papa" Gada, is an overtly enthusiastic housewife who enjoys household chores. She naively blabbers always, a stereotype often degradingly attached to women. Her husband, Jethalal Gada condescendingly calls her names like "dobi" (dumb), nonsense, and "pagal aurat" (mad woman). These names have found a home in popular culture, especially in memes, as many find them hilarious. However, Jethalal loves her. Is he allowed to humiliate her though only because he loves her? And being an aadarsh Indian housewife, Daya never complains either. Also, while Jethalal praises Daya for taking care of his father Champaklal Gada, he heavily dislikes her family. Every time she talks to her mother or her brother visits, Jethalal is furious because of his obvious dislike for his in-laws. This furthers the regressive attitude owing to which most Indian women are allowed to visit their maternal homes only once or twice a year.
Madhavi Atmaram Bhide runs an aachar-papad business. While she is the chief producer, her job is strictly restricted within her home. Her husband Atmaram Bhide, a teacher by profession, looks after the delivery and finances. Stereotypically, women are often considered to be ignorant about money and marketing; money is a man's arena. TMKOC views Jethalal as a significant businessman but Madhavi is a housewife first and a businesswoman later. If Jethalal is a "Kachchi vyapari" (Kachchi businessman), where is a similar professional label for Madhavi? The term 'vyapari' has masculine connotations after all. As the common stereotype goes, women's earnings are often seen to be supplementary, aren't they? Similarly, while both Atmaram and Madhavi earn, he is the primary earner whereas her work only aids the family's finances. This is not to say that he is a bad husband. In fact, he is a supportive husband who helps Madhavi with domestic chores, especially with ironing clothes. But this often makes him the subject of ridicule because household chores are seen as feminine duties. Sharing household chores should be normalised, but in TMKOC, especially in the older episodes, it is ridiculed.
Babita Krishnan Iyer is fair-skinned, stylish, and speaks English fluently. It's a running gag that dark-skinned Iyer (a stereotype about South Indian people) doesn't deserve fair-skinned Babita. Being conventionally 'beautiful', Babita is constantly objectified sexually as sultry music plays in the background. Jethalal, the married man who loves his wife, daily flirts with Babita. Daya and Babita are oblivious to his flirting, the only one noticing this is Iyer. The result of Babita's constant objectification is the numerous obscene social media accounts and posts about Munmun Dutta.
Babita, Roshan Singh Sodhi, Anjali Mehta, and Komal Hathi are all educated but they don't work professionally, only Rita (unmarried) does. Roshan is always angry at her Punjabi husband (stereotypically) who is always drinking alcohol. Anjali always forces Taarak to eat diet food. If he dares to eat fast food, she threatens him with a divorce! This exaggerated nagging is another stereotype implying that women are usually impractical and men are the ones suffering in marriage. Komal often only carries her husband, Hansraj Hathi's medical equipment while he consults his patients. The Hathi (elephant) family is constantly the target of fatphobic jokes. They are always eating suggesting it to be the reason for their obesity. Reporter Popatlal is old and so desperate to get married that he gets ready to marry every girl who is even slightly kind to him. His constant daydreams about women are creepy.
Gokuldham portrays the prevalent issues of misogyny and patriarchy in our society, but unfortunately, it also glorifies them. Even when it attempts to promote liberal values such as women's empowerment, critical thinking, and communal harmony, it often falls into the trap of tokenism. Even in 2023, the show lacks the representation of Dalit or queer women. While TMKOC brings families together and provides comic relief at the end of a long day, the show is problematic because it replicates life in families with conventional gender roles where the only constant is patriarchy and packages it as humour. It's consistent display of subtle misogyny and lack of diversity over the past 15 years has also had an impact on the public's perception of morality. It would be beneficial for the show to represent vices as vices and showcase better examples of morality in order to create a positive impact.
Do you watch Taarak Mehta ka Ooltah Chashmah? What do you think about the show?