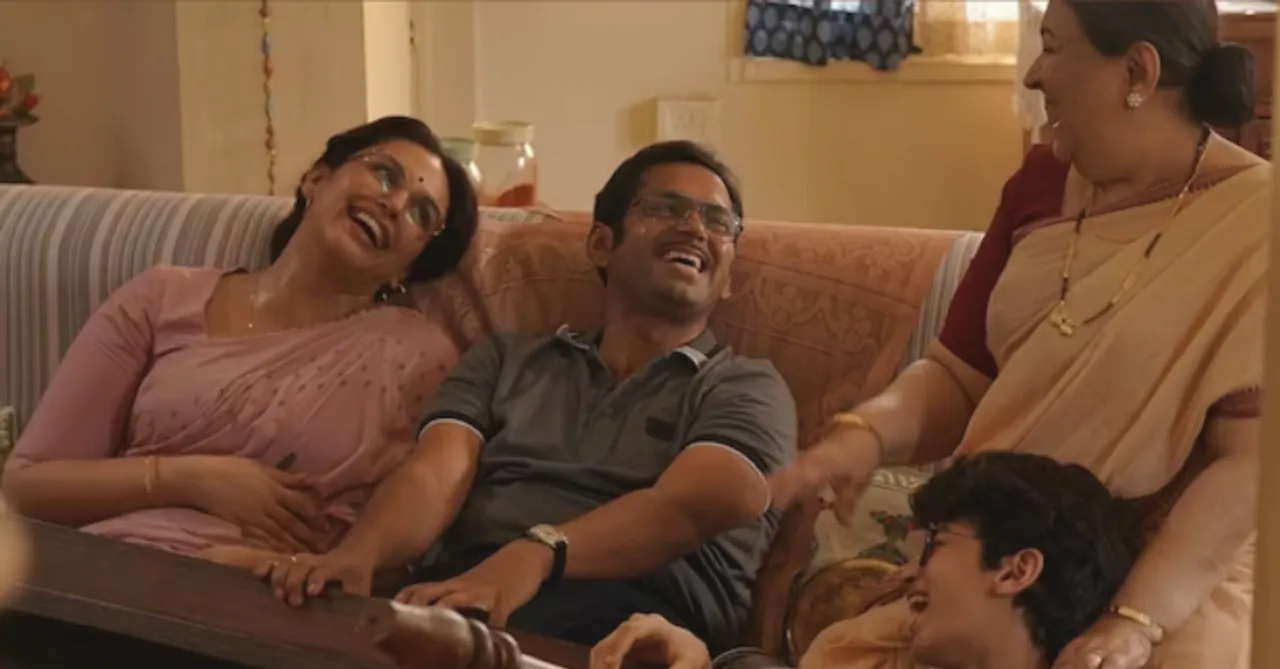 Tarla review: Tarla on Zee5 is a simple feel-good film that you can enjoy with family. It puts forth its message beautifully but isn't the most memorable one as its impact is a little feeka.
Tarla review: The life of a person is filled with many chapters, that's why you call it a book. And to comprise an entire life inside a time frame of two-plus hours is a tough job to do, even if it's not impossible. You just need to focus on the parts of the story that changed it all for the person and became an inspiration for others. Tarla on Zee5 tries to achieve this feat exactly and pays tribute to the life of famous chef Tarla Dalal who had an omnipresent presence in the lives of thousands of households through food. But while paying tribute to this force of a woman, the film even though well-intentioned and feel-good, isn't that impactful.
It's clear that the director Piyush Gupta, who is also the co-writer with Gautam Ved doesn't want the film to highlight Tarla as any sort of hero figure or one-stop force. She's a simple girl living in Pune who doesn't know what she wants to do in life but wants to do something. As life goes on, she gets busy in her ghar gharasti until 12 years pass, something she only realises when she is lighting up candles on a cake. While looking out the window and noticing the progress of a raddi wala she reminisces about how she hasn't done anything. Then it's amazing to see how an accidental cooking class for a neighbor's daughter turns into a full-fledged cooking class. As Tarla says, "mjhe pta nhi kitchen jail hai ya nhi par kahan chaabi zaroor ho sakta hai". And as this cooking becomes freedom than just a "necessity" for every woman it also becomes Tarla's "something in life".
Tarla Dalal probably could be a content creator if content creation existed at the time but her journey is no short of an inspiration! From writing cookbooks to having her own TV show, she is an OG who has done it all by making vegetarian dishes. Her story is no rags to riches but that doesn't mean that she didn't have her own struggles. The film very well knows and realises that Dalal is privileged as she lives in South Bombay but she's still a middle-class woman who loves cooking. She hated it when she found out that her husband enjoys eating non-veg outside of home. Hence a 'murg-musallam' becomes a 'batata-musallma'! But isn't it crazy how women realise their "something" only because of their families' needs as their lives rotate around them?!
Tarla's husband Nalin is her biggest supporter and her biggest critique. In a world full of patriarchal men, he is a feminist husband who even becomes a publisher when she needs one. But only until his wife does not become bigger than him. The film surely has taken some creative liberties to tell Tarla Dalal's actual story with funny gags and punches relatable to the middle class especially the time when the raddi wala gives a target to sell the cookbook, soft and mellow music, tone of the film, and a camera that smartly but not intrusively seeps into their lives to tell the story. But in spite of all this, there is something that seems amiss, like how you love watching the not-so-glamorous but simplistic-looking cooking of food in the film but the food doesn't leave you feeling hungry.
Though for me, I liked how this film deals with the idea of guilt. Tarla feels guilty about involving herself so much in work that she neglects home which leads to her mother coming home and telling her that you might be a hero outside of this home but once you are home you're a wife and a mother always remember that. On the other side, Nalin feels guilty about being less of a man if he doesn't have a job and Tarla being the breadwinner leaves him feeling irritated towards her. The scene where he realises his mistake and reflects on how he got stuck with his male ego has my heart. Yet it's the uneven pacing and the easy resolve of the film that puts you off from feeling the emotional influence of the film in its entirety.
Huma Qureshi with dentures is her teeth has embodied Tarla as this domestic, fun woman who has the aspiration and the willpower to follow them. And even she doesn't realise that food can be a profession because it's a necessity and not art or a subject to be learned as everybody takes lessons to learn maths, who does for cooking?! But I wish the film could have dug deeper into her psyche to understand why and how she decides for a male to be her co-star on her TV show. Sharib Hashmi shines the loudest with his simplicity yet complexity of being a man in this society and as Tarla Dalal's husband. Nalin is a great guy but after all, he only chose to publish the cookbook because he was out of a job! This almost makes me think how the film is more about him than Tarla who just seems like a presence in his life story.
Tarla on Zee5 is a good movie to be best enjoyed with your whole family, especially your mom and dad but as a biopic, it fails to be an inspiration irrespective of its many amazing scenes and on-point dialogues!
For more binge-centric content and reviews, follow us on @socialketchupbinge.