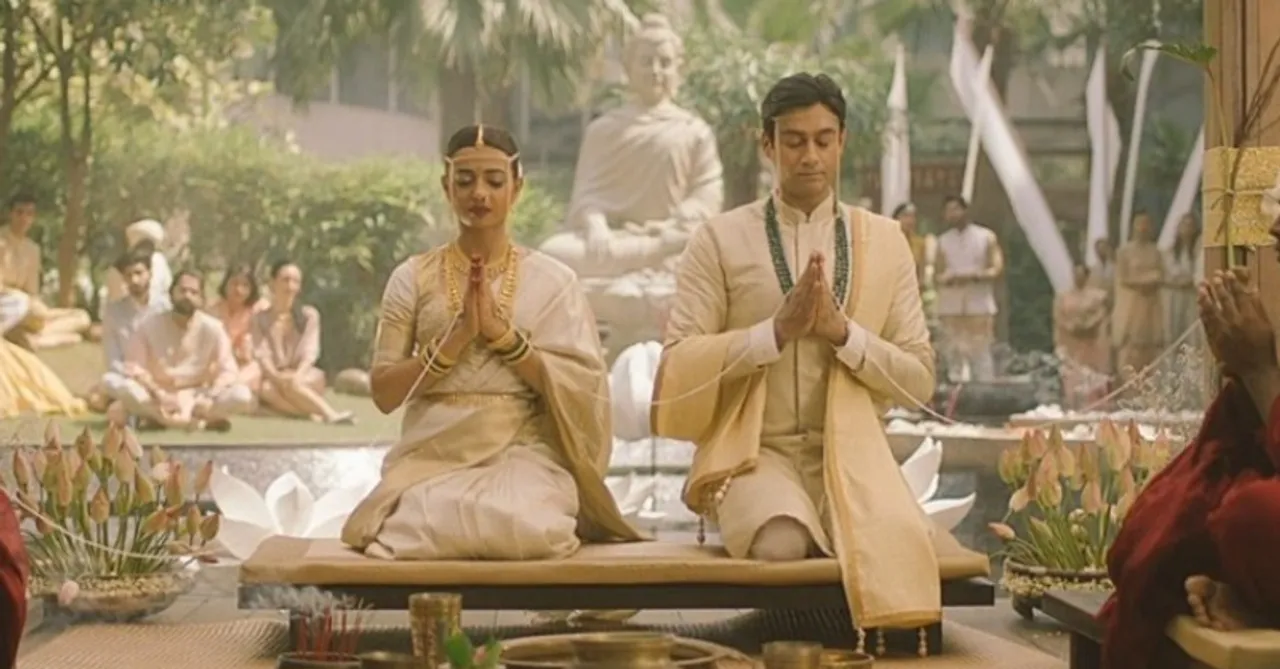 Episode 5 of Made in Heaven season 2 titled 'Heart skipped a beat' directed by Neeraj Ghaywan is so much more than just another wedding.
Made in Heaven season 2 has finally made it to our screens four years later and it's all people can talk about for a plethora of reasons. The show is known to address a variety of societal issues through the weddings that are featured. Each episode showcases a new wedding and each client that they have, gives out a new message to the audience through their relationship with one another. The seven part series is directed by Zoya Akhtar, Alankrita Shrivastava, Reema Kagti, Neeraj Ghaywan, Anil Lakhwani and Rahul Nair. Each of them has a role in directing different parts of the show. This season the series talks about our obsession with fair skin, polygamy, domestic abuse, and age difference. But episode 5 aka 'heart skipped a beat' deals with casteism, even in today's time. Radhika Apte who plays Pallavi Menke does a fabulous job at portraying a Dalit woman who bravely embraces her identity and stands up for her community. 
Pallavi is marrying into a Brahmin family who is okay with her marrying her son simply because of her phenomenal list of achievements that would make them look good on the outside. When it came to a wedding, her taste was pretty subtle. In fact she only wanted a court wedding but her in-laws suggested the idea of having a traditional phera ceremony right after the court marriage. To which she wondered why only one caste should be celebrated and not the other! Hence she suggests a Dalit wedding and her in-laws look quite taken aback by that. Pallavi is known for her activism. She has given many lectures and written two books on her identity. It would be pretty ironic for an activist like her to not see her own culture be a part of such an important day in her life.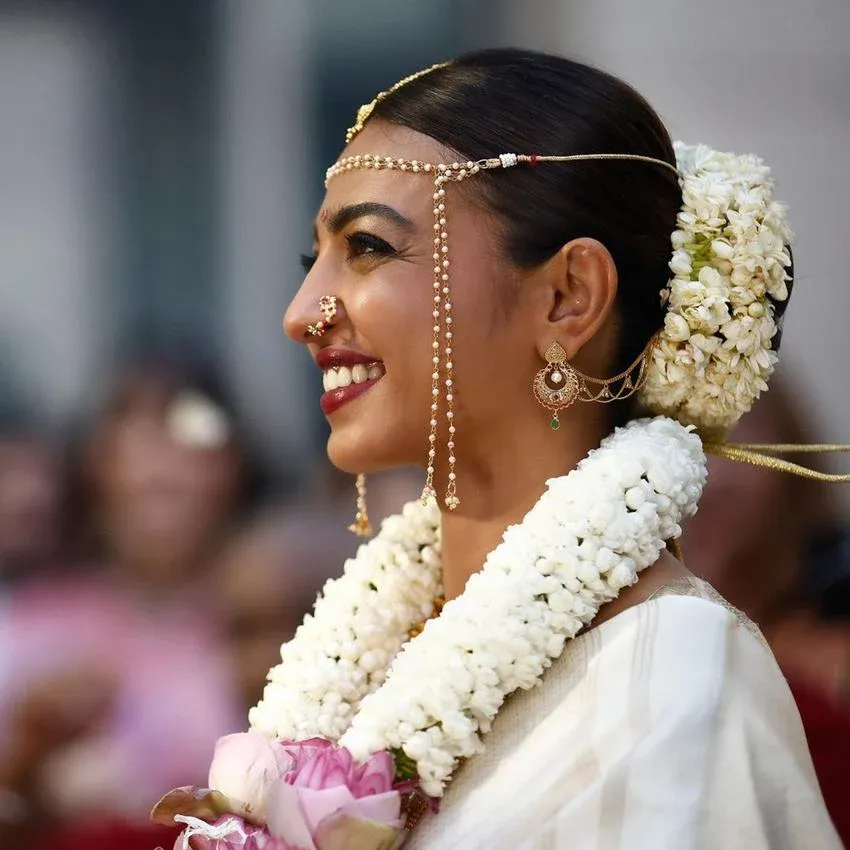 Her own family is not that keen on the idea simply because they are so used to being sidelined even after modern day India claims to be eradicated of such narrow minded concepts. Her own brother is still not okay with being known as a Dalit in society and blames her for not asking for his consent before outing him in her books and speeches. But she so boldly stands up and highlights how far they have come. To explain this, she gave an example of her grandmother, who cleaned toilets simply so that her father could go to school and then eventually she could go to the college of her choice and set a benchmark for everyone else in her community. Pallavi simply wouldn't give in to the weird politics her in-laws were playing when they clearly showed discomfort about the fact that they don't want to play any part in a Dalit wedding. It's either the court marriage or the traditional pheras that they are okay with. Some of their guests even decide not to attend. 
But she stands her ground till the very end and her partner does realize how his family was wrong and supports her in giving her the most beautiful wedding of her dreams. Most times women like Pallavi who voice their opinions to bring about change are termed as 'too outspoken' or women who just go too far but she of course would never buy into those ideas and fight till the very end for what she deserves. The wedding was so aesthetically shot. Pallavi is seen wearing a white and golden saree and walks through a pool of water to her groom. On the mandap we see two Buddhist monks sitting and praying. Pallavi and her to-be husband, light candles and pray to Lord Buddha and the late Baba Saheb Ambedkar who was the pioneer of annihilating the caste system in India and giving his Dalit community the respect they deserved in society. The scene of the two photos kept next to each other holds so much significance because Dr. Ambedkar in fact encouraged people to follow Buddhism as it does not follow any caste system.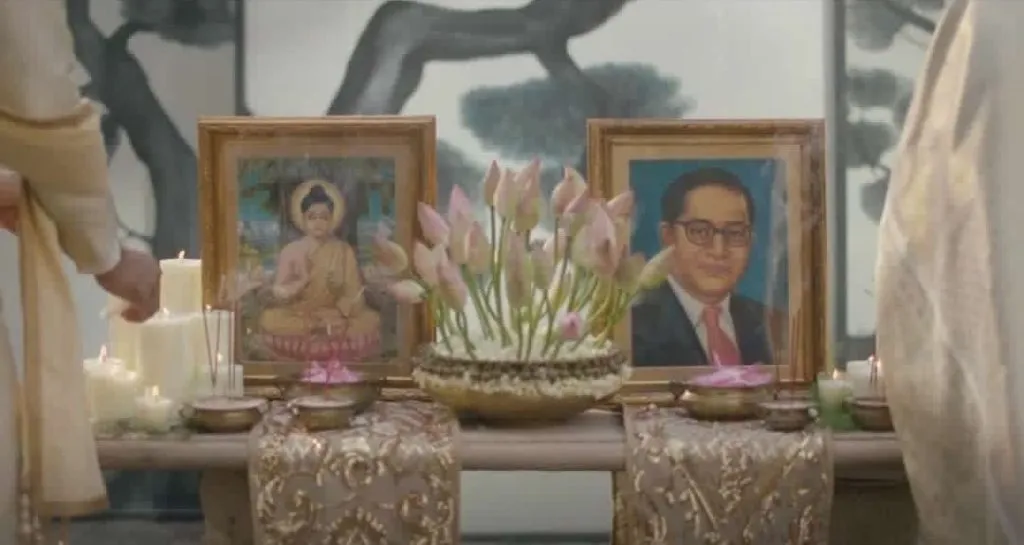 The episode received so much love from everyone because we've never seen a Dalit wedding be a part of a mainstream web series before. In fact most of us did not even know what a Dalit wedding consists of or what rituals are followed. The director of the episode, Neeraj Ghaywan, who is himself from the Dalit community, penned down a heartfelt post on his social media expressing his gratitude for the appreciation his story has received. He says that most of the episode is also drawn from his personal experiences. He thanked Baba Saheb Ambedkar, without whom none of this would've been possible. Sujata Gidla's book Ants Among Elephants was a part of his research and how Yashica Dutt's Coming Out as a Dalit became a popular term for embracing one's identity as a Dalit. 
His aim was to bring the prejudice that the Dalit community still has to face, come to light and probably help end the discrimination against them that sadly still exists. So many people from the Dalit community felt the pride of being finally represented on-screen and even the audience outside the community had only the utmost adoration for the episode!
Check out their wholesome reactions!
Have you watched the show yet? Let us know your thoughts on the episode below!
For more reviews, follow us on @socialketchupbinge