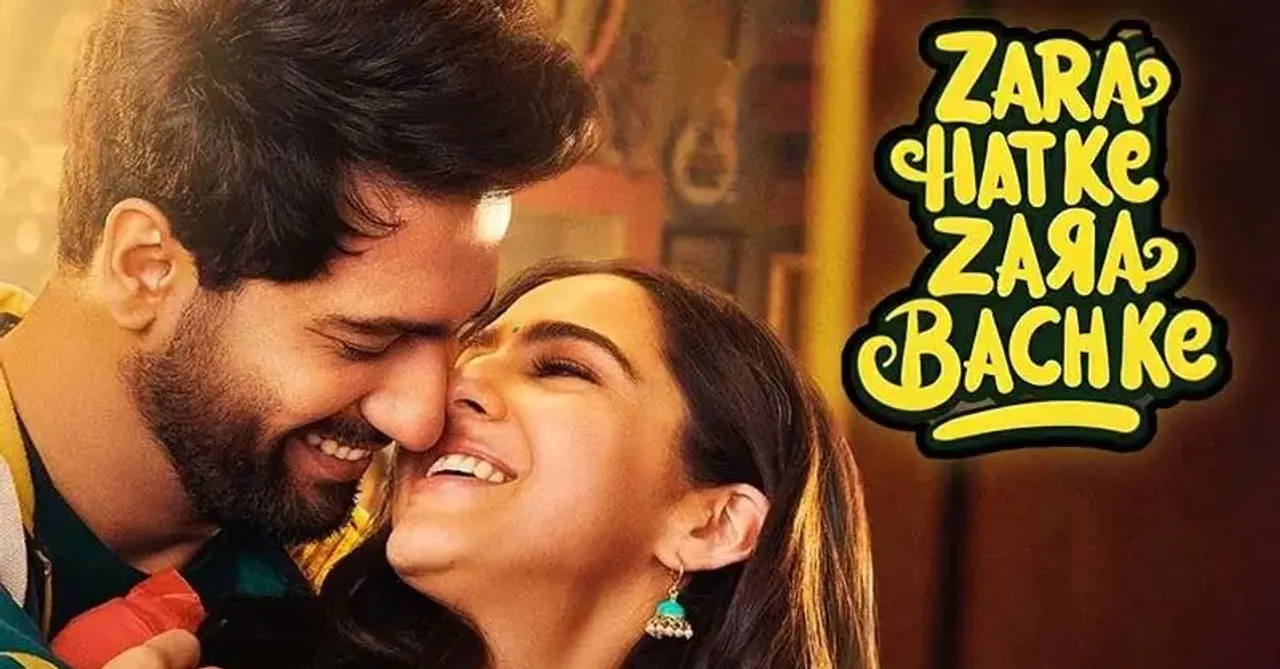 Zara Hatke Zara Bachke hit the theatres on June 2 and the little birdies on Twitter are obsessed with the chemistry within the movie!
Directed by Laxman Utekar and written by Maitrey Bajpai and Ramiz Ilham Khan, Zara Hatke Zara Bachke stars Sara Ali Khan and Vicky Kaushal in lead roles. ZHZB is about a family drama that involves Somya Dubey and Kapil Dubey, a couple played by Sara and Vicky. The story revolves around them trying to find a house of their own, one that's away from their family and when nothing works out, they seek help from the government of India under the Pradhan Mantri Awas Yojana (PMAY) scheme. The film's music is composed by Sachin–Jigar and lyrics were written by Amitabh Bhattacharya.
The Janta is completely obsessed with Sara Ali Khan and Vicky Kaushal's on-screen chemistry. While some liked what they saw, some were drawn towards the story and how subtly modern it was! The Janta also liked Somya as a character and thought that she complemented Sara's acting skills.
Also Read: Zara Hatke Zara Bachke review: A film that could've been relatable for many newly married couples fails miserably with its weird jokes and unnecessary drama!
Here's what the Janta had to say!
#VickyKaushal 🫠
What an effortless act by you I n #ZaraHatkeZaraBachke
And your dance moves these days are just killer ❤️

— Peace ✨ (@rashdag) June 5, 2023
Loved watching #ZaraHatkeZaraBachke! The chemistry between Vicky, Sara is perfect & the supporting cast is too good 👌🏻

— Swapnil Mistri (@swapnilmistri1) June 3, 2023
They had better chemistry! #ZaraHatkeZaraBachke pic.twitter.com/xmhFANKxcG

— ANMOL JAMWAL (@jammypants4) June 3, 2023
Really very interesting stories written that everyone want to see heart burn drying. One of the best movie of Gaushala Sara Ali Khan is about to come. #ZaraHatkeZaraBachke@vickykaushal09 @SaraAliKhan @MaddockFilms pic.twitter.com/n8llhTV0pd

— Adv Nidhi Sharma (@AdvNidhiSharma1) June 2, 2023
#SaraAliKhan as Soumya is beautiful, graceful and super strong. Her acting touched my heart. For me her best performance till date. How fine and effortless her acting was in the movie. She is differently a reason behind this movie a worth watching for. 💖#ZaraHatkeZaraBachke pic.twitter.com/8CkfVtKFIt

— Pri 🍸 (@KartikKiMeera) June 2, 2023
THE CHERRY ON TOP ALWAYS IS THE CHEMISTRY ❤️‍🔥
i swear they complement eo on every damn scene like comedy romance confrontation emotional everything 🤍 I demand more movies !!!

| #ZaraHatkeZaraBachke #VickyKaushal #SaraAliKhan | pic.twitter.com/b2JL9RVjSZ

— tessa🕊 (@swagpataudi) June 3, 2023
Literal princess! 🤌
I've only seen #AtrangiRe and #ZaraHatkeZaraBachke from #SaraAliKhan 's filmography and I loved them both. Plus she's so honest and confident in interviews! Wishing her lots of love and success ahead! ❤️🧿 pic.twitter.com/FB578hvduH

— Niharika | ZHZB in theatres 🎉 (@serene_chaos224) June 3, 2023
The success of small time light hearted movies makes me so happy 🥹💕 We need those films back, we need the range back in Bollywood, so it is heartening that public are showing them love 🫶

Three cheers to team #ZaraHatkeZaraBachke #VickyKaushal #SaraAliKhan #LaxmanUtekar ✨ pic.twitter.com/4PECX9px69

— A 🍁 (@scrappinthrough) June 4, 2023
#ZaraHatkeZaraBachke
It is a very beautiful family drama movie with heart lighting comedy. "Phir aur kya chahiye" Song and bgm throughout the movie makes a very lovely environment in theatre. Loved @SaraAliKhan in desi look and acting ❤ and @vickykaushal09 is superb. 9/10🌟 pic.twitter.com/QDR82lfxw9

— Amar Sonkar (@PlayLikeMocha) June 4, 2023
#ZaraHatkeZaraBachke was a fun watch! A family entertainer that was funny & has its sweet moments too. #SaraAliKhan was good but @vickykaushal09 stole the show big time for me. His range from doing an intense #SardarUdham to a light carefree #GovindaNaamMera & this is brilliant! pic.twitter.com/30O8SuM4mI

— Hardave Singh Bhall (@dave_sharapova) June 5, 2023
Have you watched this one? What do you think about their chemistry? Let us know in the comments below!
For more entertainment, follow us @socialketchupbinge.