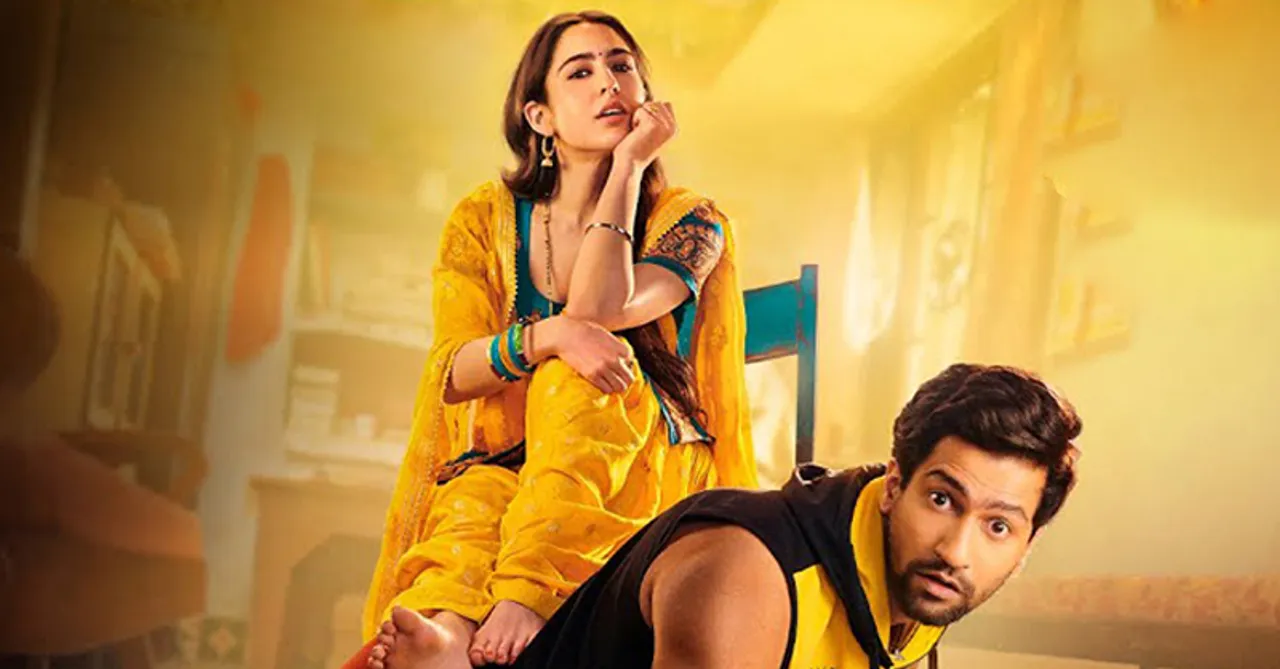 In our Zara Hatke Zara Bachke review, we talk about how a story that looked sort of intriguing leaves you disappointed eventually with its flat writing!
It's not uncommon in Indian culture for a married couple to live with the groom's side of the family forever. But what really is uncommon or considered rebellious is to bring up issues of privacy that a married couple faces. Laxman Utekar's Zara Hatke Zara Bachke tries to deal with this very subject. At first, I was curious to see how this pans out as we have never seen an entire movie based on the fact that Indian couples are not allowed to have their own space. While of course with times things are changing and people have learnt to stand up for themselves, there is still a plethora of the population that shudders at the thought of speaking in front of their families, merely to ask if they can live a few kilometres away from them. But the movie fails to be the best example on the subject!
Soumya (Sara Ali Khan) and Kapil (Vicky Kaushal) have been married for 2 years but they're still as much in love as day 1. He is a yoga instructor and she is a math teacher for a coaching class. The two live with Kapil's family which includes his mummyji, daddyji, mamaji, mamiji and their annoying nephew who always awkwardly catches them every single time they are about to make out or make a romantic gesture. They live in a small middle class home that's barely able to incorporate 7 people. Tired of sleeping on the living room floor and not even getting the respect or consideration from their family to have a room to themselves, Soumya and Kapil decide to get a house of their own. But of course they knew that buying a house would be no piece of cake. 
Also Read: 8 Vicky Kaushal movies you must watch if you're an avid fan of the powerhouse of talent!
Kapil is someone who believes in saving every last penny for a better future. Whereas Soumya has big dreams and ambitions and she is not waiting around for them to fall on her lap. He loves her way too much to see her disappointed and which is why the two apply for the Jan Awaaz Yojana programme- an initiative by the government to give houses to low income families through a lottery system. Now obviously Kapil and Soumya don't fit this category which leads to them doing some extremely questionable, twisted and ethically wrong things. 
In the midst of doing this bizarre thing and the pressure of maintaining that facade, the film loses its main vision. It tries too hard to pass on a social message through some very unfunny jokes which instantly makes you lose interest. Two and a half hours is a lot for unnecessary family drama and slapstick comedy in today's time. Even if someone as good of an actor as Vicky Kaushal plays his role with conviction, it's simply not enough to save this movie from its messy screenplay. Even the supporting cast of the film does not stand out; rather they are the ones who make it feel so tiresome. And it is surprising to see that since the supporting cast has some of the finest actors we've seen in Hindi movies over the years like Neeraj Sood, Inaamulhaq and Rakesh Bedi. 
The movie wanted to show how instead of having a conversation about space and privacy with their orthodox family, a couple would rather resort to doing other shady things behind everyone's back. It's the unrealistic expectations Indian families have with young couples to just keep quiet, get suppressed and deal with any tantrum they throw. And don't even dare back answer, even if the in-laws speak badly about the girl's parents, it is absolutely okay to do so. It's a sad fact in Asian culture. I mean a 'bahu' bringing a cake made out of egg by mistake is the worst thing in the world but it's absolutely normal for mamiji to cross the line and say the meanest of things. The intention was right but the execution was all over the place. Especially with a dissatisfying climax that never even gave a conclusion to what they were fighting for the entire film. 
Zara Hatke Zara Bachke is currently streaming at a theatre near you!
For more entertainment, follow us on @socialketchupbinge