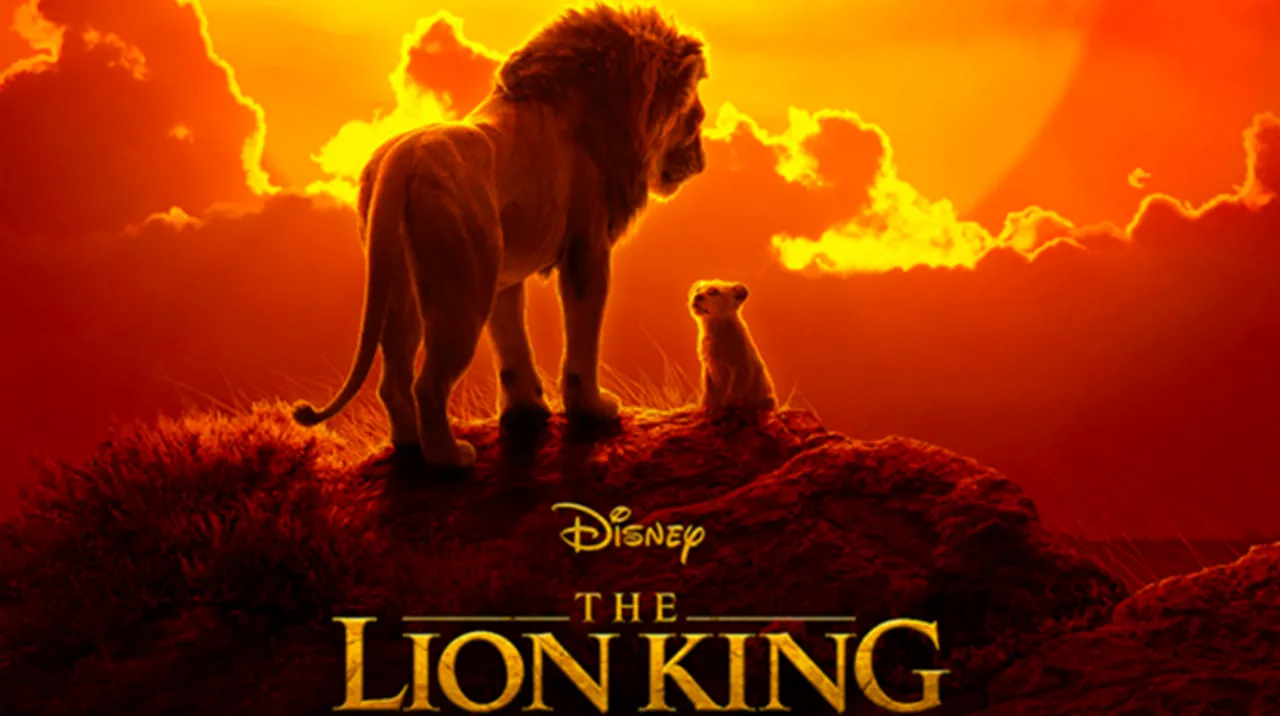 The Lion King holds a special place in the hearts of millions of millennials and GenZ. Disney recently released the larger than life trailer of this imaginary tale. Because of which a wave of nostalgia hit everyone who grew up watching the animated series.
A special preview of the film was held for Hollywood's critics earlier this week. However, the makers of the film had an embargo on the reviews, withholding the critics, disabling them from sharing their take on the film. But, they did share a sneak peek of their review on Twitter. The Lion King is perhaps one of the biggest and graphically evolved films of 2019.
Here's what Hollywood reporters have to say about it:
Just saw #TheLionKing and it was absolutely breathtaking! The music, the visuals, the voice acting...whatever your feelings on Disney remakes, this one will blow you away. pic.twitter.com/Dk9MdZnKBe

— Jenna Busch (@JennaBusch) July 10, 2019
That being said, #TheLionKing does illustrate the limitations of projecting human emotions onto photorealistic animals that can't convey human expression. More in my review when the embargo lifts!

— Alisha Grauso (@AlishaGrauso) July 10, 2019
I just got out of #TheLionKing and really dug it. My fear was realistic animals wouldn't have the charisma of the cartoon, but they're very good. Timon and Pumba steal the show. Some of the song/choreo arrangements don't work as well as the original but still a really fun flick. pic.twitter.com/mOrODQ0vHI

— Chris E. Hayner (@ChrisHayner) July 10, 2019
Holy smokes, I really loved THE LION KING. I think (I think) it's the most beautiful effects movie I've seen. Like next level, the game has changed kind of thing. (For the record I'm agnostic on the original movie and have zero nostalgia for it. Anyway, this movie hooked me.)

— Mike Ryan (@mikeryan) July 10, 2019
#TheLionKing is visually immaculate & a game-changer for visual effects. It's absolutely stunning in every way. The music shines (Glover & Beyoncé take it to another level), the performances are great (Timon, Pumbaa & Scar steal many scenes) & the emotions run HIGH. Truly great pic.twitter.com/lPH9Oo4ybb

— Erik Davis (@ErikDavis) July 10, 2019
#TheLionKing is visually and audibly astounding! I've never seen anything like that on an animation level. It's so beautiful.

Seth Rogen and Billy Eichner really steal the show. Chiwetel Ejiofor is brilliant as Scar! It is so much fun. Great movie. pic.twitter.com/v62LHFIM7W

— Brandon Davis (@BrandonDavisBD) July 10, 2019
#TheLionKing is a landmark *visual* experience. I've never seen anything like it, and I think it's going to change how we look at movies forever.

As an *emotional* experience, though…I'll put it this way: It turns out lions can't really emote.

— Adam B. Vary (@adambvary) July 10, 2019
Yes, Beyoncé is good in #TheLionKing — really good! Nala's role is indeed bigger, and Bey suits it perfectly. There's a moment when she tells Simba he's "disappointed" her, and reader, the way Bey bit the "t" in that word chilled me and thrilled me.

The movie? Welllll…

— Adam B. Vary (@adambvary) July 10, 2019
The Lion King... was more than anything i ever could've wanted. It was BEAUTIFULLY animated, paid the highest of honors to the original, and was packed with modern humor.

Seriously. See #TheLionKing. Please. It's a piece of art.

— Mica Burton (@MicaBurton) July 10, 2019
Oh man #TheLionKing delivers. It's a visual masterpiece that will leave you smiling and crying the whole time. It's a true testament to the lasting effect Disney movies have on all generations. Timon and Pumbaa steal the show. And BEYONCE!!! #LionKing

— Beatrice Verhoeven (@bverhoev) July 10, 2019
#TheLionKing combines gorgeously realistic CG with heart, humor and the same story/beats of the original. It also captures the same magical feeling of the animated movie and remains faithful to its spirit. Most of the voice acting works well and the music once again stands out.

— Dennis Tzeng (@ThinkHero) July 10, 2019
Absolutely blown away by #TheLionKing. Incredible visuals and voice work. Cried all my makeup off. Timon and Pumba brought me back from the edge. Would die for baby Simba. pic.twitter.com/YBpncCVowz

— Rachel Heine (@RachelHeine) July 10, 2019
Just walked out of #TheLionKing. Overriding reaction: SIMBA IS SO CUTE. But really, if you're hoping this will be a near-exact adaptation of the animated movie with some absolutely jaw-dropping visual effects, you'll get what you're looking for. pic.twitter.com/14BydbdhCx

— Terri Schwartz (@Terri_Schwartz) July 10, 2019
There's enough new content to make it feel fresh (plus some genuinely hilarious new jokes from Rogen/Eichner — no one made me laugh harder) and they really nailed recreating the most iconic sequences. I found myself walking out immediately wanting to watch the original.

— Terri Schwartz (@Terri_Schwartz) July 10, 2019
Lebo M re-slays Circle of Life. Those are the strongest Lion King thoughts I have right now. The rest falls in a muddle of beautiful gowns but the uncanny valley for animals took me out too many times. But it's the Lion King so it's always great.

— Constance Vigilance ?MISTI-Con (@ConStar24) July 10, 2019
Some highlights: fluffy kid Simba, Timon and Pumba, Chewitel as Scar, JEJ obv, the clip of Bey's movie song, the new Elton John song in the credits is a bop. Overall the voice actors are great.

— Constance Vigilance ?MISTI-Con (@ConStar24) July 10, 2019
But I love the Lion King always and the voice actors are all fabulous and the SCORE!! Zimmer reput his foot in the score. and it's gonna make a bajillion dollars. Perhaps more thoughts to come.

— Constance Vigilance ?MISTI-Con (@ConStar24) July 10, 2019
The reviews highlight that the film indeed has room for improvement. But the highs certainly outweigh the lows.
The movie premiered last evening and this cinematic experience is certainly getting all the fans excited, nostalgic and emotional all at once.
Take a look:
#TheLionKing me thinking i could handle Mufasa's death but i sat there like pic.twitter.com/Xu8pjuoDFG

— Van Dexter Calo (@vandextercalo) July 19, 2019
It's #TheLionKing Day! pic.twitter.com/xQ63tVMYFe

— Shreyas Talpade (@shreyastalpade1) July 19, 2019
#TheLionKing 
When you know the scene where Mufasa dies is coming up
pic.twitter.com/sbH0JPpT8A

— ?????? (@MunaNawabit1) July 19, 2019
Never thought I would say this, don't miss the Tamil version of #TheLionKing , fun max. Especially the hilarious Manobala, Robo Shankar and Singampuli combo pic.twitter.com/fhYbhydf02

— Rajasekar (@sekartweets) July 19, 2019
Our nieces straight up high fived during the movie. Good job, @Jon_Favreau! @disneylionking #TheLionKing pic.twitter.com/iPnsNAvVHG

— Johnny Gargano (@JohnnyGargano) July 19, 2019
THIS CGI ? #thelionking pic.twitter.com/i7rs1YDwj9

— holly mclean (@hollymcIean) July 19, 2019
me being tricked into seeing Mufasa die again in 4k or whatever the hell it is. #TheLionKing pic.twitter.com/dAYj7UCqpd

— nikolas steitz (@steitz_) July 19, 2019
i went to go see lion king today, and when mufasa got knocked off the ledge by scar, this little kid started CRACKING up. i almost- #TheLionKing pic.twitter.com/0rKBt6brBm

— nya threatt??‍♀️ (@nyaaathreatt) July 19, 2019
#THELIONKING

I cannot rave enough about the animation. It is amazing, I couldn't tell what's real and what's fake. From fur to grub, it was realistic. And the lighting!! Impeccable.

The music was moving and powerful.

Can't miss movie of the summer.

The Lion King is timeless. pic.twitter.com/F4xFh12ZOS

— ur avg Gen Z movie critic (@cinemerks) July 19, 2019
Me watching the lion king at 8 years old back in '94 and also me watching the lion king at 32 in 2019 about an hour ago when mufasa died. #NotMuchHasChanged #TheLionKing pic.twitter.com/PHFEkuOgGh

— Koda (@koduhhhh) July 19, 2019
That Mufasa scene hit DIFFERENT in HD‼? #TheLionKing pic.twitter.com/WD92aHAjR3

— A# (@1stLex_2ndSharp) July 19, 2019
Meanwhile, Beyoncé dropped the song 'Spirit' from 'The Lion King' which has sent fans in frenzy:
it was so good omg, THE VISUALS ! THE VISUALS. and THE QUEEN ? SHE DID THAT. #Beyoncé #TheLionKing pic.twitter.com/uX70j467jC

— pıʌɐp | fan account (@badinmyhead) July 17, 2019
This song is everything!
Beyonce - Light#TheLionKing pic.twitter.com/2X9yBPnhl1

— ?Bolton Megbele (@msboltstar) July 17, 2019
This song is beautiful. #Spirit by Beyoncé. #TheLionKing pic.twitter.com/G3XkxdEZI7

— Khanya???️‍? (@khanya_mkoto) July 17, 2019
Hearing & Seeing #Spirit in the #LionKing with my brother @ilya_creates last night was a moment. Once again thank you @Beyonce @Disney visually stunning! pic.twitter.com/ATqWTlo2TS

— Labrinth (@Labrinth) July 15, 2019
Me at home listening to @Beyonce #TheGift ?????? #Spirit #bey #??pic.twitter.com/19DyrRPJdT

— ???? Yellow Blouse???? (@therealXL1991) July 19, 2019
sheesh ??? always sky high @Beyonce ✨ some of my favorites! #spirit pic.twitter.com/w0qkNStkQZ

— Nicolas Arias (@0823n) July 17, 2019
Yesss girl ?‍♀️✨ We're LIVIN' for Blue Ivy's cameo in the new @Beyonce video for #Spirit @disneylionking ??? #BEAUTYBAY pic.twitter.com/6XuHGV413g

— BEAUTY BAY (@beautybay) July 17, 2019
This video literally took us from day to night. WOW, this was simply breathtaking, a masterpiece. @Beyonce #Spirit #TheLionKing pic.twitter.com/wdqiQOuoAV

— Isis King (@MsIsisKing) July 17, 2019
Hopefully my neighbors don't mind this midnight blast of new @Beyonce music #Spirit for #TheLionKing, which ~requires~ a full volume Sonos first listen.

I don't make the rules, I just follow them! pic.twitter.com/HlHdNVMNDv

— Madisen Keavy (@madisenkeavy) July 10, 2019
Have you booked your tickets for #TheLionKing yet?
*Switches tabs to book tickets