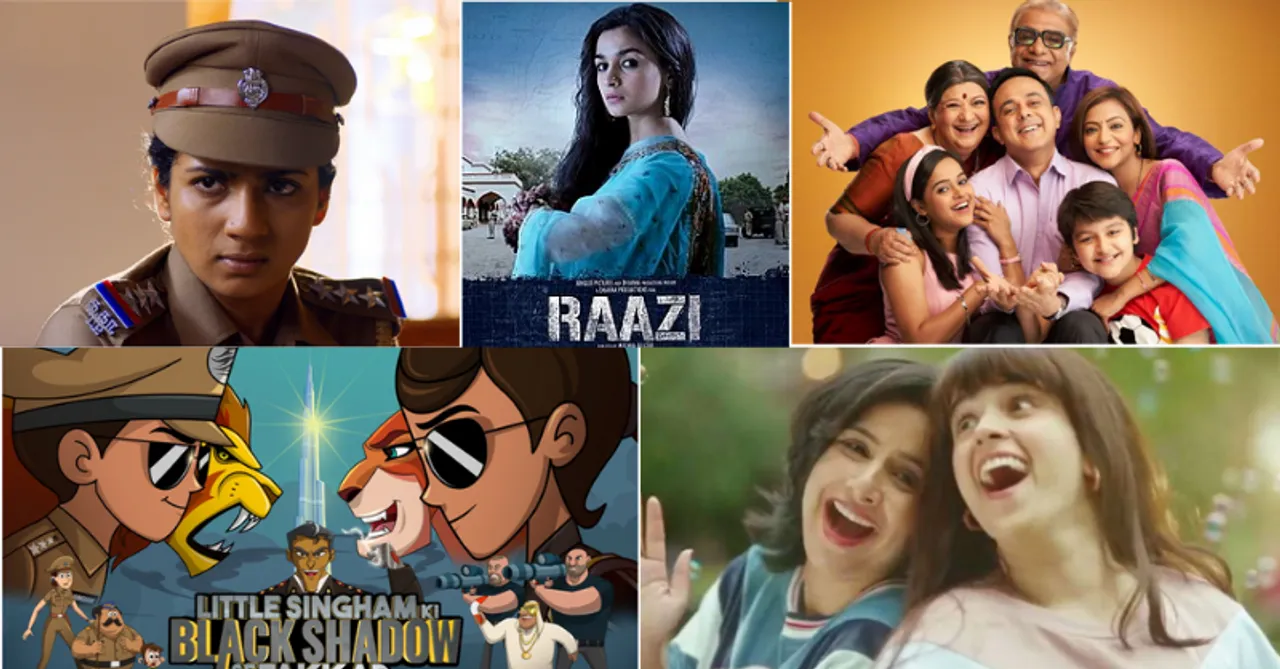 How about this Mother's Day you made it more special for her? Spend this day watching these heartwarming shows and movies with her.
Mother's Day since 2020 has been unique in its own way! As we continue to remain socially distant with nothing much to do, why not make it memorable for your best person. Plan your weekend just right as you celebrate it by bonding over these titles that are streaming now.
So go ahead, bake a cake for her, lay lazy on couch with your mom and indulge in the best times, even in lockdown!
Mind The Malhotras- Amazon Prime Video
Comedy is the genre that we have all loved and bonded over with our family. Remember your childhood with a show that goes on the lines of comic family dramas like Dekh Bhai Dekh, Family No. 1, Khichdi, Baa Bahu Aur Baby, Sarabhai Vs Sarabhai which we have all cherished with our mothers. Produced by Applause Entertainment, Mind The Malhotras is based on the life of the Malhotra couple who are like any other urban middle-class family with a world of mundane problems. The show brings to light these issues with rib-tickling comedy. Binge watch the episodes and keep the laughter coming!
Little Singham ki Black Shadow se Takkar- Discovery kids
Little Singham has been one of the most thoroughly enjoyed series from the Kids genre and is one such character that is adored by all. Taking Mother's Day up a notch, Little Singham is back with a mission to capture rogue RAW agent Black Shadow & stop her from acquiring crucial parts of a top-secret weapon. However, he learns that Black Shadow is actually his Mother who was on her own mission to protect the weapon from villain Mr. X. In the end, mother and son join hands to stop Mr. X from using the weapon to destroy India. Gear up to immerse yourself into the world of action, suspense, and non-stop entertainment with the premiere of 'Little Singham meets Black Shadow' this Mother's Day on Dkids! The day couldn't get any more special, could it?
Raazi – Amazon Prime Video
A patriotic narration based on the life of a Kashmiri woman who agrees to marry a Pakistani army officer in order to spy on Pakistan during the Indo-Pakistan War of 1971. An emotional journey with songs that depict the mother-daughter bond, this title is a perfect 'Not to Miss' for Mother's Day.
Vadham – MX Player
Here's something for all working mothers. The exhilarating drama series is centered on Sakthi Pandian, essayed by Shruthi Hariharan, a young and honest female police inspector who is assigned to an all-women's police station and is determined to solve the murder of an influential politician's close aide. Produced by Applause Entertainment in association with Tasa Media, the series authentically describes the life of a working woman, especially one who is in a challenging job like that of a Police Inspector and the problems she faces while balancing her two lives.
Shakuntala Devi- Amazon Prime Video and Sony MAX
Shakuntala Devi is a heart-warming tale of the Math genius and her daughter. Throughout the film, Vidya Balan as Shakuntala Devi takes us on an astonishing journey of how her character not only beats perceptions about how a woman should behave in society but also beats the computer once while solving a complicated math question. The movie packs a mix of witty, funny, intelligent, and emotional dialogues, something that makes the entire experience of watching this movie extremely pleasurable.
Who Killed My Son- Discovery+
This Mother's Day, watch the emotional, poignant story of perseverance that shows a mother fighting for justice for her son's death, when the criminal justice fails to get answers. The documentary focuses on the death of 19-year-old Pravin Varughese, whose body was found in a wooded area in Carbondale five days after he was reported missing and how his mother went on a mission to uncover the truth. Well, someone rightly said - A mother's love knows no bounds!
Wagle Ki Duniya – Nayi Peedhi, Naye Kissey: - Sony Liv and Sony SAB
Sony SAB's Wagle Ki Duniya, with its highly relatable storyline and beautifully crafted characters, has made the nation fall in love with its simple story that aims to bring us closer to our family. This RK Laxman classic has been exquisitely renewed to make it more relatable to today's time. Every character and every scene in the show is beautifully crafted, and it immediately makes you love your family all over again. The show now features mothers from two different generations.
Bhharati Achrekar as Radhika Wagle, who is not just a perfect mother, excels in the duties as a mother-in-law and shares a beautiful relationship with Vandana Wagle, essayed effortlessly by Pariva Pranati. She is a pure-hearted person and has adapted herself so well to the changing environment around her. Her way of approaching and handling things is very progressive, and she shares an incredible bond with her grandchildren.
This show calls for light-hearted entertainment where every mother can see herself in Radhika or Vandana, and if you haven't watched the show yet, this Mother's Day might be a good idea to sit with your mom and enjoy this easy-going sitcom.