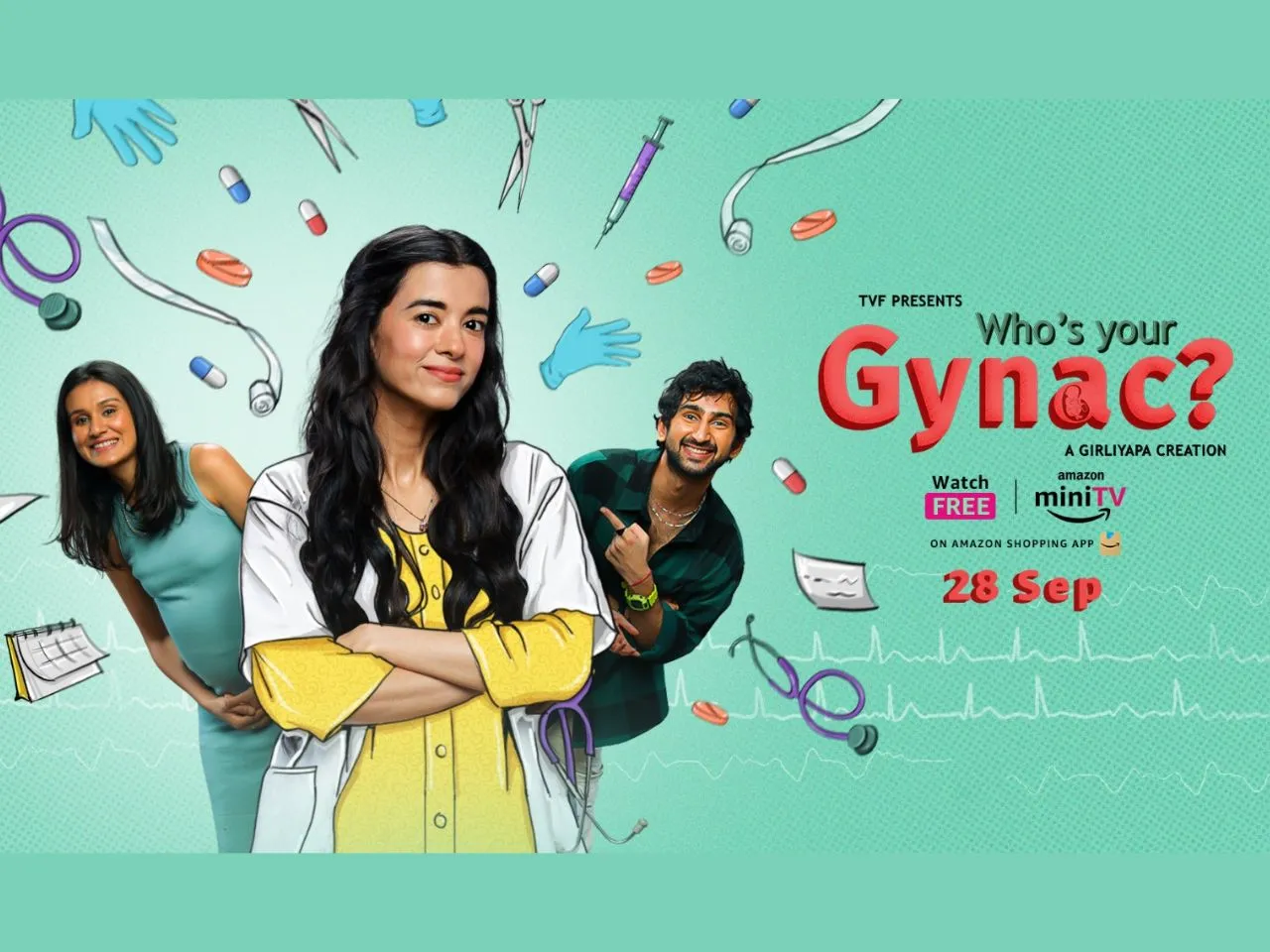 Featuring Saba Azad in the lead, the show will premiere exclusively from 28th September on Amazon miniTV for absolutely free within the Amazon Shopping App, Play Store and on Fire TV.
Offering a dose of laughter served with a side of myth busters, Amazon miniTV recently 'prescribed' a light-hearted web series - 'Who's Your Gynac?' The show will break down the journey of a new OB-GYN, who tries to strike a balance professionally and personally. Produced and created by The Viral Fever (TVF), the show will see Saba Azad, Karishma Singh and Aaron Arjun Koul in pivotal roles.  
The trailer showcases the life of Dr. Vidushi (Azad) who is ready to take on the world with her best friends Swara (Singh) and Mehr (Koul). While Swara is all set to embrace motherhood and on the hunt for an experienced OB-GYN to deliver her baby, Vidushi is excited to deliver her best friend's baby, who isn't exactly on board with that. Mehr, on the other hand, is a happy-go-lucky person and is continuously encouraging Vidushi to push the envelope in her personal life. Whether Swara will trust Vidushi with her delivery is something we will find out on 28th September exclusively on Amazon miniTV.  
Also Read: Sex Education season 4 review: With this last season, this series that taught us so much leaves on a high note!
"I think Who's Your Gynac? will touch a personal chord with every girl and woman and find a few allies in men through its story and characters. The importance of healthcare cannot be underestimated and through my character, the very goofy yet loving Dr. Vidushi, we want to deliver a message that will hopefully resonate with audiences across all age groups and men and women alike!" said actor Saba Azad.
"We are extremely proud and elated to bring Who's Your Gynac? a  heartfelt narrative that chronicles safe health practices for women along with her symbiotic relationship with her gynaecologist. To ensure the discourse is airtight, as part of the show's research, we at TVF worked closely with three reputable gynaecologists, who helped us immensely in understanding the topic closely and bringing the right messaging and information to the viewers. With 'Who's Your Gynac?' we further extend our association with Amazon miniTV in entertaining audiences through such unique shows," said Himali Shah, Director of Who's Your Gynac?
Who's Your Gynac? will be available exclusively for streaming on Amazon mini TV on 28 September within the Amazon Shopping app and Fire TV for free. 
You can watch the trailer here: