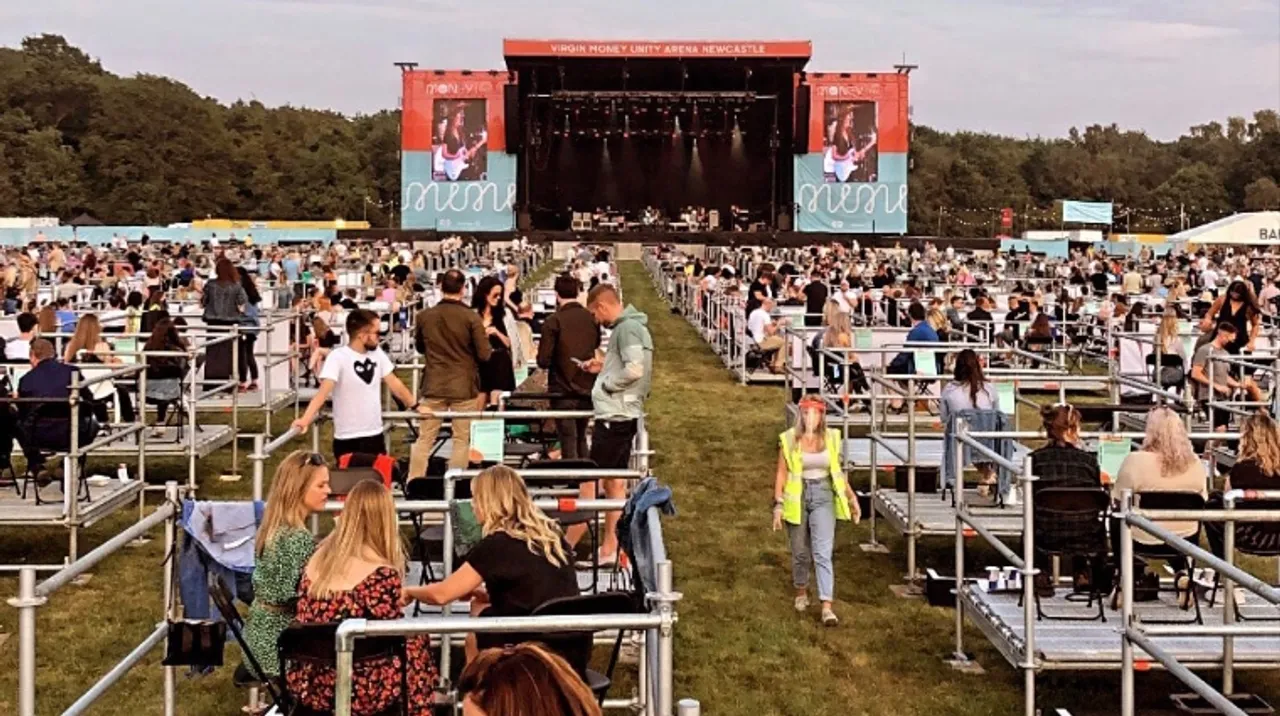 Musician Sam Fender launches the first socially distanced music venue in the UK with 2,500 fans while maintaining the safety precautions.
Since the pandemic began, large gatherings have been restricted around the world. However, UK hosted its first socially distanced music event on a venue that is placed on a racing track field. About 2,500 fans gathered at the venue on Tuesday, August 11th for its first music concert.
With 500 separate elevated platforms, the arena maintained distances between each, and the people were asked to wear masks and to not intermingle between the sections. Guests who arrived together were allowed to sit on the same platform. And each platform has been provided with a table, chairs and a fridge.
Local musician Sam Fender kick-started the launch of the venue. Guests were also allocated with arrival time on their tickets and were directed towards their viewing platform. Live music is a big deal in Britain and finding innovative ways to keep the whole experience alive for the people while maintaining safety precautions has become the need of the hour. People surely experienced VIP treatment with this new concept.
Check out what UK's first socially distanced music event looked like:
Epic evening. This is for you Newcastle! #VMUnityArena 🚀 pic.twitter.com/144mzSvNG9

— Virgin Money Unity Arena (@VMUnityArena) August 11, 2020
The Blended Family at Sam Fender👊 #VMUnityArena pic.twitter.com/wIGBC7zV2K

— Gary O'Hara (@GazIrish) August 11, 2020
The crowd is gathering - you can really feel the buzz around the @VMUnityArena site in Newcastle! Look at that stage and skyline though 😍 #VMUnityArena pic.twitter.com/miLWL38l4l

— Virgin Money (@VirginMoney) August 11, 2020
@samfendermusic last night in Newcastle couldn't of had a better view !!! @VMUnityArena #VMUnityArena pic.twitter.com/rOcZObPsde

— Zack Smith (@ZSmith__) August 12, 2020
Thanks for tonight you fucking legends ❤️

— Sam Fender (@samfendermusic) August 11, 2020
And here it is.. 2,500 people in pods of 5 & socially distanced at a Sam Fender show in Newcastle last night, the first of a month long series.
From comments this morning, many people appear to quite like this set up.. Would you pay to see your favourite band in this format? pic.twitter.com/35NkXSdMj3

— Feargus Dunne (@feargusd) August 12, 2020