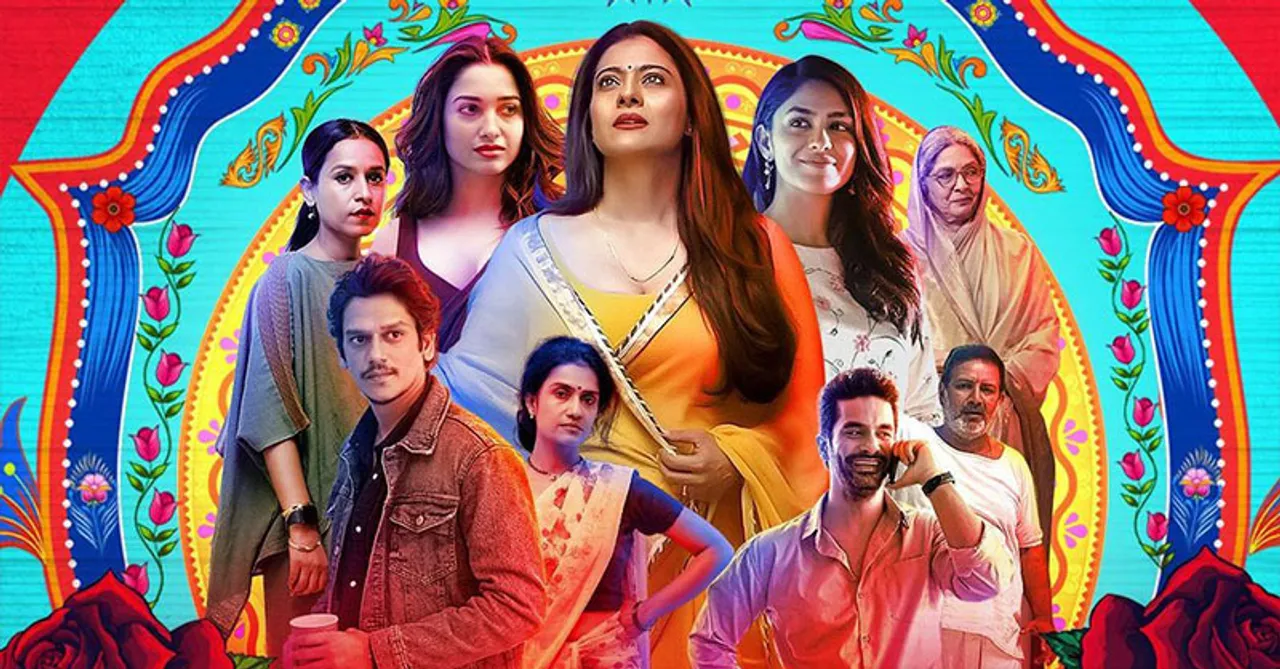 This four-part anthology absolutely let me down with its unimaginative storytelling and didn't hold up to the marvel that watching Lust Stories was in 2018.
Lust  Stories 2 follows the stories told by 4 directors: R Balki, Konkona Sen Sharma, Sujoy Ghosh and Amit Ravindranth Sharma. The anthology series boasts of a star cast like Neena Gupta, Kajol, Mrunal Thakur, Angad Bedi, Vijay Verma, Tamannah Bhatia and many more. However, this does no good for the series of short films. Considering the first anthology was beyond brilliant and stirred conversations, it was impossible to avoid comparison. The directors had somehow created intricate tapestries of passion and want, insecurities, and obsessive behaviors in their brief runtimes. There were performances that hurt, but they were also funny and witty. In a rich, expertly judged short, Konkona Sen Sharma, whose 2016 film A Death in the Gunj established her as a director, explores classic "Lust Story" themes of class, space, and feminine desire (as did Zoya Akhtar in her part five years earlier). The other films, made by well-known (male) directors R. Balki, Sujoy Ghosh, and Amit Ravindernath Sharma, don't have the same impact since none of these accomplished filmmakers and astute social observers brought the same glitz and panache to their short films as they did to their features.
Also Read: Lust Stories 2 disappointed the Janta; says not at par with the prequel. Konkan Sen's story stands out!
Balki's film features Angad Bedi, who plays Arjun and Mrunal Thakur, who plays Veda, and are engaged to be married in the near future. As the families meet up for a cup of tea one day, Veda's paternal grandmother (played by Neena Gupta)  poses a question to the couple asking if they've engaged in sexual intercourse. Considering the taboo that talking about sex is, especially in the Indian society, this question startles the two families. Veda's parents are embarrassed by her grandmother's question. The film then explores the destigmatisation of pre-marital sex. Neena Gupta's character also explains to Veda the importance of the female orgasm (calling it a Mount Fuji; stating that our bodies are volcanoes that are bound to erupt). A simple, lighthearted watch, it didn't strike me as remarkable in any way, with no exceptional storytelling. The dialogues were cleverly written, but nothing out of the world.
The Konkona Sen Sharma directorial follows the lives of Isheeta (played by Tillotama Shome who does a marvellous job onscreen), an independent woman whose everyday consists of nothing but work and home. A big part of her home is her maid, Seema (played by Amruta Subash, who really shines through oh so gracefully) who turns the house into a home. Isheeta catches Seema engaging in sexual intercourse in her bed one day and is left appalled. She quickly realizes that this is a part of Seema's everyday routine, where she calls her husband to Isheeta's home for a "midday quickie". Things take a slight turn when Isheeta finds herself getting turned watching Seema and her husband and makes it a point to come home at 3pm everyday to watch the couple copulate. However, Seema brings a twist of her own into this equation. She realizes that Isheeta has been watching them and actually enjoys having an audience while having sex. Things go awry when the couple and Isheeta run into each other at her house. The story explores the female orgasm with two lens. This short is the only one I can say I enjoyed. Entertaining, keeps you on your toes a little and keeps you waiting to see what may happen next. A simple story told wonderfully by Sharma, this short is the closest you'll get to that "knock your socks off" feeling that you anticipated from the anthology.
My least favorite has to be the Vijay Verma - Tamannah Bhatia starrer, directed by Sujoy Ghosh. This short was an absolute bore right from the beginning. Vijay Verma plays the role of rich, hotshot CEO, Vijay Chauhan, who although being married with a wife and 2 kids, is no stranger to having the occasional affair. He gets into a crash and finds himself in some sort of mystical town called Paraisol, where he encounters his ex-wife who "mysteriously" disappeared 10 years ago. Tamannah Bhatia plays said ex-wife as Shanti. The two meet each other and reminisce about the past as he questions her about her sudden disappearance. She recalls the tale and mentions how she was kidnapped by 2 strangers and eventually found her way to Paraisol which gave her a safe getaway from her past traumas. Everything about this short, from the poor dialogues to the very obvious special effects and set design made this a tough one to enjoy. The homes in Paraisol looked so much like a set that it really felt unbelievable to believe that this was an actual story. Upon contemplation, I tried to figure out whether there was some subliminal messaging in the film. Alas, to my despair, there was none; this was just a bad film. It really shocked me that Vijay Verma signed on for this after his constant hits at the box office and even OTT platforms, with millions of fans singing nothing but his praises. However, his charm couldn't save the movie either. 
The last film, directed by Amit Ravindranath Sharma and starring Kajol was the most stomach churning to watch, exploring themes of rape and prostitution. The story follows the story of Mehersa and his wife, played by Kajol. Kajol, formerly a prostitute, marries Mehersa in an attempt to give her son a better life. However, Mehersa's habits, from returning home drunk everyday to finding himself lusting after every woman he lays his sleazy eyes upon, make him a difficult person to live with. The story takes an unusual turn of events, and may be was the only other short which gave you a taste of something different, even though not super unique. While watching it, you feel a sort of resentment bubbling in your gut towards Mehersa and a pity towards Kajol. Although I wouldn't go back for a rewatch, there was at least a story worth following in this short.
After its predecessor being Emmy-nominated, I had great hopes for the sequel. However, it was absolutely lackluster and not worth the two-and-a-half hours I spent watching this.
What is your take on Lust Stories 2? Let us know in the comments below! 
For more binge-centric content and reviews, follow us on @socialketchupbinge.