Check out how Vidya Balan managed to get into our iconic villain list with her role as Krishna Verma in the movie Ishqiya.
Movies are always satisfying to watch when it goes through the plot of story-conflict-conclusion. While the start and the end of a story makes and concludes a story, it is the conflict part that is important driving the story ahead. Audiences need to find it intriguing and challenging for them to develop an interest in the movie. It is usually the negative or the grey characters that get the audiences hooked to every frame of the movie. They making it interesting for them to watch how the story unfolds. The Bollywood movie Ishqiya is about such characters and Vidya Balan's Krishna Verma managed to steal the show.
Sure, we have very less female villains to count on. But the ones we have, are powerful and daring enough to beat all the male villains of the industry. Krishna Verma from the 2010 movie Ishqiya is that one character who left the movie-goers in chills with all her tactics. With a number of tricks up her sleeve, Krishna has all that it takes to get two crooks to follow her plan without them realising it. She is the seductive, smart woman who knows her way to win. She proves that there is nothing that a woman can't do even if the world says otherwise. Krishna has her goals in place and will give all she can to achieve it. A perfect example of a grey character in Bollywood, Krishna is nothing but a pure delight to watch onscreen.
Although many may still say that the movie industry is a male-dominated one, it is hard to ignore many female actors who have managed to draw the audiences to the theatre with the characters they portray onscreen. As the list continues to grow, Vidya Balan continues to be an important part of the list. Her excellence can be determined by her choices of work and that makes her worthy of all the praises she receives. Audiences walk into a theatre to watch her onscreen and leave without disappoint. Giving her male counterparts a run for the money, Vidya is one among the many pioneers of strong female characters in the film industry.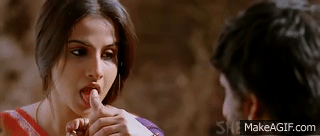 Take a look at these iconic dialogues by Krishna Verma:
"Ishq mein sab bewajah hota hai"
"Chutiyam sulphate!"
"Jitni badi rakam hogi na … khatra bhi utna hi zyada hoga"
No matter what we speak, we would all be happy to be tricked by Krishna!