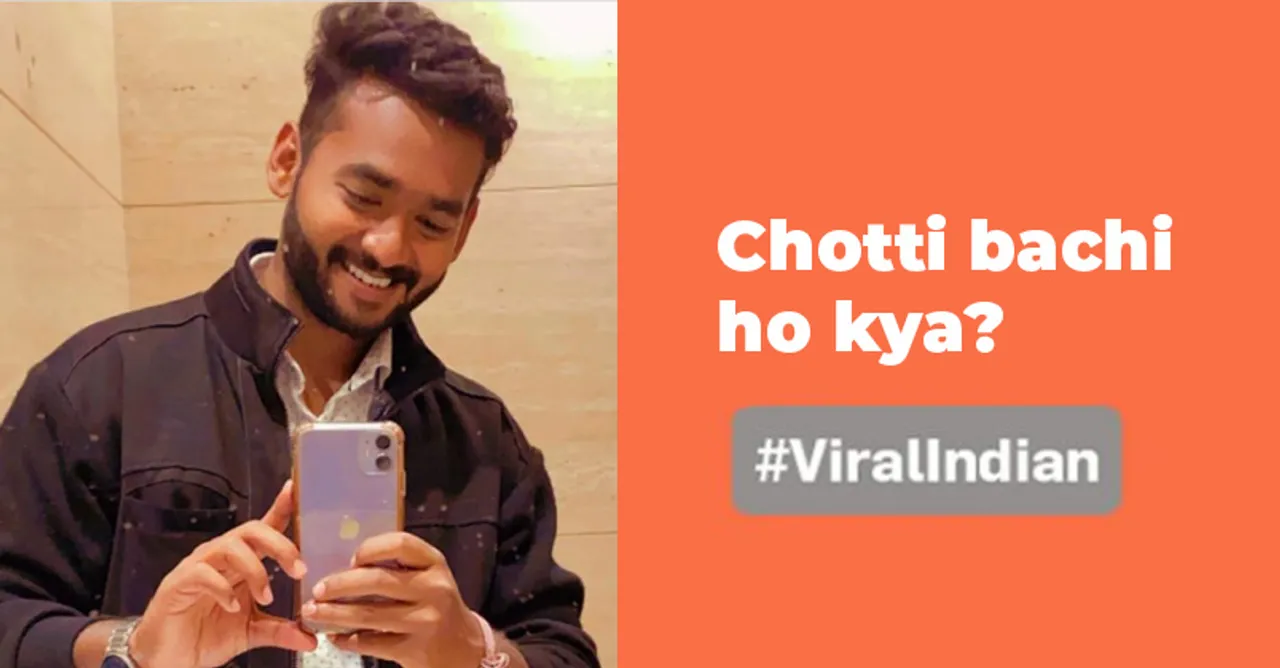 Meet Indian content creator Deependra Singh, the guy behind the viral and Internet's current favorite meme 'Chotti bachi ho kya?'
Has there ever been a dull day with social media becoming an active part of our life? The answer to this question will forever be, no. One cannot just wake up stressing about life and find instant peace online. And the credit for this goes to all the incredibly hilarious memes that make our day. Even now all we can think of when scrolling through Instagram is which friend the post you found will relate to it the most. Memes make every day beautiful and we owe it a lot. There are always people who make this happen and one such person who gave the internet its current favorite meme is content creator Deependra Singh.
We have seen some random videos, songs, and dialogues, become viral trends on social media. These trends only prove how unpredictable online content can be, as long as it is entertaining for the masses. Kanchha Badam, Rasode me kon tha? and Nasheyyyy is all examples of this crazy internet world. So when Deependra Singh become part of a viral trend, people welcomed it without question. And why would people, when they are getting another meme to add to their list? So if you have all been quoting him and asking anyone
Who is he?
Deependra Singh is an actor and mimicry artist who has taken the internet by storm. For someone who grew up dreaming of becoming an actor, social media became the surprise platform that has people recognizing him. Apart from watching movies, he used to watch a lot of YouTube content created by YouTubers like Bhuvan Bam. It was this format of content creation that encouraged him to work and use his talent as a mimicry artist to start making videos that can go up on YouTube. That's how his journey as a content creator began.
Deependra also tried his luck to become famous for the short-video platform TikTok before its ban in India. But he hardly found the results he was looking for on the app. But instead of being disheartened, he spend his time practicing and perfecting his talent, soon sharing them on Instagram Reels and YouTube. It was after one of his videos viral that he began gaining popularity that boosting his morale to continue what he loves the most.
How did it go viral?
Talking about how he created his viral video and now a famous meme Deependra said, "I was shocked and so happy at that time when my video went viral and people repeating the dialogue 'choti bachi ho kya?' I started seeing my face on every meme video. It was not just the general audience but also some of the top YouTubers who were using my meme in their video. People now know who I am. I see people and big creators like my video and appreciate my work. I also recently had the opportunity to meet with Tiger Shroff sir and some of the famous creators at globalmemecon2022."
What was it like meeting Tiger Shroff in person and how did he react to you imitating him?
"Meeting with Tiger shroff sir is one of the biggest achievements in my life! He is very humble and it was my first time meeting a celebrity. He was so kind in nature and cool as well. When I saw Tiger sir me unke pass gaya or unhone mujhe hug kiya, that was an amazing feeling for a small-town boy. I touched his feet for blessing and he said that he was proud of me. He said 'aapne mujhe famous kardiya.' I was obviously happy to hear that but I said, 'sir aapki wajhe se hi me famous hua hu.' Because unke hi dialogue ki wajha se log merko janrahe hai.
Then humlogo ne video shoot kiya fir kuch batee ki or mene unko or bhi actors ki mimicry sunai.
Bohot appreciate kiya sir ne. I feel so blessed, proud and grateful."
Here's how people took the meme and shared their own version:
Are you judging people who are quoting Deependra Singh in their everyday life? Seriously, we only have one thing to ask, chotti bachi ho kya?