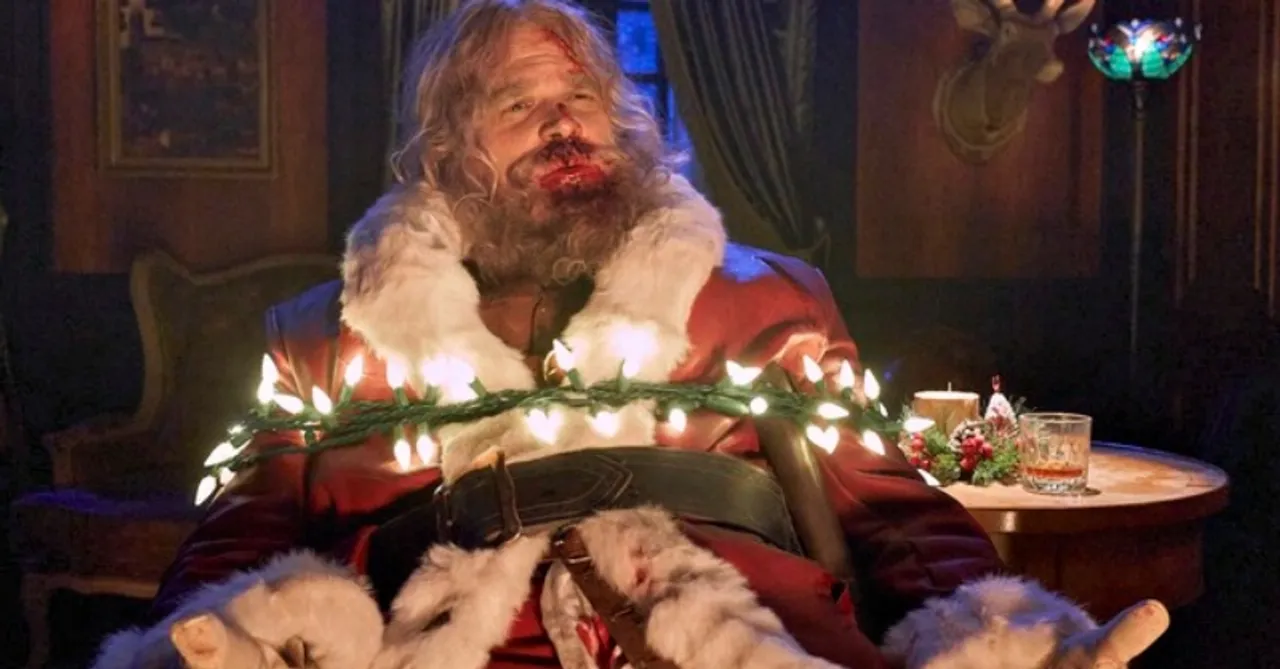 Santa Claus is coming to town ready to slay! If you are looking for some drama and action this season, then Violent Night is what you can watch.
December is the time when everything feels like a dream. It's all about bingeing on classic Hallmark movies and living up to the spirits of the season. Everything feels jolly and magical. And if there is a mythical person who is the reason for us to look forward to this day, it's Santa Claus. The whole idea of a man crawling down a chimney to drop off gifts for kids should creep us out but is our favourite part of Christmas. We know that he's not real, but what if he's tired of kids asking for something every year? Well, Violent Night imagines a world like that and takes us through it in a gruesome way. *Caution* If you are a parent, this is not how you want your kids to remember Santa Claus!
As a rich, multi-billionaire family, the Lightstones come together to celebrate Christmas when their night is interrupted by a bunch of mercenaries who infiltrate their party to steal money that's stored in the family's locker. The family members who could be least excited for the season have their own agendas to be there and are constantly trying bits to make their mom, the head of their family and some kind of criminal empire, happy. Among them is a kid, Trudy who has been looking forward to Christmas like every other kid. Lucky for her, Santa Claus is real in her universe and her innocence and belief in the magic of Christmas ends up saving the Lightstones' Christmas.
If you're someone who argues about whether Die Hard is a Christmas movie or not, Violent Night should close that argument. A blend of Christmas magic and action drama, this movie is an ideal binge for every action movie lover. Santa (David Harbour) is an old grumpy man as compared to the stories we have all heard, drinking and barfing while he delivers gifts to kids who have been on his nice list. Although he goes around making wishes come true, he's truly dreadful to find kids always wanting one gift after the other. He's not the jolly man from the stories we've grown up listening to, instead he's someone who has failed in his own marriage and is tired of kids' nasty wants.
While Santa is sadistic, the leader of the mercenary group, Scrooge (John Leguizamo) is also someone who hates the holidays but still has his entire squad's code names related to Christmas. While the story seems like an attempt to create a movie out of a simple thread of 'Santa Claus becoming badass,' a lot of the scenes seem like something we can refer to from other movies. The movie fails to show us the chemistry between the mom and dad, giving us hardly any reason for us to pine for them to get back together like Trudy, or make Gertrude Lightstone stone-cold enough so that we can feel the fear that every other family member feels for her. The only part that's exciting in the entire movie is watching Santa be his badass self and beat up the goons while he interacts with Trudy, it's some special Hopper (Stranger Things) moment.
Before wondering how Santa unleashes a holiday carnage; we get flashbacks of a tattooed warrior with a hammer called Skull Crusher, and why he decided to give that life up to become the jolly red-suited man we know. But all of his skills from his past life come in handy as he tries to save Trudy and her family from everyone who has been on his naughty list. Although the storyline seemed a bit lost in places, scenes with fights in them are fun! This Santa likes to watch people get blown up and electrocutes bad guys by stabbing them with a star. Not to forget the time when he goes all John Wick with a candy cane while the child has her own Home Alone moment as she sets up a booby trap for the bad guys.
If you're looking for a holiday movie that will give you all the spirits of the season, then Violent Night is not the one. But if you're in to see Santa kicking some ass then you should not miss out on the fun.
You can watch Violent Night in a theatre near you!
For more entertainment content follow us at @socialketchupbinge